John MacDonald: Work in progress traffic light system is leading to overreaction
Author

Publish Date

Fri, 28 Jan 2022, 12:54pm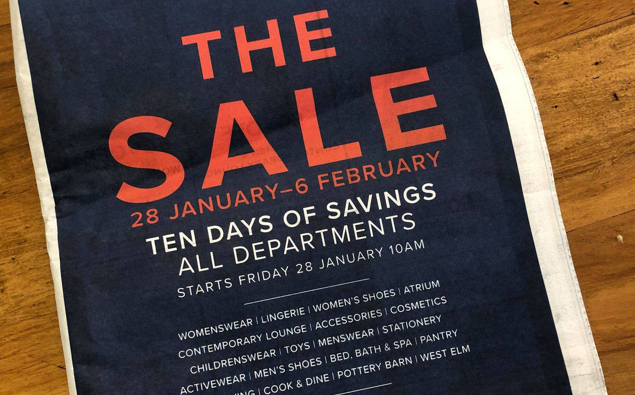 Follow the podcast on
John MacDonald: Work in progress traffic light system is leading to overreaction
Author

Publish Date

Fri, 28 Jan 2022, 12:54pm
If you were planning on going in to Ballantynes today, tomorrow or Sunday for the big sale - forget about it. You're going to have to find something else to do. 
You can still buy stuff from them online - but you can't go into the shop in town. 
And why's that? Well, I think Ballantynes has just won the prize for the biggest overreaction we've seen so far this pandemic. 
I didn't know whether to believe it or not when I first saw it - but it is true. 
Ballantynes is applying what it calls an "abundance of caution" (that's the wording on its website…"an abundance of caution") and has closed its Christchurch store until Monday. 
If you're desperate, you can drive to Timaru because the Ballantynes shop there is staying open. But they'll be keeping an eye on how many customers are in the shop at any given time. Which is exactly what the traffic light system says they should be doing in the Red setting. 
But the reason Balantynes in Christchurch is closed, is because we could - "could" - be about to find out that we have our first Omicron cases here. 
We heard yesterday that there are four new COVID cases in the city. Two of them were on a flight from Wellington on Monday morning, and another was on a flight from Auckland on Monday night. And Wellington Airport is a current location of interest. 
So there's a chance some or all of these new cases are Omicron. But they may not be either. We will find out eventually.
In the meantime, Ballantynes has decided that this uncertainty warrants closing its Christchurch store until Monday - and shifting the big annual sale to online only. Unless you're in Timaru of course - where things are still running as normal (with precautions in terms of the number of customers in the shop at any given time). 
Now, as far as I'm aware, Ballantynes is the only department store in the country doing this. In Auckland - COVID central - Smith and Caughey on Queen Street is still running. 
And what about all the other shops that are a similar size and scale as Ballantynes? Farmers. K Mart. All of them - business as usual. 
Now, I will acknowledge that "The Sale" - as it's known at Ballantynes - does attract a fair number of people. And a colleague in Auckland was telling us earlier that PB Tech did a similar thing when Auckland moved out of the Red setting and went online-only for a big sale they were having. 
But I think Ballantynes is going way overboard, closing its Christchurch store until Monday. 
Which will come at a cost financially, so it won't be something the company is doing lightly. And then what does it do on Monday if there are confirmed Omicron cases in Christchurch? 
It highlights, doesn't it, the deficiencies of the traffic light system - when you get a department store making its own public health decisions. Just like Auckland Grammar School sending students home and telling them to get tested if they were at the Soundsplash Music Festival. 
Making it up as they go. And we'll see more of this, mark my words. For a couple of reasons. 
First, I am yet to speak to anyone who knows what to make of all these projections that are coming out about the number of Omicron cases we can expect. I was talking yesterday to someone who works at the hospital and they didn't even know what to think about it. 
50,000 daily cases by Waitangi weekend. 80,000 daily cases at some point. They're two of the stats that have had some attention this week. So, if you're confused, you take a cautious approach, don't you? 
The second reason we're going to see more of these ad-hoc decisions and reactions - like what we're seeing from Ballantynes today - is that the traffic light system, instead of being a framework, has continued to be an ongoing work-in-progress. Which, in some respects, it was always going to be - given the likelihood of new variants and other measures being needed. 
And if the guidance isn't clear then, of course, people and businesses are going to do their own thing. 
Nevertheless, I still can't see a need for Ballantynes to shut up shop until Monday. If we didn't do things because of the 'what-ifs' - we'd end up doing nothing. 
I see this as a huge over-reaction and all it will achieve will be to increase anxiety - potentially unnecessary anxiety - and also hurt a lot of other businesses in the central city, who would've benefited from people coming into town for the sale. 
That's what I make of it. What about you? 
Do you think Ballantynes is over-reacting here, shutting up shop until Monday so it doesn't have hordes of shoppers coming in for the sale? 
Or do you think it is doing the right thing? Given the uncertainties of Omicron.