John MacDonald: The protesters should not be allowed to stay another three months
Author

Publish Date

Thu, 17 Feb 2022, 12:32pm
Follow the podcast on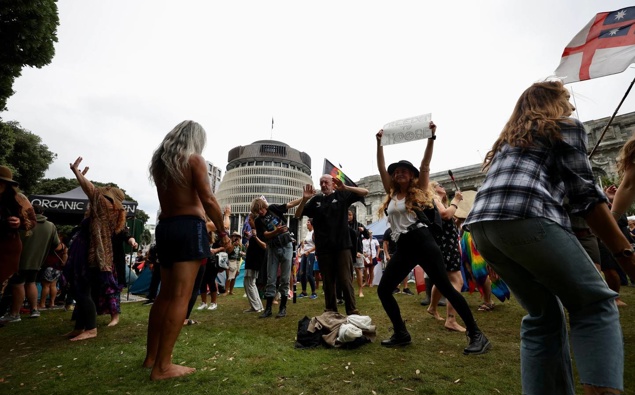 John MacDonald: The protesters should not be allowed to stay another three months
Author

Publish Date

Thu, 17 Feb 2022, 12:32pm
Did you hear Chris Cahill from the Police Association on Newstalk ZB this morning? 
I couldn't believe what I heard. 
He was talking about the protest at Parliament and said he thinks the whole thing is a dog's breakfast - which I don't think anyone could argue with. 
But the bit that got me was when he said "do you want the bad news?" And then went on to say that he thinks the protesters will still be there in three months' time. 
I was blown away when I heard him say that. But then I thought about how things have played out so far, and I realised I've got no reason to doubt him. The Police Association has much more intel than we do. And, unless something is done, I think they will still be there in three months' time. 
Particularly when you consider what the Police Commissioner has been saying over the last couple of days. 
But is that acceptable? I don't think it is - not for a minute. For the simple reason that these protesters have broken all sorts of rules - just like the crowd camping out at Cranmer Square. 
As I said yesterday, the ones here in Christchurch have to be moved on ASAP, because the council by-laws say you can't camp at Cranmer Square. You break the rule - you get kicked out. Well, you should. 
Just like the crowd camping at Parliament. A few people took me to task earlier in the week for saying that what they're doing is against the rules - pointing out that everyone is entitled to protest outside Parliament. 
Yes, you are allowed to do that - but the rules are very clear. Protesters have to stick to the walkways and not damage the lawns and flowerbeds, and structures such as tents aren't allowed. So, guilty as charged. 
It's possible the only fly in the ointment there is Trevor Mallard contributing to some of the lawn damage himself when he turned the sprinklers on. What a stupid man. But the rain that went through Wellington on Friday night is probably just as much to blame on that front too. 
Nevertheless, Parliament's rules have been broken. Not to mention the chaos with all those cars still blocking the streets. More rules broken. So there are a gazillion good reasons for firmer action - but are we going to see it? 
I thought we were last Thursday, but that came to nothing. They're still there, brassing people off, and we've now got the sympathisers camped-out too at Picton, Dunedin and Cranmer Square here in Christchurch. 
All of them saying they're going nowhere until the vaccine mandates are scrapped. They are dreaming, of course. But I think if no one does anything, the crowd at Parliament will still be there in three months' time.  
Just like Chris Cahill from the Police Association said this morning. 
We got a reminder in the mail at home yesterday saying we're overdue paying a parking ticket. I looked at it and thought 'are you kidding me? You're chasing me up for staying a bit longer than I should've in a car park, but you're doing nothing about the misguided occupiers in Cranmer Square who are clearly breaking the rules'. And doing nothing about their mates in Wellington either. 
It's pathetic, isn't it? But I suppose 'Mr Play-by-the-Rules MacDonald' is much easier to deal with than a bunch of self-entitled people who will jump up and down and get all aggro on social media if anyone dares to tell them what to do. 
I think that's what brasses me off most about these protesters around the country. It's not like they're fighting a cause on behalf of some downtrodden sector of society. Every single one of them is only there for themselves. 
They'll tell you they're unified and doing it on behalf of everyone else. But they're not. They're self-interested, self-obsessed and self-entitled. 
And that's why the prospect of what's happening at Parliament going on for another three months is so galling to me. And it can't possibly be allowed to happen.