John MacDonald: The Christchurch occupation needs to be shut down too
Author

Publish Date

Thu, 3 Mar 2022, 12:24pm
Follow the podcast on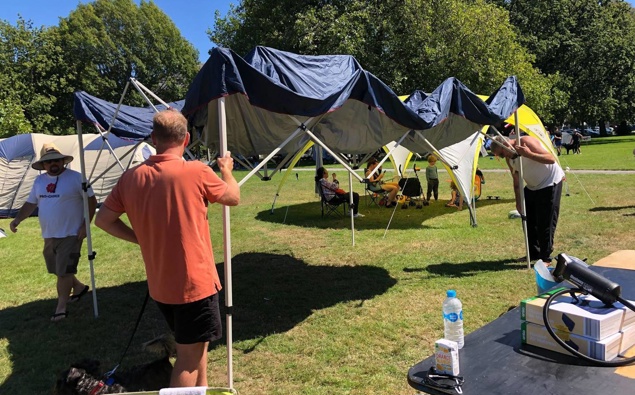 John MacDonald: The Christchurch occupation needs to be shut down too
Author

Publish Date

Thu, 3 Mar 2022, 12:24pm
Yesterday it was Wellington. Today, it has to be Cranmer Square, in Christchurch. 
Because just as the police were mopping things up outside Parliament last night, we had the spokesperson for the anti-mandate occupation at Cranmer Square saying some of the Wellington crew are going to be heading down here now. 
"I think we are going to be bigger than Wellington", is what Ashleigh Thian said to a reporter last night. Which, by the way, is possibly a whole lot of hot air - but whether some of the loons involved in that appalling occupation of Parliament's Grounds are heading here or not, what happened yesterday is full justification for the police going down to Cranmer Square and shutting that thing down too. 
Can I take you back a couple of weeks, to when Police Commissioner Andrew Coster was interviewed on TVNZ's Q&A programme. 
At that point, he was saying that if police wanted to shut down the occupation at Parliament, it would require a level of force that would be confronting and unacceptable to most New Zealanders. 
He talked about "Policing by Consent". Which means the police force working with the consent of the communities it serves - and balancing law enforcement with keeping the peace. 
He said he thought two of the low points in New Zealand's policing history were the Springbok Tour protests and the Bastion Point protest - and he didn't think New Zealanders wanted to see the police go back to that style of law enforcement. 
He said the way the police dealt with the Springbok Tour protests, for example, led to a long-term loss of trust and confidence in the police. And he said the same thing could happen if the police used force to shut down the Wellington occupation. 
Well, as far as I'm concerned, what happened yesterday in Wellington had the opposite effect. 
Seeing that sea of police officers stamping their authority - as they should've done when this whole thing started - actually enhanced my trust and confidence in the police. And seeing what some of those despicable people were doing: did you see that video of a car being reversed at speed towards a line of officers? And throwing rocks and stuff. It was just appalling. 
I know some people yesterday were comparing it to 1981, but I see it completely differently. In 1981, the cops were at every protest, trying to shut them down from the start. With truncheons. 
The occupiers at Parliament were tolerated for three weeks - an absurd amount of time. And they got away with a lot more than any Springbok Tour protester got away with. 
So don't give me this "dark day for New Zealand" talk that I heard a few people banging on about yesterday. 
It wasn't a dark day. It was a day of hope. It was a day that gave me a little bit more confidence that doing the right thing and following the rules is still worth it, is still recognised and that we do still have a Police "force". 
But it can't stop in Wellington. 
The Cranmer Square occupation needs to be shut down because, just like in Wellington, these occupiers are breaking the rules that most of us abide by, they are causing a huge amount of stress for the people living in the area, and now, they're openly encouraging other people to come to Christchurch and join in. 
"I think we are going to be bigger than Wellington now." That's what the Cranmer Square spokesperson said last night. 
So, before there is even a chance of that happening, the police need to show that they've learnt from Wellington, and they need to move in and kick these people out.