John MacDonald: Regardless of your job, the government should pay for your RAT test
Author

Publish Date

Mon, 28 Feb 2022, 2:10pm
Follow the podcast on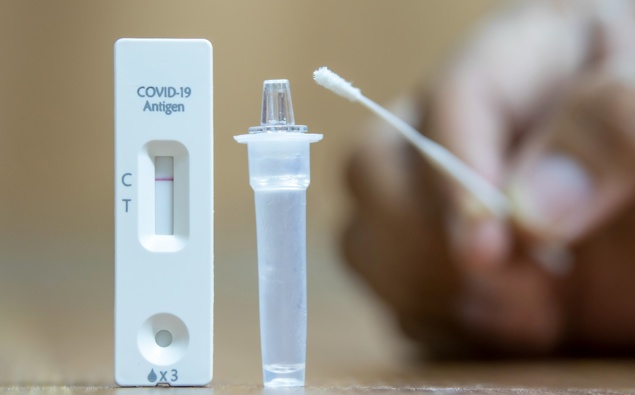 John MacDonald: Regardless of your job, the government should pay for your RAT test
Author

Publish Date

Mon, 28 Feb 2022, 2:10pm
It's two years today since Covid-19 was first detected in New Zealand. If only we knew then, what we know now. 
For example, I had no idea then that – in a couple of years – I'd be standing in my kitchen on a Sunday night shoving a swab up my nose.   
But that's what happened last night. I did my first Rapid Antigen Test. It's a bit of a fiddly process but I'm sure I'll get better with practice. 
Last week, the Government announced it was finally going to allow retailers to sell RAT tests – you may have heard Chris Quin from Foodstuffs North Island talking to Mike Hosking about it this morning. He's hoping to have them on the shelves by next week. 
They're going to be selling them at cost price. But it still means customers are going to be paying about $32 for a pack of five. So, $6.60 per test. 
Now I consider myself very lucky to be getting these provided by work, because so many people are going to pay for their own. In fact, most people if they want them, are going to have to buy their own.  
And I think that's going to be a real stumbling block in terms of getting a clear picture of just how much Omicron is out there over the next wee while. 
I'm picking that a lot of people, if they don't get RAT tests free from work, just won't bother getting them. Because, let's face it, most people are finding it tough enough to pay for the basics without adding another $32 to the grocery bill. 
Which is why I think that – if you take the supply issues out of the equation – no one should have to pay for these things.  
I understand that some people are seen to be more critical than others in terms of keeping things operating. You know, your medical people, truckies and supermarket workers. 
But, in a pandemic, is it fair and reasonable to have some people shelling out money for RAT tests and others not? 
I don't think it is fair and reasonable. Particularly, when you consider that anyone turning up at a testing centre for a PCR test, gets tested for free. 
That's if they get past the gatekeepers, of course. As we've heard on the show, it seems some people are now being turned away because they're not considered to be unwell enough to warrant a test. 
One of our callers last week said she had a staff member who'd been really crook for a week with a sore throat and runny nose and had been turned away twice from a testing centre. 
Another person called in and said they'd had the same experience. In fact, that person was calling us on her way home from the testing centre. 
But, nevertheless, if you get past the gatekeepers at the testing centres and you get a PCR test, you don't pay a thing. Yet, if you want a RAT test, chances are you're going to have to pay. 
Why is it, for example, considered ok for teachers to have to buy their own tests? They're required, as per the mandates, to be vaccinated – but that's not being recognised with free rapid antigen testing in exchange. It's nuts. 
Beneficiaries. Why should they have to pay for their own RAT tests? If you're on a benefit, you won't bother, will you? And if there isn't a testing centre near you – you won't bother with that either, will you?  
So, what we're going to get, is a large number of people being priced out of the testing process. 
Which is appalling, isn't it? 
Not to mention the cost burden on critical businesses who have to buy them for their staff. 
And that's why I think the Government should be paying for all Rapid Antigen Tests. If you want them, you can get them, irrespective of what you do for a living – whether you're a critical worker or not – and irrespective of your income level.