Andrew Dickens: Why Pink Shirt Day is an important reminder
Author

Section

Publish Date

Friday, 17 May 2019, 12:18PM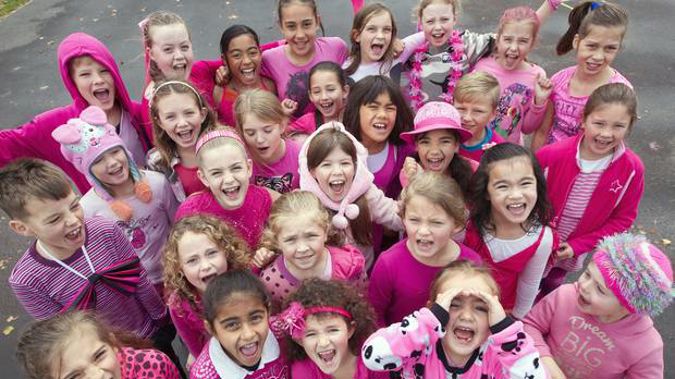 So it's Pink Ribbon Breakfast Day today.
Actually just to clear things up. Pink Ribbon Day is in October as part of Breast Cancer Awareness Week. Today though is the biggest fundraiser where breakfasts are hosted and money is donated to the Breast Cancer Foundation.
Meanwhile, it's not to be confused with Pink Shirt Day which is also today, the movement to stop bullying and spread aroha and kindness!
Whatever. The point is if you care for care and kindness wear pink and for once pink is all the rage. Funny enough though I saw the editor of the Weekend Herald had a pink shirt on and I congratulated him and he said it was a pure fluke. I told him I'd tell that story on air and he told me not to. Well, I couldn't have the Weekend Herald Editor censoring me, could I?
I was in the foyer of work, when a woman who works on the second floor came in, wearing a pink velour skin tight tracksuit. On any other day, I would have questioned everything about that choice, but as it was it stopped me in my tracks and I said "tremendous". Which I think made her day.
Then as I went out the door there was a female construction worker from the next door building site wearing the most fantastic pink fluoro vest.
It's fun and serious. My family has been struck heavily by breast cancer with some successes, magnificent successes and some heartbreaking failures. It's funny how this year the pink clothes have made me smile and given me a lump in my throat all at the same time.
Speaking of a lump in my throat
To keep my visa to be part of the white, middle class, older New Zealand bourgeoisie, I went to the opening of the Reader Writers Festival last night.
It's quite something to go to these things and realise you're in the bottom third of the demographic present. Mika was the first speaker and he welcomed the four brown faces in the crowd personally.
Anyway, these things are great. A selection of writers are asked to talk for seven minutes with no notes, about a real story from their life that fits the theme of the festival, which this year is Crossroads. Obviously, writers are great storytellers and it was spellbinding
One of the writers was John Boyne. The Irishman who wrote The Boy In The Striped Pyjamas - one of my family's favourite books and the film is a real killer. So John is just 48 and he wrote this book in his thirties.
He told us that his crossroads was happening right now. A year or two ago his wife left him. It took him by complete surprise and you can tell from the bags under his eyes that he has been to the bottom. And he said as much.
For the past two weeks, he has been in Australia and New Zealand on the festival circuit. During that time his divorce was finalised and the papers came through. Boyne told us that when he gets back to Dublin on Sunday it will be time to cut loose his hurt and re-enter the world that he has sequestered himself away from in his grief.
So there was John Boyne, a wealthy, writing superstar, emptying his heart to 2000 strangers. It was amazing and profound and we cheered and wished him success.
It's important to remember that at your lowest ebb you need to reach out and you need to take baby steps back to the rest of us.
It's Pink Shirt Day. Tell people if you're being bullied. Two people I know have had funerals after suicides this month and never reached out for help. Don't die in silence.
And remember. One for all and all for one, because we're all in this together.
Where to get help:
If you are worried about your or someone else's mental health, the best place to get help is your GP or local mental health provider. However, if you or someone else is in danger or endangering others, call police immediately on 111.
Need to talk? Free call or text 1737 any time for support from a trained counsellor.
Or if you need to talk to someone else:
Lifeline – 0800 543 354
Suicide Crisis Helpline – 0508 828 865 (0508 TAUTOKO)
Youthline – 0800 376 633 or free text 234
Kidsline – 0800 54 37 54 (for under 18s)
What's Up – 0800 942 8787 (for 5–18 year olds 1pm–10pm weekdays and 3pm–10pm weekends)
Depression Helpline – 0800 111 757 or free text 4202
Samaritans – 0800 726 666
OUTLine NZ – 0800 688 5463
Healthline – 0800 611 116