Andrew Dickens: Is the internet making us more negative?
Author

Section

Publish Date

Monday, 20 May 2019, 12:21PM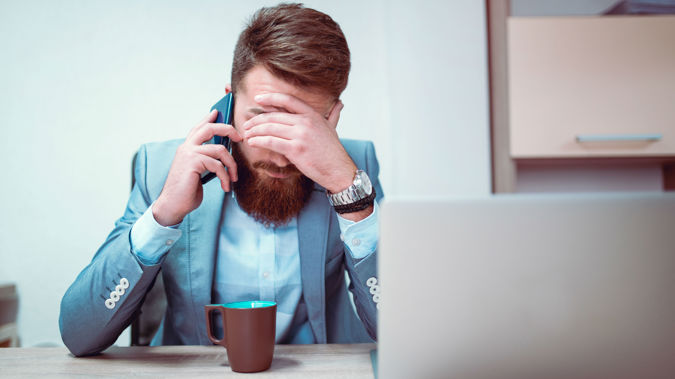 Well, what to say this Monday?
I could say I thought the Australian election would play out the way it did. I think we look at polls the wrong way. They're not a reflection of reality, but an indication of a trend and Scott Morrison had been trending up for a few weeks until he was within two per cent which is less than the margin of error.
I could talk about abortion which is becoming a topic of debate again, but I'm a man and you don't need me putting my five cents worth at this stage.
I could talk about sexual and domestic violence and pet refuges.
But all that is tough and divisive so I thought I'd talk about my weekend at the Writers Festival. They're amazing affairs these, though a little disorientating. You go to a theatre for a day and shuttle through throngs from event to event, writer to writer. Time stands still. The sun becomes a memory. It's a bit like being stuck in an airline terminal being forced to watch Ted talks.
The crowd is also interesting. Grey hair seems to be a requirement for entry. Books are certainly very much alive but it would be nice to see more young people there.
But the tsunami of theories and the cornucopia of ideas, creativity and inspiration makes these events massively entertaining.
Yesterday afternoon I watched Canadian writer and artist Douglas Coupland discusses his visual multi-media work from 1990 to the present. What a creative guy who looks at life from the side and finds the art in the everyday. He had a wonderful bit when he was basing his work on slogans and her slogans were about the things that have changed so quickly in recent years. One slogan was "I miss my pre-internet brain" and then he went further with "I can't remember my pre-internet brain".
Another was "everything feels 10 minutes ago". This is a comment on how the internet puts all history at your fingertips and now it all exists whenever you last searched for it.
Douglas Coupland had another theory. To be remembered in history you need to invent a hairstyle. It started from an exhibition he did of taxidermied Andy Warhol wigs and, of course, Warhol was remembered for his hair which wasn't even his. But take the theory on. Caesar and the Caesar Cut. Hitler and the side part. Kennedy and the wave. On it goes and so who'll be remembered from this age. Trump and the orange combover and Boris Johnson and his startled, albino, windswept squirrel?
On hair, Jacinda Ardern was talking yesterday morning about her rapid rise to Prime Minister which is the subject of political scientist Stephen Levine's book Stardust & Substance. Ardern told tales of spending four days refusing Andrew Little's request for her to take over leadership of the party until he forced her hand. But a tale that interested me was about the debates with Bill English. She angsted about what to wear and for the first debate wore her hair up. She got so much negative feedback from so many sides she hasn't done it since. Of course, nobody said a thing about Bill English who wore a grey suit a blue tie and a haircut that will never go down in history.
Who cares about a woman's hair up or down. Well, obviously a lot of people. I didn't. But people are negative. Has the internet made them so?
Markus Zusak, the Australian writer who gave us The Book Thief and now Bridge of Clay said something about the phenomenon. He was talking about bad reviews and criticism and how so many people will criticise his work on the net. He said have you noticed these days that when people like something they keep it to themselves and when they don't like something they tell everyone? And with the internet I really mean everyone.
Ain't that the truth