Andrew Dickens: Why aren't Kiwi kids interested in science?
Author

Section

Publish Date

Tuesday, 4 December 2018, 1:10p.m.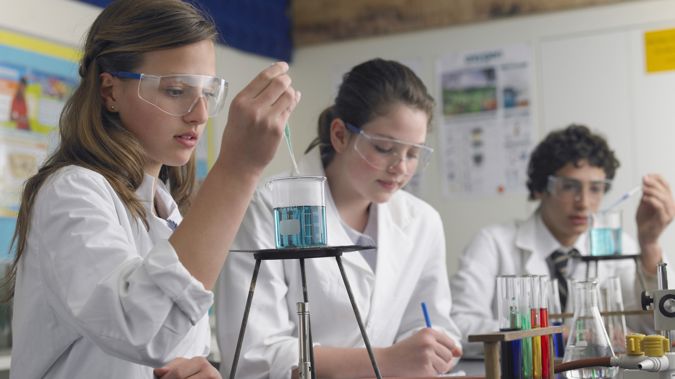 So yesterday, I went to the printer to get some background material and had to wait for 10 minutes while a fellow journalist printed out a book.
It was the National Monitoring Study of Student Achievement. It wasn't the first time I came across this report, but these days it's gained more importance because ever since the incoming government scrapped National Standards, it is one of the few tools we have to measure the effectiveness of our education.
It's a survey done every five years by the University of Otago, the New Zealand Council for Educational Research and the Ministry of Education.
Its purpose is to get a broad picture of student achievement in New Zealand. It surveys students, teachers and principals and it compares the feelings of year four students to year eight students, teachers and principals which is why it comes out every 5 years. The latest one, which was out this week, finished in 2017.
It focuses on year four and year eight because as the report says, this is the most critical stage in a child's learning. From the time you're eight, until the end of intermediate, you really start to learn and you need some skills for year nine when you enter secondary school.
Now already I'm bit concerned by all this. Firstly, the only tool we have to monitor performance comes every five years and a lot changes in five years. Secondly, the survey method is a bit touchy-feely, asking the students, teachers and principals what they reckon.
But if that's all we have, that's all we have. I never minded National Standards but the thing was misused by the schools, the ministry and the government.
So the whole thing is based on what's called achievement at an expected level. What it finds is that high decile schools do better than mid-level who, in turn, do better than low decile schools. No kidding. The rich get smarter and then richer while the poor stay poor.
By the time they start high school New Zealand kids are at the expected level in just five subjects. Arts, technology, Engish, reading, listening and viewing. But the subjects where only 30 to 40 per cent are at the expected level in their last year of intermediate are a worry. Critical thinking, English writing and social studies, and the one that has got all the headlines is science.
In year four, 94 per cent of NZ kids are at the expected level but by year eight, only 20 per cent are. In other words, at the start of secondary school 80 per cent of New Zealand kids are behind in science.
Critics have noted we're losing scientific literacy. 13 or 14-year-olds think science is just too hard. And frankly, in 2018, the future is in science.
But what's more worrying again is it shows that primary school teachers lack the confidence to teach science.
Actually, that's not surprising. The Ministry of Education notes that only 19 per cent of primary teachers had studied science themselves. Most of our primary teachers have studied the arts.
Now we're in the middle of a primary teacher pay claim. And we've heard that teachers are awesome and yet here we have proof that the very teachers who have to teach a generalised science curriculum to eight, nine and 10-year-olds are not qualified, not confident and have not been prepared to upskill that area. The result is an extraordinary drop in proficiency if one of the key areas of skills there is.
Not a good look