Child admits to putting needles in strawberries
Author

Section

Publish Date

Wednesday, 19 September 2018, 8:56PM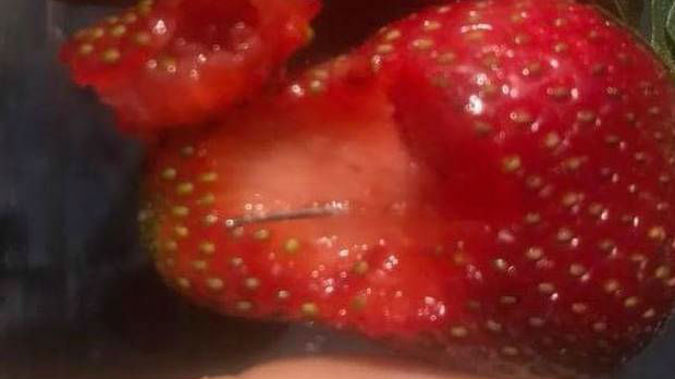 A 12-year-old has reportedly admitted to inserting needles into strawberries in what police believe to be a copycat prank.
New South Wales Acting Assistant Police Commissioner Stuart Smith said a child had been caught in recent days but would not release further details.
The youngster was earlier widely reported to be a boy, but it is understood Smith misspoke in calling the child "he" during a press conference in Sydney.
The girl placed the needle in a strawberry and showed it to friends at her school in the NSW Blue Mountains, the Daily Telegraph reported. One student told teachers and the police were called. They reportedly interviewed the girl at her home and she eventually confessed.
"Obviously, in the last few days we found a young person has admitted to a prank, including putting needles in strawberries," the police commissioner told reporters in Sydney.
Smith said the child would be dealt with under the youth cautioning system.
He said the behaviour could be "called a prank", he said, but warned any copycat cases would be dealt with harshly.
"What we've seen in the state (of NSW) we believe is the work of copycats and pranksters, we've got to deal with it though, the way we deal with any crime," he said.
It comes as the Attorney-General said there had now been more than 100 reported cases of sabotage across the country, with the scare emerging in Queensland and spreading to Tasmania and Western Australia.
It comes as a primary school student in Newcastle today discovered a needle inside a banana that was packed in their lunch box.
A strawberry bought from Adelaide Fresh Fruiterers and cut open by the mother of a toddler. Photo / Nine News
The child, a pupil at St Paul's Primary School, discovered the fruit was contaminated before biting into it and alerted teachers.
Detectives were sent to the school to investigate the incident and have removed the banana for further tests.
A spokesman for NSW Police said the force would not comment on individual matters and had a "duty of care".
Two new cases in Tasmania
Christian Porter the Attorney-General of Australia told 7.30 tonight there have now been more than 100 reported cases of sabotage across the country.
Tasmania Police are investigating two more claims of contaminated fruit being sold in Woolworths stores in the Hobart area.
The force received a report of a metal object found in a strawberry at Kingston about 6pm yesterday.
The 250g punnet of Pinata brand strawberries had been bought from the Kingston Town Woolworths on Sunday.
Police were called after the metal object, measuring about 2cm long, was allegedly found in a strawberry being eaten by a 2-year-old child.
"We can't confirm at this stage that the alleged contamination is linked to the Queensland incident but there is no evidence to suggest it is a hoax," Detective Acting Inspector David Richardson said.
Scomo lashes "grubs"
It comes as Scott Morrison lashed out at the "grubs" responsible for the country's strawberry contamination crisis, announcing four new penalties and a steep increase in jail time.
Fruit growers across Australia are reeling from 20 reports of needles found in punnets of berries, with isolated cases of banana and apple sabotage.
"You are a coward and a grub," Morrison said, addressing the person or persons responsible.
"It's not a joke. It's not funny. You are putting the livelihoods of hardworking Australians at risk and you are scaring children.
"If you do that sort of thing in this country, we will come after you and we will throw the book at you."
Mass harvests of fruit have been dumped as prices plunge, consumer demand evaporates and products are ripped from shelves.
A police operation involving 100 officers across multiple states is now under way to hunt down those responsible.
The Prime Minister announced today harsher punishments for anyone convicted of contaminating fruit, as well as classifying new Commonwealth offences relating to sabotage.
Sweeping reforms will be introduced to Parliament, raising the penalty for tampering from 10 years to 15 years.
"The other thing we are doing is to create a new offence, which deals with recklessness," Morrison said.
"Now, any idiot who thinks they can go out into a shopping centre and start sticking pins in fruit and thinks this is some sort of lark … that behaviour is reckless and under the provision we will be seeking to introduce, that would carry a penalty of up to 10 years in prison."
The Federal Government has also pledged $1 million in support for the industry.
The contaminated apple with a needle in it discovered in Sydney. Photo / 7 News
Morrison said he has met with strawberry growers, who should be in peak picking season and reaping the benefits of their hard work but instead are facing financial ruin.
Up to 120 growers in Queensland alone — where the scare originated — have been hit by a slump in demand and a wholesale price collapse of more than 50 per cent.
Community anger is growing as the needle scare worsens, with reports emerging from all six states and extending to other types of fruit.
This morning, Today show host Karl Stefanovic said he was "disgusted" by the crisis and implored authorities to come down hard on the culprits.
He told viewers he was at the "beating heart of this crisis" at the Glasshouse Mountains, north of Brisbane.
Stefanovic said they wanted to visit properties, speak to farmers and find out how difficult things have been for them over the past seven days as they dump perfectly good fruit.
Crossing live to the studio, he interviewed politicians to ask what was being done to tackle the problem and find and arrest culprits.
The West Australian government has followed Queensland in offering a $100,000 reward for any information on the tampering.
Speaking to Queensland Premier Annastacia Palaszczuk, Stefanovic told her "we really need to come down hard on anyone who is doing that sort of activity".
"I can't tell you how disgusted I am, also in the fact that they are fabricating evidence," he said. "There's fabricated fruit out there and people are behind that."
Hoani Hearne was hospitalised after swallowing a needle in a strawberry. Photo / Facebook
The first incident occurred last week, when Brisbane tradesman Hoani Hearne, 21, was taken to hospital after swallowing a needle in a strawberry.
"I'm just as disgusted as you are," Ms Palaszczuk said. "This copy cat stuff has got to stop as well. The police will find you. They will charge you."
From 9am on Wednesday, all fresh strawberries being exported from Australia must be metal-contaminant free.
The Department of Agriculture and Water Resources announced the interim control measure on Tuesday evening in response to the growing situation.
Fourth-generation farmer Rebecca Scurr shared how metal detectors had been on their farm for four years, and how even growers who weren't the brands implicated had been affected.
"For the first few days you're shell shocked," she told Stefanovic. "You never really think it will be you and your industry.
"It took a little while to set in. Now it just plays on everyone's mind. We are a family business and we have got a lot of employees that are absolutely like family.
"We take it to heart. It's just awful to see strawberries on the front page for such a negative thing."
Scurr said it was really sad to see these things happening.
"I guess the message is cut it up, don't cut it out," she said. "There are plenty of family farms here that are still producing and we are not directly linked to these incidents and we absolutely want you to keep buying strawberries."