Wife denies shooting co-worker in beheading case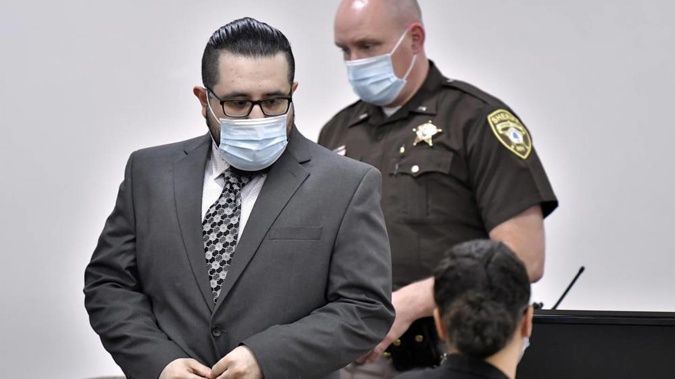 Wife denies shooting co-worker in beheading case
Warning: Distressing content
The wife of a New Hampshire man accused of killing her co-worker after he discovered they were texting — and then forcing her to behead him — denied shooting him on Wednesday, and testified that both were brutally assaulted by her husband in the hours leading up to the death that night.
Britany Barron, 33, testified at her husband's first-degree murder trial that he choked and punched her and eventually put his gun into her mouth.
"You know that you're going to die tonight, right?" she testified her husband, Armando Barron, said in September 2020, not long before the two left the house to go to the park where he allegedly used her phone to tell the co-worker to meet her there.
"Don't do anything stupid or the girls are going to walk into something (expletive) gruesome," she testified he said as they were leaving. He had sent the couple's three young children to go to their grandmother's home next door. On the way to the park, he read the texts aloud, striking her after finishing each one, she said.
Britany, who asked a prosecutor in the Keene courtroom to address her by her maiden name, Mitchell, also testified that just a week earlier, she had told Armando she no longer loved him and wanted a divorce. When he heard that, he grabbed her throat and started choking her, saying, "Are you serious?"
She denied early in her testimony that she was the one who shot Jonathan Amerault, as a defence lawyer alleged during opening statements on Tuesday. She pointed to her husband as the shooter.
Barron pleaded not guilty to killing Amerault, 25. He acknowledged in court Tuesday that he had struck Britany, broke her nose, attempted to strangle her, and kicked Amerault in the head.
Prosecutors allege that Armando Barron, 32, used his wife's cellphone to lure Amerault to the park just north of the Massachusetts state line the night he discovered the texts, beat and kicked Amerault and tried to force his wife to shoot him. She refused. He also forced her to stand on his neck and slit his wrists, they said.
Armando Barron forced Amerault into the back of the victim's car and told Britany to get into the driver's seat, she testified. At one point, he left them alone, she said. There was a machete inside and Britany testified that Amerault told her to pick it up and kill her husband, but she said no.
"I wasn't going to test him," she said. She said Armando Barron eventually got into the car and shot Amerault three times.
An image of Britany Barron is shown on a computer screen as her husband Armando Barron looks toward the jury during opening arguments in his trial. Photo / AP
Barron had his wife drive the car back to their home in Jaffrey to pack some supplies, and he followed in the couple's car. They then headed 322km to a remote campsite, with Barron talking on the phone with her throughout the trip, she testified.
There, Armando Barron allegedly forced her to cut off Amerault's head and bury it and wrap the body in a tarp. He left her to dispose of the body and returned home, she testified.
"He said that we needed to cut off his head so that there would be no dental records of the body," Britany testified, saying she used a saw brought from home.
She testified that they both destroyed evidence.
The body was found by New Hampshire Fish and Game officers in a swamp after they found Britany at the campsite, where she was not allowed to camp.
Britany testified that she and Amerault got to know each other better while working on a project in the days leading to his death and communicated via texting and social media apps. One afternoon, they drove to a nearby park after work and talked. She described him as kind, sweet and funny.
"I said I couldn't offer anything more than friendship," she testified, and later gave him a quick kiss when he returned her to work so she could get her car. They shared one more kiss during a work break that week, a day before the texts were discovered.
Britany pleaded guilty last year to three counts of falsifying evidence and was released from jail on parole last month. She apologised to Amerault's family during her sentencing.
The Associated Press had not been naming the couple in order not to identify Britany Barron, who said she suffered extreme abuse. Through her lawyer, she recently agreed to the use of her name.
Jonathan Amerault. Photo / Supplied
Britany Barron told police around the time she was arrested that her husband, while going through her phone, discovered she was having an "extramarital affair" with Amerault, according to the affidavit. But lawyers said on Tuesday it was a flirtatious relationship that was mostly carried out through texts and social media.
"All he did was respond to her text messages for eight days, during the last 10 days of his life," Justine Amerault, Jonathan's mother, said in an email to the AP. She testified Tuesday that he had told her he had met Britany Barron, that she was in abusive relationship, and that "she was done." A good friend of Amerault's testified that some of the texts "were a little graphic."
Amerault, an engineer at the biomedical device company in Jaffrey where Britany Barron also worked, was an avid hiker who had summited all but one of the 67 mountains in northern New England that are at least 1220m in elevation.
He had received honours for his volunteer work at the Boys & Girls Club of Souhegan Valley in Milford, New Hampshire, that he had attended in his youth, and later became a camp counsellor. A granite bench in his memory was dedicated at the club.
Amerault had led the creation of a "Be Great" mural that hangs over the entrance.
"Throughout his life Jonathan was surrounded by hundreds of the most wholesome good people ... co-workers, friends and family," his mother wrote, adding, "it's beyond comprehension that such a beautiful young man should die in the presence of two such filthy, evil creatures."
- Kathy McCormack, AP
DOMESTIC VIOLENCE - DO YOU NEED HELP?
If it's an emergency and you feel that you or someone else is at risk, call 111.
If you're in danger now:
Phone the police on 111 or ask neighbours of friends to ring for you.
Run outside and head for where there are other people.
Scream for help so that your neighbours can hear you.
Take the children with you.
Don't stop to get anything else.
If you are being abused, remember it's not your fault. Violence is never okay
Where to go for help or more information:
Women's Refuge: Free national crisis line operates 24/7 - 0800 refuge or 0800 733 843
Shine, free national helpline 9am- 11pm every day - 0508 744 633
It's Not Ok: Information line 0800 456 450
Shakti: Providing specialist cultural services for African, Asian and Middle Eastern women and their children. Crisis line 24/7 0800 742 584
Ministry of Justice:
www.justice.govt.nz/family-justice/domestic-violence
National Network of Stopping Violence:
White Ribbon: Aiming to eliminate men's violence towards women, focusing this year on sexual violence and the issue of consent.
How to hide your visit
If you are reading this information on the Herald website and you're worried that someone using the same computer will find out what you've been looking at, you can follow the steps at the link here to hide your visit. Each of the websites above also have a section that outlines this process.