Who is the new US House speaker?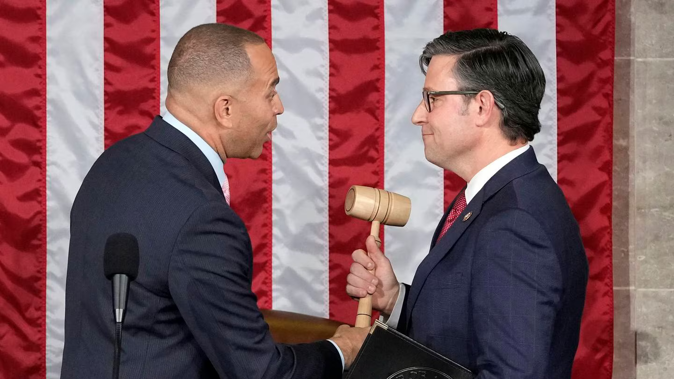 Who is the new US House speaker?
A low-key lawmaker in Congress for less than a decade, new House Speaker Mike Johnson isn't recognisable to most Americans. But the social conservative and devoted ally of former President Donald Trump has been a quiet force within the Republican conference he now unexpectedly leads.
Most importantly, for now, he was able to get all of their 220 votes to become speaker on the House floor. That's something none of his more well-known colleagues were able to do, as Republicans struggled for more than three weeks to pick a replacement for ousted Kevin McCarthy.
Colleagues say the Louisiana Republican who calls himself a servant will be a steady hand and give them a fresh start. Many hope they will finally be able to move past the seemingly intractable divisions within their conference that have felled every House GOP leader in the past decade.
"A friend to all and an enemy to none," Republican conference chairwoman Elise Stefanik said when nominating Johnson ahead of the speaker vote today.
Free from the political baggage that can come with a higher profile, the affable Johnson, 51, promises to restore faith in Congress as he assumes the speakership under remarkable circumstances. He's taking charge after three weeks of infighting, other failed candidacies and no action on legislation.
But it remains to be seen how well Johnson will fare at uniting his fractured conference as the House immediately plunges into debates over government spending — or in gaining trust from Democrats who are deeply suspicious of his socially conservative record and support for Trump's efforts to overturn the results of the 2020 election.
Addressing the House after his election, Johnson invoked his Christian faith and talked about his upbringing — his mother was 17 when he was born, and his father was a firefighter who was injured in the line of duty. He promised to quickly move forward on conservative priorities like support for Israel and border security.
"The time for action is now," Johnson said. "I will not let you down."
House Speaker Mike Johnson of Louisiana speaks during a news conference at the Capitol in Washington today. Photo / AP
A constitutional lawyer and former member of the Louisiana state House, Johnson was first elected to the US House in 2016. He is the first Louisianan to become speaker and the first Southerner to serve as speaker since Republican Newt Gingrich of Georgia in the 1990s.
Among the more conservative members of the GOP conference, Johnson has consistently opposed a woman's right to abortion — "we will get the number of abortions to ZERO!!" he posted on Twitter, now known as X, earlier this year — and has opposed legislation giving legal rights to same-sex couples who are married.
An active member of the House Judiciary Committee, he gained some notice as one of the leading Republican questioners of witnesses during Trump's first impeachment in 2019. He continued to act as one of Trump's chief defenders through the 2020 election, rallying colleagues to sign a letter of support for an unsuccessful case by several states to throw out some election results.
Johnson is close to Judiciary Committee chairman Jim Jordan, who strategised with Trump on how to overturn his presidential defeat and lost his own bid for speaker earlier this week after moderates in the conference revolted.
Trump today said Wednesday that Johnson is going to "make us all proud".
Former Georgia representative Doug Collins, the top Republican on the judiciary panel during Trump's first impeachment, today said that during hectic times on the committee, Johnson would calmly try to organise a way forward. He would work with newer members on the panel and use his expertise in constitutional law to advise on the best way to frame questions.
A House speaker can only do so much, Collins said, but "they will feel listened to with Mike".
Collins said people who don't know Johnson will be struck by his humility, but "don't mistake the humility and kindness for not being forceful in what he believes in".
Most concerning to many Democrats is Johnson's support for Trump two years ago as the former president was trying to illegally overturn his presidential defeat, after every state had certified Trump's loss and several courts had rejected the former president's challenges.
On November 7, 2020, after Biden was declared the winner, Johnson posted that he had called Trump to tell him to "Stay strong and keep fighting, sir!" And on January 6, 2021, as Congress prepared to certify Biden's win and just before Trump's supporters overran the Capitol, Johnson tweeted: "We MUST fight for election integrity, the Constitution, and the preservation of our republic! It will be my honor to help lead that fight in the Congress today."
Take your Radio, Podcasts and Music with you