'What about the homeless?' Backlash at Jacinda Ardern mural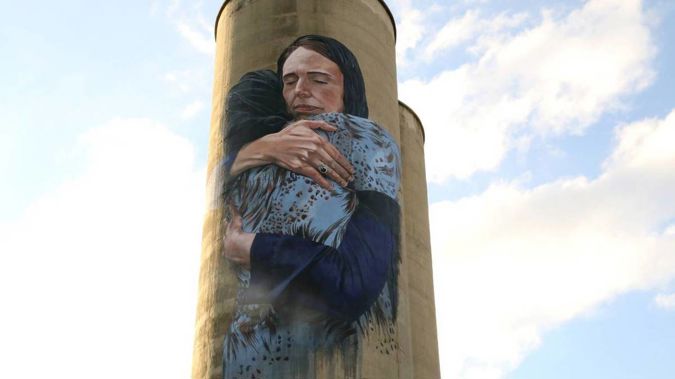 A larger-than-life mural depicting Prime Minister Jacinda Ardern embracing a Muslim woman has been completed, but its appearance in Melbourne has caused controversy.
The thought-provoking artwork was finished on a silo in Brunswick, north Melbourne on Wednesday.
Melbourne artist Loretta Lizzio was chosen to paint the mural after more than $11,000 was raised through a Gofundme account.
View this post on Instagram
While organisers say the multicultural suburb of Brunswick was an appropriate place to put the mural, its creation has sparked fierce backlash, with more than 15,000 people signing a petition ordering its removal claiming it wasn't relevant to Australia.
The controversial silo mural of Jacinda Ardern hugging an Islamic woman in Christchurch takes shape in Brunswick. It's on private property, approved by council, but 15 thousand people signed petition against it, saying it has nothing to do with Australia. 6pm#7NewsMelb pic.twitter.com/X2bonYR1eS

— NickMcCallum7 (@NickMcCallum7) May 16, 2019
Some believe the money could have been spent better elsewhere with people taking to social media to express their views.
$11,000 can go towards actual people, help the homeless and the hungry... not a mural.." one person commented on a Facebook post.
"All I am seeing is a lot of money being put into the wrong things, it should be helping people, and the earth.." another person commented.
Others were more damning in their stance over the mural.
Mural of a Socialist to tower over Brunswick! I personally think the homeless could have used the $11,000 it cost to do this appeasing image ! #socialist #mural #melbourne https://t.co/uBUvf4VPby

— Adam Jo (@adamjomusic) May 19, 2019
On my morning run today around Brunswick I went past the under construction mural featuring @jacindaardern hugging a Muslim lady.
It's outstanding. I honestly don't understand though why some folks are so offended by this. Well done @lorettalizzio pic.twitter.com/kGSCR1EoYH

— Blair Hughes (@MrBlairHughes) May 16, 2019
This 💯💯💯 https://t.co/IotielL16T

— Rita Panahi (@RitaPanahi) May 17, 2019
The mural on a silo in Brunswick, Melbourne, depicting New Zealand PM Jacinda Ardern embracing a Muslim woman in the wake of the Christchurch massacre is complete. It is by street artist Loretta Lizzio. ❤️ 📷: AAP pic.twitter.com/SgiHtZDylY

— news.com.au (@newscomauHQ) May 22, 2019
but why Melbourne ??....A mural depicting Jacinda Ardern embracing a Muslim woman is finished https://t.co/z09GHiFz4C via @MailOnline

— Amber.K.🎉🎉🎈🎈 (@AmberX994874) May 22, 2019