'We knew ahead of time': A decade of turmoil left Libya unprepared for a catastrophic storm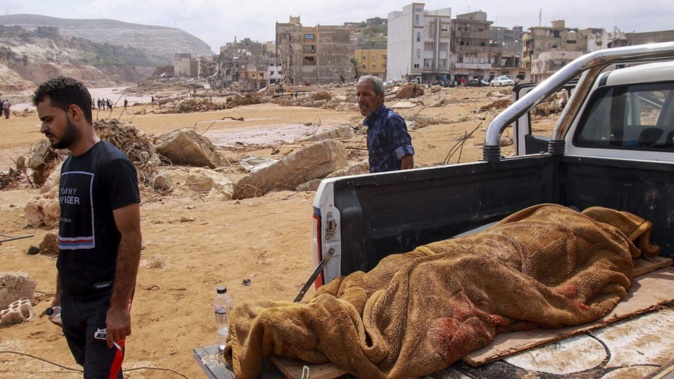 'We knew ahead of time': A decade of turmoil left Libya unprepared for a catastrophic storm
CNN — Following a civil war and a political standoff that has lasted almost a decade, Libya is struggling to deal with a catastrophic flood that is believed to have killed at least 5,300 people and left over 10,000 missing in the country's northeast.
Split between two rival administrations since 2014 and having failed to hold presidential elections, Libya faces an uphill battle when it comes to severe natural disasters. The North African country's fragmented state has made it unprepared for the flooding, experts say, and has the potential to hamper delivery of urgently needed humanitarian aid.
The Libyan coastal town of Derna is one of the most severely hit cities by the floods that followed Storm Daniel, which formed on September 5, inundating parts of Greece before moving into the Mediterranean.
But the storm is only the latest misery to befall the town. It was the scene of a bloody battle with ISIS in 2015, and then in 2017 became the target of an intense military campaign by Khalifa Haftar – a renegade commander who controls swathes of eastern Libya – as the last bastion of opposition to his hold on the region.
With the city in desperate need of aid, it is unclear how it will be delivered and distributed as Derna lies in a part of the country controlled by a government most of the international community doesn't recognize.
The flooding in Libya comes just days after the strongest earthquake to hit Morocco's center in more than a century killed 3,000 over the weekend. But the situation in Morocco is different, experts say, as there is one government responsible for receiving and distributing aid, which isn't the case in Libya.
Unlike in Morocco, "this disaster has the hand of man written all over it, and it is stained with their blood," said Anas El Gomati, director of the Sadeq Institute think tank in Tripoli.
Libya descended into chaos following the 2011 NATO-backed uprising that toppled longtime dictator Moammar Gadhafi. In 2014, the country fell into a civil war that led to it splitting between warring factions.
Nearly 10 years later, a political standoff continues between an internationally recognized government in the capital, Tripoli, in the west of the country, that is led by Prime Minister Abdulhamid Dbeibeh, and a rival rebel administration in the eastern city of Benghazi, led by Haftar and his Libyan National Army (LNA), that is supported by some states.
"Libya, even when you approach it from its most advanced cities like Tripoli or Benghazi, is not equipped," said Jalel Harchaoui, an associate fellow specializing in Libya at the Royal United Services Institute (RUSI) in London, adding that the situation is made worse as the floods have hit the "most neglected municipality" (Derna) in the particularly troubled province of Cyrenaica.
'We knew ahead of time'
Derna, where emergency response workers say hospitals are no longer operational and bodies have been left on sidewalks outside the morgues, lies some 300 kilometers (190 miles) east of Benghazi and falls under the control of Haftar's administration.
A city of nearly 100,000, it was the epicenter of ISIS' 2015 debut in Libya, Harchaoui said. Following liberation from ISIS in late 2017, the city resisted control by Haftar, who in 2017 said he would "choke" it with a siege when it was controlled by Islamists. It has been on sour terms with the commander ever since.
Even after Haftar took control of Derna in 2018, plans for reconstruction did not materialize and the city's infrastructure remained in tatters, experts say.
"The system there is overwhelmed and was underperforming before this disaster," said Gomati.
Gomati said that the problem goes beyond the political divisions, adding that emergency response authorities in the eastern government were lacking in preparedness.
A day before the storm hit, the office of Libya's eastern premier, Osama Hamad, issued a warning to citizens of Derna and its surrounding cities ahead of the expected weather conditions. The interior ministry in Tripoli had also issued a warning three days ahead.
"All citizens must exercise caution, especially those close to the coast, due to thunderstorms, heavy rains and rising sea levels," Derna's municipal council warned September 9 on its Facebook page, adding that residents should limit movement unless necessary.
A curfew was set in place from 10:00 p.m. local time, until the disaster was over, the council announced in a separate post, and the evacuation of certain towns was ordered.
On Monday, the council said: "The situation in the city is out of control. International intervention is needed."
Osama Aly, spokesperson for the Emergency and Ambulance Service in Libya, suggested there was negligence by authorities in preparing for the potential damage from the storm.
"The weather conditions were not studied well … there was no evacuation of families that could be in the path of the storm and in valleys," Aly told CNN Monday.
"Libya was not prepared for a catastrophe like that," he told Al Hurra channel earlier. "We are admitting there were shortcomings even though this is the first time we face that level of catastrophe."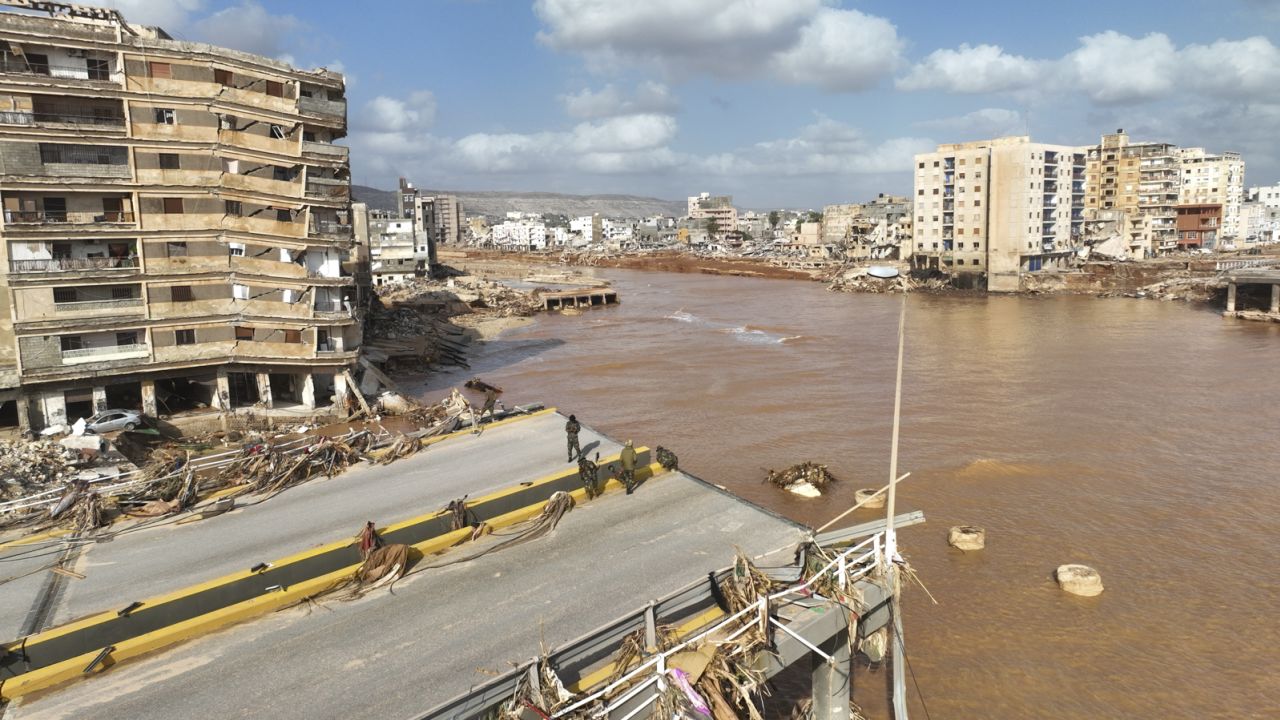 Flooding in the city of Derna, in eastern Libya on Tuesday. Jamal Alkomaty/AP
Derna's violent past and difficult relationship with Haftar's administration "proved calamitous during the recent natural disaster," Harchaoui said, adding that authorities made "grievous miscalculations" when responding to the crisis.
CNN has reached out to the LNA's spokesman, Major General Ahmed al-Mismari, for comment.
Al-Mismari told Al-Hadath TV Monday that from the moment authorities learned of the storm, the LNA was ready to "limit losses as much as possible."
He added that LNA support is present in every city hit by the storm, and that several of the LNA's troops have gone missing amid rescue operations. The spokesman also criticized the rival government in the west, saying its response was limited to "a small tweet on X," formerly known as Twitter, and that the eastern government is handling the crisis on its own.
On Tuesday, Al-Mismari told Al-Arabiya TV that Libya and the eastern authorities are "not equipped to handle this level of damage," and that at least three different specialist rescue teams are needed.
"We need massive numbers (of aid workers)," he said.
Responding to criticism regarding lack of preparedness by the LNA, Al-Mismari said that in such situations, 50% of the responsibility falls on authorities (LNA) and 50% falls on citizens.
Analysts and some response workers say the eastern government has lacked efficiency in its efforts.
"It is the incompetence of these individuals, of these political elites, (who) are responsible for clinging onto power rather than giving Libyans the right to vote for the last ten years," Gomati said. "We knew ahead of time."
Political rift may hamper aid distribution
A number of nations have pledged aid but it's unclear how it will be distributed. The administration in Benghazi is not recognized by the United Nations, but Haftar has gathered a number of regional and international backers amid his war with Tripoli, and Islamists in the east, including Italy, Egypt, Russia and the United Arab Emirates.
Most countries that have delivered aid to Libya have sent it to Benghazi, with the exception of Algeria, which remains at odds with Haftar's army and chose to send its aid to Tripoli – more than 1,000 miles away from the affected region.
Italy has responded to Libya's request for support and is sending a civil defense team to assist with rescue operations, the country's Civil Protection Department said Tuesday. Turkey, which backs the Tripoli government, also said it is mobilizing personnel and supplies to assist authorities in eastern Libya.
The Egyptian military has also sent three aircraft carrying medical supplies, food, and a team of 25 rescuers equipped for aid operations. A fourth aircraft will be used to evacuate the injured and deceased, the military said.
Analysts are skeptical of the extent to which the eastern government will allow access into Derna.
"I don't know if they can be trusted to allow organizations and activists and human rights groups, or even aid groups to access the city," Gomati said, adding that the eastern government has spent the last few years isolating Derna.
Even if aid does get to Derna, Harchaoui said, there's no guarantee that it will be distributed in an equal and efficient manner.
Some aid workers are more optimistic, however. Tamer Ramadan, head of international Federation of Red Cross and Red Crescent Societies (IFRC) in Libya, told CNN Tuesday that the issue of rival governments in Libya does not affect their operation.
"We have a good relationship with officials in both governments," Ramadan said.
Take your Radio, Podcasts and Music with you