Vietnam went 99 days without community transmission before it all went wrong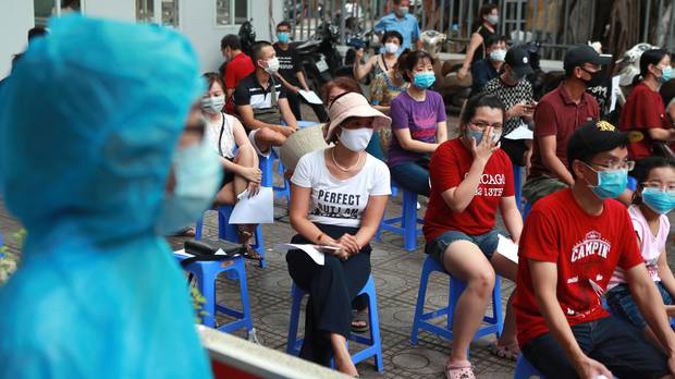 Vietnam went 99 days without community transmission before it all went wrong
Vietnam – until recently, a rare coronavirus success story – is in the middle of a fresh outbreak that has scientists "stumped", the BBC reports.
After 99 straight days of no local transmission, cases have suddenly surged in the south east Asian nation – a worrying sign for any country or state that thinks it has the virus under control.
And that includes New Zealand, which yesterday marked its own 99-day run without community transmission.
Remarkably, up until a week ago, Vietnam had yet to record a single death from coronavirus. One week on, the death toll stands at 10.
The country was one of the first in the world to lock down and had reaped the benefit of that strategy. That was even more remarkable because it shares a border with China where Covid-19 was first recorded last year.
But a spike in cases in the central Vietnamese city of Da Nang caught everyone by surprise.
No-one knows how the first case in Da Nang – a 57-year-old man – came into contact with the virus.
There are now almost 800 cases in Vietnam, including in the capital Hanoi and Ho Chi Minh City, otherwise known as Saigon.
Epidemiologist Prof Michael Toole told the BBC it was difficult to pinpoint what "went wrong" with Vietnam's virus response. Rather, the sudden spike demonstrated something Melburnians know all too well: "once there's a little crack and the virus gets in it can just spread so quickly".
Meanwhile here in New Zealand, today marks day 100 of without community transmission of Covid-19.
The US has recorded 161,906 deaths and is nearing 5 million cases, while the world nears 20 million cases.
John Hopkins University of Medicine recorded Los Angeles has 204,258 confirmed cases and 4919 deaths.
New York City has 23,575 deaths and 227,584 confirmed cases of Covid-19, according to Johns Hopkins.
Germany's Robert Koch Institute, the nation's disease control center, recorded more than 1,000 new infections nationwide for the third day running Saturday.
 South Africa's number of confirmed coronavirus deaths has surpassed 10,000.
The health ministry says the country with the world's fifth-largest caseload now has 553,188 cases and 10,210 deaths.
South Africa makes up more than half the infections on the African continent, where the total number of cases this past week surpassed 1 million. Experts say the actual number of cases is several times that amount, given the shortage of testing materials and people can have the virus without symptoms.
Brazil is approaching the grim milestone of 100,000 confirmed deaths from COVID-19.
That comes five months after the first reported case in a nation of 210 million, which has not shown signs of slowing the disease. Brazil has reported an average of more than 1,000 daily deaths from the pandemic since late May.
The Health Ministry on Friday reported a total of 2,962,442 confirmed cases and 99,572 deaths — tolls second only to the United States. As in many countries, experts believe both numbers are severe undercounts due to insufficient testing.
 Italy added another 347 coronavirus infections to its official tally, a day after it surpassed the 500-case barrier for the first time since late May.
Italy had 552 confirmed cases on Friday. With Saturday's update from the health ministry, Italy's daily caseload returns to the 200-300 range of new infections it has maintained for the past several weeks.
- additional text from AP