Vegas shooting: Kiwis describe the chaos
Author

Section

Publish Date

Tuesday, 3 October 2017, 6:34AM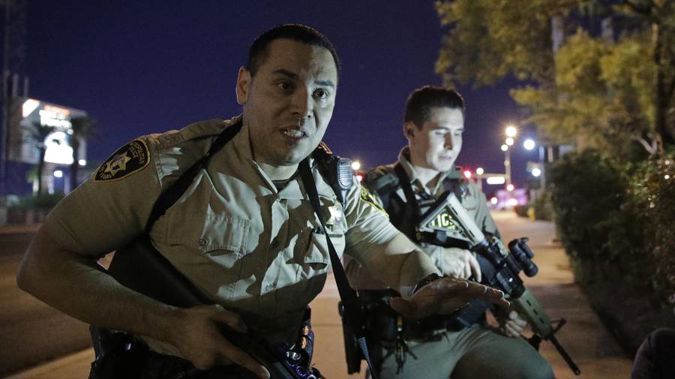 Eyewitnesses have described the terror and chaos as a gunman began shooting on people at a music concert in Las Vegas tonight.
Among them are New Zealanders Glenn Read and Shena Parks, from Waihi, who were about 500m away when the shooting began.
"We were about to do a helicopter ride over Las Vegas when people started running through the front door panicking," Read said. "One was shot in the arm - it was crazy.
"Everyone was put in a locked helicopter hangar but no one was listening and just panicking."
After about an hour they have been moved some 2km down the road and are still in lockdown.
They had been told one shooter had been shot dead and an unknown number was believed to be still on the loose.
Ben Northrop of Wellington had just turned up in Las Vegas for a business meeting.
"We literally drove down the strip, never been here before and it all teed off in front of us.
"The first sign of trouble was people running towards them and police heading away.
"There were guys saying there were bullets had just gone over their heads. We talked to a woman and the woman next to her had been shot in the head."
He said he was "just down the road from the Mandalay" and could see people covered in blood who had fled from the shooting.
Northrop and business partner Callum Macleod were in Las Vegas for a conference. Since arriving and watching chaos unfold, they have since been told one shooter is dead, one captured and authorities were searching for two more.
"I can't believe how crazy it was. The guy beside me has got blood on him from other victims."
Another witness, named Zac, told Fox News he was right in front of the concert stage at Mandalay Bay when "all of a sudden there were these 'pops' like from a firework - 1, 2, 3 going off."
He said the firing was coming from the top of the Mandalay Bay.
"My sister saw in plain sight a girl get shot in the head."
He bunkered down, telling the people next to him to "Calm down, calm down" and holding the hand of a girl next to him. The gunshots continued and the crowd was told to run, he said.
An Australian tourist named Danny told CNN he was in the Mandalay Bay and described chaos at the scene as officers ran into the building's lifts.
"They were going up, they were coming down, they were going this way, that way. We were told to get out, told to get in - one shooter's up there still, we were told by police, and one's roaming around."
"A lot of people heard gunshots - the initial gunshots were apparently machine gun fire."
He and a group of around 14 people had stayed together for safety but were unsure where to run to, Danny said.
SWAT officers were everywhere, and at one point had told the group to put their hands up. Police appeared confused about the shooter's location or whether there were multiple shooters, he said.
Asked what ran through his head, he said: "I'm from Australia - we don't cop this sort of stuff in Australia that much. But you just try and keep people safe."
A spokesman for New Zealand's Ministry of Foreign Affairs and Trade said MFAT was responding to reports of an active shooter scenario on the Las Vegas strip. He said there were 44 New Zealanders registered on SafeTravel as being in Las Vegas and 2157 in the USA.
"The New Zealand Consulate-General is in contact with the local authorities. There are no indications at this stage that any New Zealanders have been caught up in the incident," he said.
"Any New Zealanders in the vicinity are advised to stay indoors, follow any instructions issued by the local authorities and let their family in New Zealand know they're okay.
"New Zealanders who require consular assistance are advised to contact the New Zealand Consulate-General in Los Angeles: +1 310 566 6555."