Vegas shooter put cameras inside and outside room
Author

Section

Publish Date

Wednesday, 4 October 2017, 12:20PM
Authorities say the gunman in the Las Vegas shooting set up cameras inside and outside the hotel room in which he opened fire on the crowd at a country music concert.
Sheriff Joe Lombardo said at a news conference Tuesday that he believes shooter Stephen Craig Paddock set up the cameras to see if anyone was coming to take him into custody.
BREAKING: Las Vegas gunman placed camera in food service cart outside hotel room before attack - Sheriff pic.twitter.com/2B0Ieyx4Nc

— Breaking911 (@Breaking911) October 3, 2017
Lombardo added it was obvious the shooting was pre-planned.
"It was pre-planned, extensively, and I'm pretty sure that he evaluated everything that he did in his actions, which is troublesome."
Authorities described a grim amount of preparation. Police said Paddock arrived on Thursday, three days before the shooting. He took more than 10 suitcases into his suite, officials said.
Paddock aroused no suspicion from hotel staff even as he brought in 23 guns, some of them with scopes. One of the weapons he apparently used in the attack was an AK-47 type rifle, with a stand used to steady it for firing, people familiar with the case said.
Officials recovered another 19 guns as well as thousands of rounds of ammunition and the chemical tannerite, an explosive, at Paddock's home in Mesquite, Nevada. They also found ammonium nitrate, a chemical that can be used in bombmaking, in Paddock's vehicle, Lombardo said.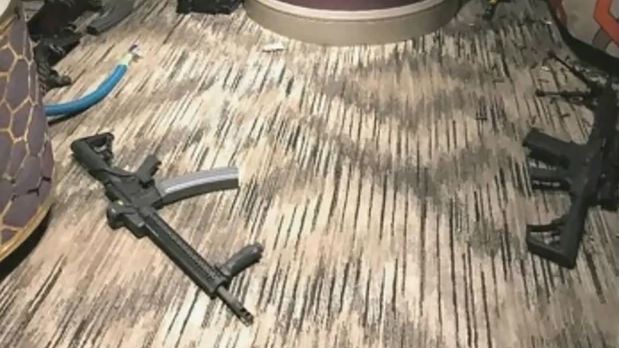 Leaked photographs from inside the hotel room used by Las Vegas shooter Stephen Paddock. (Photo / Breaking911 twitter)
Paddock had apparently used remote video cameras linked to a tablet to keep an eye out for police storming his hotel room, according to two people close to the investigation, who asked not to be identified discussing the ongoing probe.
He apparently had set up a security perimeter behind him while firing round after round into the crowd below - another indication of the level of preparation Paddock put into the attack. Such a setup would have made it easier for Paddock to know when he was close to being confronted by law enforcement.
Lombardo also said the department had opened an investigation into the unauthorised release of images that show the crime scene.
"I'm very troubled by it," Lombardo said. "We have an internal investigation going as we speak as to how those photographs were obtained."
It's been revealed Paddock worked as a letter carrier for the US Postal Service, an IRS agent and in an auditing department over a 10-year period.
A spokeswoman for the Office of Personnel Management told The Associated Press on Tuesday that Stephen Paddock's employment included about two years as a mail carrier from 1976 to 1978.
After that, he worked as an agent for the Internal Revenue Service for six years until 1984.
And then he worked a defence auditing job for about 18 months.
The information helped complete the timeline surrounding the 64-year-old Paddock's life. He graduated from college in 1977 from Cal State Northridge and also worked for a defence contractor in the late 1980s.
Investigators have sifted through a chilling but baffling array of clues in the wake of the shooting, trying to determine the chain of events that caused Paddock to gun down concertgoers.
"I can't get into the mind of a psychopath," Lombardo said.
Lombardo has warned that the number of dead in Las Vegas could rise. More than 500 other people were thought to have been injured. Hospitals across the region continued to treat patients from the scene, many of them seriously injured. Sunrise Hospital and Medical Center said that as of Tuesday morning (local time), it had 68 patients from the rampage, 33 of them in critical condition.
More than a dozen investigators, most wearing jackets marked "FBI" and all in blue protective booties, arrived in unmarked sedans and entered the concert site Tuesday to pick through the scene for clues.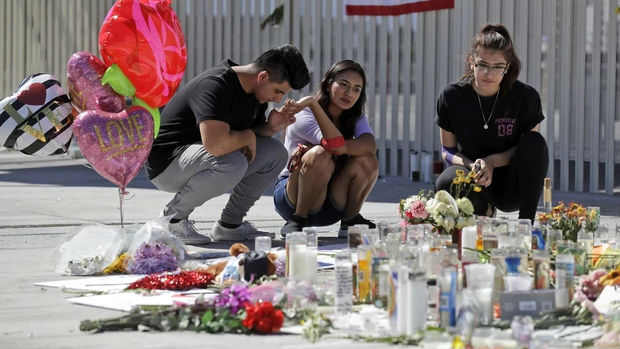 People pause at a memorial site in Las Vegas. (Photo / AP)
The site inspection was visible by The Associated Press videographers from the 35th floor of the Mandalay Bay tower - three floors above the suite where Paddock launched his barrage and later killed himself.
Nevada Attorney General Adam Laxalt compared the scene with a war zone.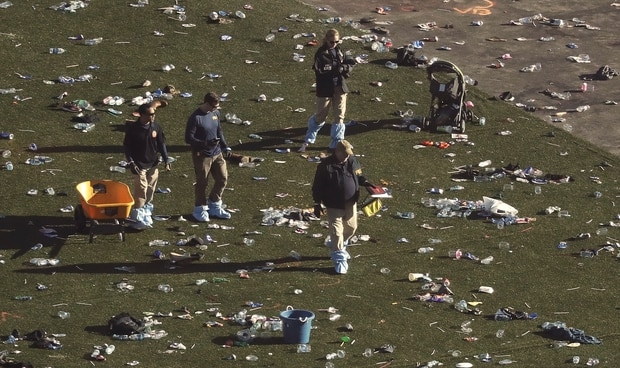 Investigators walk through debris on festival grounds across the street from the Mandalay Bay Resort and Casino. (Photo / AP)
Laxalt is a former US Navy Judge Advocate General's Corps member.
"Shoes, baby strollers, chairs, sunglasses, purses. The whole field was just littered with things," Laxalt said Monday. "There were blood stains everywhere."