Upright gorillas go viral after they pose for photo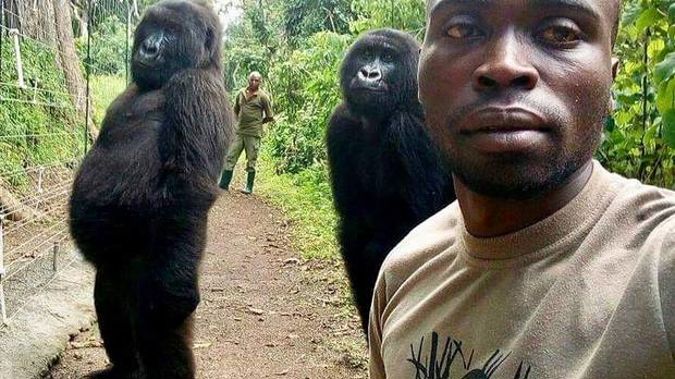 Upright gorillas go viral after they pose for photo
Two gorillas apparently posing for a selfie with a park worker have gone viral.
The bizarre picture, has caused a stir as the Virunga gorillas appear to have taken a break from monkeying around, stood upright and joined in ranger Mathieu Shamavu's selfie.
However Shamavu, a former worker for the Congolese Institute for the Conservation of Nature, saw nothing unusual in the primates' pose. He captioned his instagram snap "another day at the office."
A far cry from any behaviour you might see David Attenborough documentary, the candid snap has many asking if it's been faked.
"YES, it's real!" replied the Virunga National park, on whose social media feeds the picture was circulated.
"It's no surprise to see these girls on their two feet - most primates are comfortable walking upright (bipedalism) for short bursts."
The two female apes, Ndakazi and Nzeze, have lived in the Senkwekwe sanctuary since they were orphaned.
The pair of primate posers has been circulated around anti-poaching groups and social media, becoming public faces for the plight of the Congolese mountain gorilla.
The Virunga national park is situated in the East of the DRC and was established in 1925 to preserve the giant primates. There are thought to be only 1000 left in the wild.
The work of the park was the subject of an Academy Award nominated documentary in 2014, as the conservationists faced threats from oil exploration and a violent armed rebellion in the surrounding jungles.
The work of Africa's oldest National Park continues today and the heritage site hopes that the photo showing another side of these cheeky primates might help encourage more interest and donations for their work in the country.
For more information visit Virunga.org