UK election exit poll suggests Conservatives majority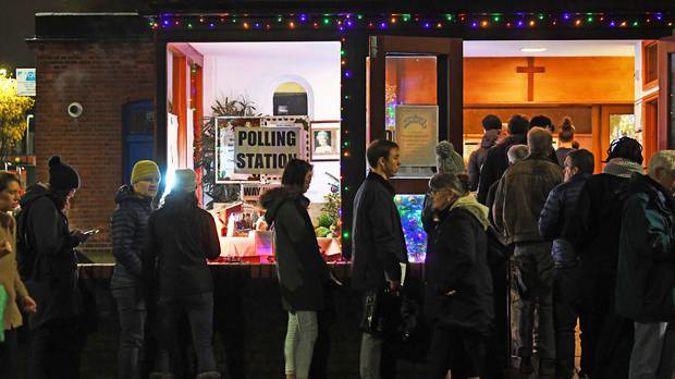 UK election exit poll suggests Conservatives majority
An exit poll in Britain's election projects that Prime Minister Boris Johnson's Conservative Party likely will win a majority of seats in Parliament, an outcome that would allow Johnson to fulfill his plan to take the UK out of the European Union next month.
Britons who have endured more than three years of wrangling over their country's messy divorce from the European Union cast ballots in an election billed as a way out of the Brexit stalemate in this deeply divided nation.
On a dank, gray day with outbreaks of blustery rain, voters went to polling stations in schools, community centres, pubs and town halls after a five-week campaign rife with mudslinging and misinformation.
The contest pits Conservative Prime Minister Boris Johnson, who says he will take Britain out of the European Union by January 31, against the opposition Labour Party led by Jeremy Corbyn, who has promised another referendum on Brexit.
All 650 seats in the House of Commons are up for grabs in the election that is being held more than two years ahead of schedule. Opinion polls suggest the Conservatives have a lead over Labour. But all the parties are nervous about the verdict of a volatile electorate fed up after years of Brexit wrangling.
At a fish market in the eastern England port of Grimsby, seafood company owner Nathan Godley summed up the hopes of many that — one way or another — the election would provide a pathway to a resolution of Brexit.
"I think we all got a bit weary of the politicians over the last few years really, and I think having a government with a majority to give them the clout to actually do what they want is a good thing," he said.
Johnson voted near the prime minister's Downing Street residence in London, accompanied by his dog, Dilyn. Corbyn was greeted by supporters and an activist dressed as Elmo from "Sesame Street"as he arrived to vote in his north London constituency.
The two parties are offering voters starkly different visions of the future. Johnson campaigned relentlessly on a promise to "Get Brexit done" — and promised a modest increase in public spending — while Labour vowed to tax the rich, nationalise industries such as railroads and water companies and give everyone in the country free internet access.