UK 'Bucket Bomber' caught on CCTV
Author

Section

Publish Date

Monday, 18 September 2017, 10:32a.m.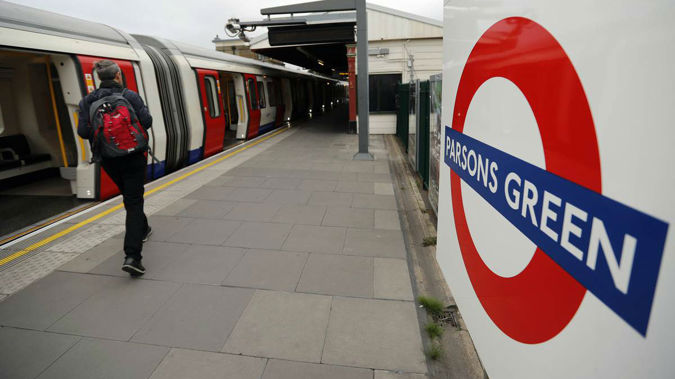 A man was caught on camera an hour-a-half before the Parsons Green bombing carrying a Lidl shopping bag as he left a house which is now at the centre of a police investigation into the tube terror.
CCTV footage shows a figure outside the property in Sunbury-on-Thames, Surrey - which has been raided in the wake of an 18-year-old's arrest - at 6.50am, just 90 minutes before a 'bucket bomb' inside a shopping bag exploded and injured 30 people.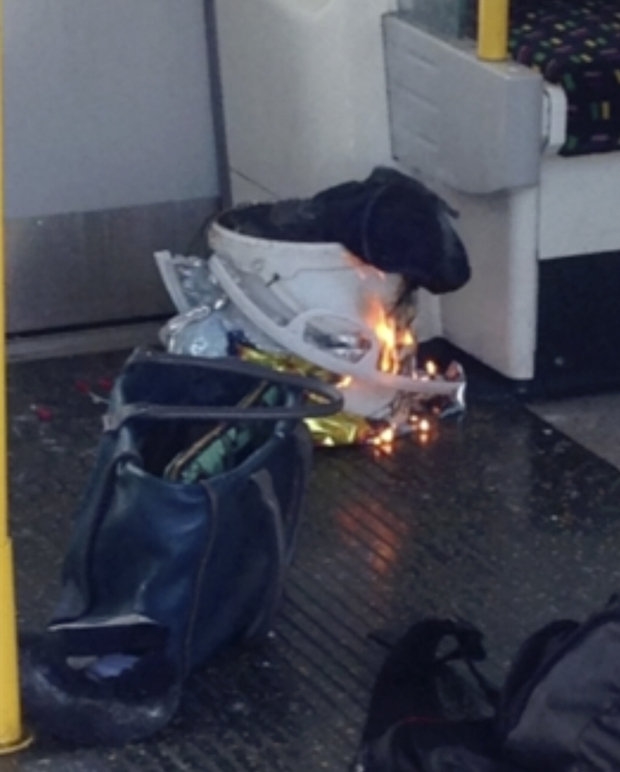 CCTV footage has emerged showing the bombing suspect carrying what is suspected to be the bucket bomb. (Photo / AP)
The teenage suspect, who was known to police and is believed to be an Iraqi refugee, was detained in the Port of Dover after being tracked to its departures hall.
A second suspect, a 21-year-old man, was later arrested in Hounslow, with police also swooping on a house in Stanwell, Surrey, directly opposite Heathrow airport.
In the CCTV video obtained by a UK TV station, a man dressed in a grey tracksuit keeps his head down and his face hidden from the camera as he walks quickly down the street.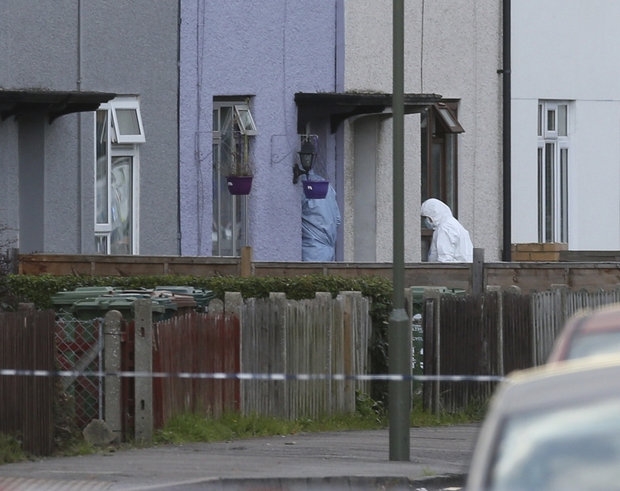 Police forensic officers enter a property in Sunbury-on-Thames, southwest London, as part of the investigation into Friday's Parsons Green bombing. (Photo / AP)
The arrested teenager is thought to have been a "problematic foster child" who was raised in Sunbury-on-Thames, Surrey, by Penelope Jones, 71, and husband Ronald, 88.
A local councillor said the teenage suspect came to the UK aged 15 after his parents died in Iraq while a friend of the Joneses said the man's biological family did not agree with him moving in with Christian foster parents.
The couple's home in Cavendish Rd was raided by armed officers on Saturday and a neighbour claimed a bomb had been found, although Scotland Yard quashed reports that 15 firearms were seized.
Residents on the street said officers had been in the area since Friday night with one neighbour saying: "I only had to open the door and I saw police everywhere."
The Joneses have raised 268 foster children in the house over three decades and the last eight have been refugees. Eight years ago the kind-hearted couple were awarded MBEs by the Queen for their services to children and families. A family member has confirmed the Joneses are currently "safe and well."
Video footage of the raid shows armed police standing outside the lilac-coloured home before one shouts: "Armed police! Come to the front door, now!"
Police officers secure Cavendish Rd in Sunbury-on-Thames, southwest London, as part of the investigation into the bombing. (Photo / AP)
Following the arrests the Home Secretary Amber Rudd has this afternoon announced the UK terror threat level has been reduced to "severe" - meaning intelligence chiefs no longer think an attack is imminent.
She added said it appeared the bomber was not a lone wolf but added that it was "too early to reach any final conclusions on that".
It is not known how long the foster teenager lived at the Sunbury home.
Close friends of the Jones said the couple - who are widely respected in the local area - were at "their end" with the teenager.
Serena Barber, 47, who has known the couple all her life and lives in a property backing on to theirs, said: "They have two boys at the moment, both are foreign. One is very quiet and polite, the other who is 18 is awful.
"I know about two weeks ago he was arrested by police at Parsons Green, for what I don't know and returned back to Penny and Ron. After that Penny said she was going to have to stop caring for him, she couldn't handle him."
Officers stormed the Sunbury home, on Cavendish Rd, at 2pm yesterday, around six hours after apprehending the suspect in the departure lounge of the Port of Dover.
Around 60 residents on the street were told to leave their homes and to find somewhere to stay for the evening.
Police even applied to the Civil Aviation Authority for a no-fly zone to stop drones and TV news helicopters flying overhead.
Residents in the outer cordon were allowed home at 8pm after they had given their names and proof of address to police.
They were told once they were in their houses they must stay there unless absolutely necessary, and sign in and out of the cordon until it was lifted if they had to leave.
Residents closer living closer to the house were asked to find alternative accommodation for the night.
Mojgan Jamali, who lives on the road, said police gave her just "one minute" to pack her bags, grab her children, and leave her home.
She said: "We didn't know what was going on. There was a lot of rumours going on, a lot of stories, people saying this and that, but we didn't know."
Another neighbour, who did not wish to be named, told MailOnline police vehicles swooped on the street as she was making her way to a local Tesco store. We thought it was a drug raid, but the police would not tell us anything.
"We tried driving around but they had blocked of part of the road and they said that we really need to go right down [to the other end of the road].
"When I was leaving they were knocking on all the doors. A police sergeant told us that they had found an explosive device."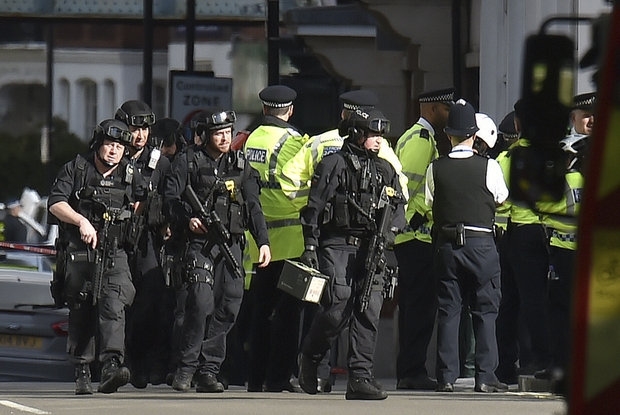 Armed police close to Parsons Green station in west London after an explosion on a packed London Underground train. (Photo / AP)
Home Secretary Amber Rudd described arrest of the 18-year-old in the Dover port departure lounge as "very significant", but added: "The operation is ongoing."
One witness said the man was arrested in the ticket office at the port.
"I couldn't really see who he was or what he was wearing as they were all around him. I didn't realise what it was at the time. It's only after and heard it on the news I realised what it was."
It is understood he was identified following an exhaustive examination by hundreds of detectives of CCTV footage.
This prompted a tense surveillance operation involving MI5 and several police forces which ended dramatically with the Dover sting. Special Forces were also involved, according to the Sunday Times.
Metropolitan Police Commissioner Cressida Dick vowed: "London has not stopped after other terrible attacks and it will not stop after this one."