Trump meets with Mexico's president: 'We didn't discuss payment of the wall'
Author

Publish Date

Thu, 1 Sep 2016, 9:09am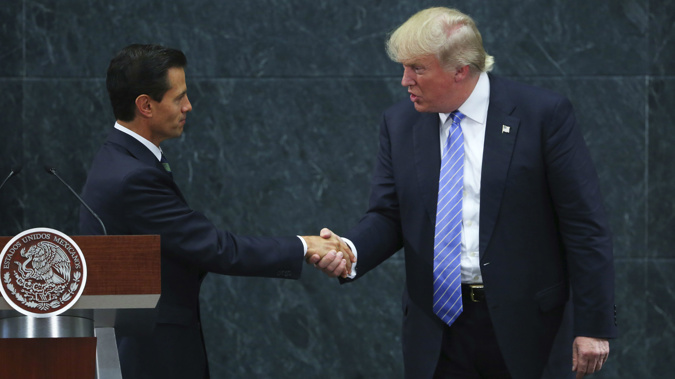 Trump meets with Mexico's president: 'We didn't discuss payment of the wall'
Author

Publish Date

Thu, 1 Sep 2016, 9:09am
Mexican President Enrique Pena Nieto has met with Republican presidential candidate Donald Trump.
The US presidential hopeful arrived in Mexico this morning after taking up an invitation to come, and choppered in to the presidential palace.
The meeting has raised eyebrows on both sides of border, because of Donald Trump's past controversial comments about Mexicans.
Trump launched his White House campaign last year by accusing the Mexicans of sending 'criminals' and 'rapists' across the border and cheating the US on trade.
Today, he said he likes Mexicans who've already been in the US for a while, saying they're hard working and beyond reproach.
"I have many friends, so many friends and so many friends coming to Mexico and in Mexico. I'm proud to say how many people I employ."
Trump said his signature pledge to build a wall along the border came up in discussions this morning, but not who would pay for it.
"We did discuss the wall, we didn't discuss payment of the wall. That will be for a later date. This was a very preliminary meeting, I think it was an excellent meeting. I think we're very well on our way. A lot of the things are very strong, but we have to be strong. We have to say what's happening."
Enrique Peña Nieto said he wants a constructive relationship with the US.
"I had a very open and constructive discussion with Mr Donald Trump. The objective of this meeting was to meet each other and to know about the bilateral relations."