These endangered leopards are disappearing from Cambodia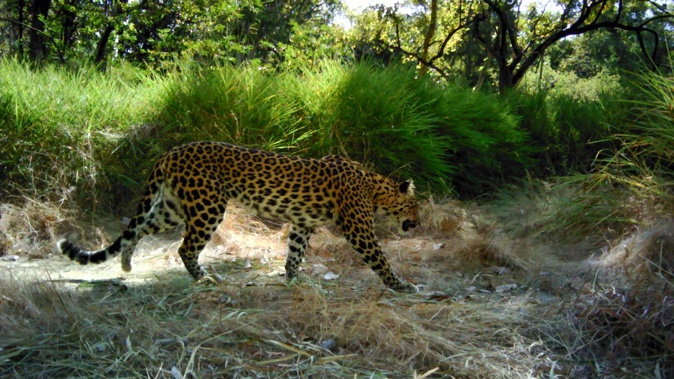 These endangered leopards are disappearing from Cambodia
Hong Kong CNN — The Indochinese leopard is dangerously close to becoming extinct in Cambodia, according to wild cat conservationists, who spent more than a decade looking for the creatures and found just 35.
According to a report from Panthera, a global wild cat conservation organization, researchers set up hundreds of cameras in two protected areas in Cambodia's Eastern Plains Landscape between 2009 and 2019.
During that period, they only spotted 35 adult Indochinese leopards, and when they returned in 2021, not a single leopard could be seen.
That prompted the scientists to conclude the species was no longer viable to reproduce for the next generation, according to the report, compiled with Oxford University's WildCRU and published in Biological Conservation.
Historically, the Indochinese leopard was found throughout Indochina – spanning Cambodia, Laos, Myanmar, Malaysia, Thailand, Vietnam and parts of southeastern China – but almost all the territory they once roamed has disappeared due to human encroachment.
During the period of the study, human activity in Cambodia surged 20-fold and the likelihood of getting caught in lethal traps soared 1,000-fold, the report said.
Poaching in the region is driven by a high demand for wild meat, which is considered to be a delicacy or status symbol of middle and upper-class urban consumers in Cambodia, the report noted.
Hunters also target the wild cats for their thick, spotted coats, and habitat loss has caused the leopards' prey populations to decline dramatically.
The World Wide Fund estimates there are some 12 million snares dotting eastern Indochina, adversely affecting 700 mammal species in the region including the Asian elephant and Sumatran rhinoceros.
Only 35 adult Indochinese leopards were seen between 2009 to 2021 in Cambodia, conservationist group Panthera found. Panthera/WildCRU/WWF Cambodia/FA
Cambodia, which has been ruled by Prime Minister Hun Sen for more than three decades, has long suffered from entrenched corruption. Transparency International ranks it at 150 out of 180 countries in its annual Corruptions Perceptions Index, towards the very bottom of the table.
The Southeast Asian country has also suffered some of the highest rates of deforestation of any nation since the 1970s, according to the Global Forest Watch, which estimates that Cambodia has lost about 557,000 hectares of tree cover in protected area between 2001 and 2018.
Activists often risk their lives to protect Cambodia's forests, and in 2022, five journalists who were covering a huge deforestation operation in southern Cambodia, were violently arrested, according to Reporters Without Borders.
No consolidated conservation initiative targeting Indochinese leopards exists due to a lack of funding, and despite ramped up law enforcement against poaching by local authorities over the past decade, the scale of the illegal wildlife trade is unprecedented, the report added.
"Without the global community's injection of expeditious resources to prevent the Indochinese leopard from disappearing in the last two remaining strongholds, we will lose this unique subspecies from the planet forever," said Susana Rostro-García, Panthera conservation scientist and lead author of the report.
While leopards are vanishing from Cambodia, their numbers in the wild along the Thailand-Myanmar border are unknown and are likely less than 900, Rostro-García added.
Gareth Mann, Panthera's leopard program director, said: "It is disheartening to see the long-overlooked leopard follow the same fate of the tiger in Cambodia, Laos and Vietnam."
Punishing hunters alone aren't enough to put an end to the loss of wildlife, as researchers called on nationwide efforts to proactively reduce the consumption of game meat.
"Just as Indochina now serves as ground zero for tiger poaching and conservation, it is also where the global and conservation community must fully invest our efforts to save the leopard, hand-in-hand with the governments of Thailand, Malaysia and Myanmar."
The leopard species is listed as "vulnerable" on the IUCN Red List of Threatened Species, while the Indochinese leopard subspecies is classified as "critically endangered."
Take your Radio, Podcasts and Music with you