Parisians defiant in aftermath of ISIS horror.
Author

Publish Date

Sat, 14 Nov 2015, 10:41am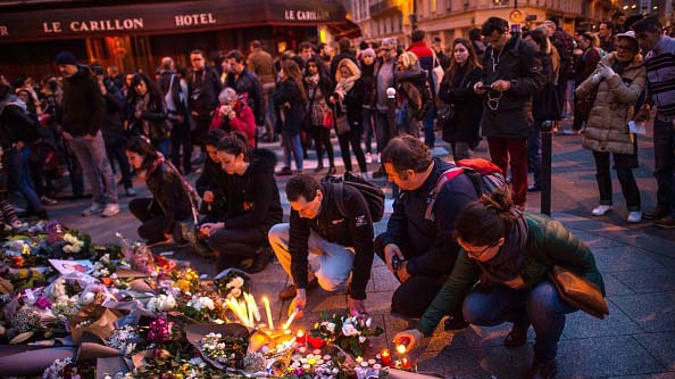 Parisians defiant in aftermath of ISIS horror.
Author

Publish Date

Sat, 14 Nov 2015, 10:41am
UPDATED 6:30am
What we know:
- Hundreds of people have been out on the streets in Paris.
There's a mood of great sadness, although people say they're determined to stay strong in the face of the attacks.
- Islamic State has claimed responsibility for the gun and bomb attacks that have left more than 129 people dead in Paris in a statement posted online.

The statement says "eight brothers wearing explosive belts and carrying assault rifles" conducted a "blessed attack on ... Crusader France".

The statement also threatens further attacks against France "as long as it continues its Crusader campaign".

It says the targets "were carefully chosen", and that France is guilty of "striking Muslims in the caliphate with their aircraft."

France is part of a US-led coalition conducting an air war against IS in Syria and Iraq, where IS declared a caliphate last year after seizing swathes of both countries.
- No New Zealanders have been killed in the attacks. However, the Ministry of Foreign Affairs is unable to confirm whether any New Zealanders are among the injured.The Embassy in Paris is working to establish whether any New Zealanders are involved
- Death toll is currently 128 with around 350 injured, around 100 of those are in critical condition
- CNN said 112 were killed at the Bataclan theatre, 14 at a Cambodian Restaurant, 19 at a bar, 4 at Stade de France, and 4 at an incident at the Avenue de la Republique.
-Police have reported eight of the militants killed, seven of them via suicide bombings
- President François Hollande has declared a state of emergency and ordered increased border checks, though there are reports that Frances borders are no longer closed.
-There are 307 New Zealanders registered on MFAT's SafeTravel website as being in France.
 - Ambulances are still to carry away the dead  - and it's been a sleepless night for many in Paris.
- It is believed the attacks on Paris were probably planned for several weeks.
- French police have said four terrorists were in the Bataclan theatre. Three of them were wearing explosives on their body.
 - Islamic State has claimed responsibility for the attacks in Paris, with authorities now working to verify the claim.
-Five more explosions as well as shooting at the Bataclan concert hall prompted police to storm the venue, killing hostage-takers.
- Police confirm two suicide attacks and one bombing outside the Stade de France stadium during a France-Germany soccer friendly.
- The attack comes amid heightened security measures ahead of the global climate summit in Paris in two weeks' time.
- France has been on edge since deadly attacks in January by Islamic extremists on satirical newspaper Charlie Hebdo and a kosher grocery left 20 dead.
- US President Barack Obama has condemned the attacks, as has John Key. 
- The World Trade Centre in New York City, is lit up in Blue, White, and Red.
- In Paris, the Eiffel Tower is in darkness, with its lights off to honour victims.
-U2's Paris concert has been cancelled, following the coordinated terror attacks on the city.
 - Anyone who's concerned about a family member in Paris is being told to contact the Ministry of Foreign Affairs and Trade on 04 439 8000.
 LISTEN: Barack Obama: Paris attacks
             John Key: Paris attacks 'revolting' level of brutality
             Sefton Revell: Paris restaurant attack
PHOTOS: Paris under attack
              French headlines after Paris attacks
World reacts to horrific attacks
So powerful made me tear up... this Paris right now....amazing #notafraid pic.twitter.com/tgCWxF1tUE

— Caity Lotz (@caitylotz) November 14, 2015
Some of the latest front pages from UK and France #tomorrowspaperstoday #bbcpapers pic.twitter.com/CviID2FHZQ

— Nick Sutton (@suttonnick) November 14, 2015
Terrifying: Paris gunmen firing at French civilians. Just now. #ParisAttacks pic.twitter.com/sTWhi3Pwvc

— CJ Werleman (@cjwerleman) November 13, 2015
       Wembley Stadium and Empire State Building tonight. #ParisAttacks                             pic.twitter.com/pDGHPVkDpp
— Sammy Myklebust (@StoreMyen) November 14, 2015
Our moments may have been darkened but the beacon of peace and freedom will never be dimmed. #ParisAttacks pic.twitter.com/GJn0BGWcmU

— Mike Henderson (@mhenderson33) November 14, 2015
 Attacks 'planned for weeks' 
The attacks on Paris were probably planned for several weeks.
Intelligence analyst Dr George Friedman told Leighton Smith the atrocities have been designed to be as horrific as possible.
He said the aim is to generate hatred against Muslims, and therefore strengthen the Jihadist position.
Islamic State has claimed reasonability for the attacks in Paris, with authorities now working to verify the claim.
Terror expert Greg Barton said the fact the attacks were carried out without any warning is unusual.
"..still surprising that Intelligence was unable to pick up a plan as audacious as this one."
NZ Government condemns attacks 
Prime Minister John Key was in sombre mood after hearing the news of the Paris attacks.
Political editor Barry Soper is travelling with the prime minister as he heads to Vietnam.
He said John Key's first concern was with the safety of his daughter who lives in Paris, but his wife Bronagh had quickly confirmed daughter Stephie was safe.
Barry Soper said  the prime minister was told of the attacks through the plane's communication system.
Mr Key said New Zealand stands with the country in the global fight against terror.
He said our Consulate is working with authorities in France, to determine if any New Zealanders have been caught up in the attacks. 
PM getting an update on Paris attack at Darwin airport. pic.twitter.com/6KpBbNUAAZ

— Barry Soper (@barrysoper) November 14, 2015
Key watching his Aussie counterpart responding to Paris attack from Germany. Key on stopover in Darwin pic.twitter.com/ES55quAN8M

— Barry Soper (@barrysoper) November 14, 2015
It appears the police operation to free the hostages held in the Bataclan concert hall in Paris has been successful, but not before 118 patrons were killed.
Journalist Peter Allen said police are saying the hostage takers have been killed.
"They've moved in, clearly to stop lives being lost. They had to move in very, very quickly...Sadly, it's a scene of carnage and many civilian have died."
The Daily Telegraph's Henry Samuel said the gunman got inside the concert hall, and opened fire on the crowd.
"Clearly if the security forces have launched an assault this quickly, they fear a blood bath is going on...There's no point in hanging around."
A New Zealand lawyer was hiding in a doorway at the edge of one of the police cordons in Paris.
Sefton Revell is in the 11th arrondissement of the city, and he was in a bar only a few hundred metres from the restaurant attack.
He said there's a massive convoy of police vehicles going up Boulevard Voltaire towards the Bataclan theatre.
"There's army guys with helmets and automatic weapons, and they're all looking back up the street. So, it's police, it's gendarme and army."
While he didn't see the shooting itself, he said he was on the way home he passed the concert hall where people were being held hostage. 
French President Francois Hollande has now closed his country's borders, and declared a state of emergency.
Visibly shaken, he told told the people of France the terror attacks are not over yet.
Newstalk ZB correspondent in Paris Catherine Field agrees the situation is still unfolding.
"There were grenades, there were automatic weapons used, there were explosions.
"There are police everywhere, there are security alerts everywhere, there are ambulances everywhere."
She said the city is in a state of shock.
"No one expected that so quickly after the January attack we would be back to this situation here in Paris, where literally people on the streets in Paris, away from those areas, are standing around in shock saying, is this really what is happening to this city again?"
US security officials believe the attacks in Paris are coordinated.
Although there's been no official claim of responsibility, ISIS has been celebrating the attacks on Twitter, and eyewitnesses say they heard gunmen chanting Allahu Akbar.
CNN's terrorism analyst Paul Cruickshank said although there's been no official confirmation, it looks like a co-ordinated attack.
"Especially because of the reports of potential suicide bombers being involved, of Allahu Akbar being chanted by some of the shooters, because of the kind of weapons being used...this appears to be a coordinated, ongoing attack...some kind of spectacular terrorist attack."
US President Barack Obama has condemned the series of deadly attacks as an "attack on all of humanity", and pledged to work with France to bring those responsible to justice.
"Whenever these kinds of attacks happen, we've always been able to count on the French people to stand with us," Obama said in a brief speech from the White House.
"They have been an extraordinary counter-terrorism partner. And we intend to be there with them in that same fashion."
And British Prime Minister David Cameron said he's shocked by the events in Paris.
He said his thoughts and prayers are with the French people.
 MORE: 150 attend Auckland vigil for Paris attacks