Ukrainian attack damages injures 24 in attack on port in Russia-annexed Crimea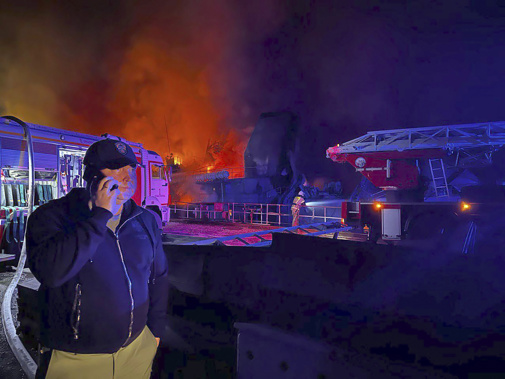 Ukrainian attack damages injures 24 in attack on port in Russia-annexed Crimea
KYIV, Ukraine (AP) — A Ukrainian attack on a strategic shipyard early Wednesday in Russian-annexed Crimea wounded 24 people, damaged two ships undergoing repairs and caused a fire at the facility, Russian authorities reported. 
The attack in the port city of Sevastopol, which serves as the main base for Russia's Black Sea Fleet, took place as Moscow offensives killed at least three civilians and injured 14 across Ukraine, the president's office said. 
A pre-dawn drone onslaught in southern Ukraine's Odesa region damaged port and civilian infrastructure in the region's Izmail district, about 350 kilometers (220 miles) across the Black Sea from Sevastopol, and wounded seven people, three seriously, Gov. Oleh Kiper said. 
Russian attacks on residential areas in 10 cities and villages in the Donetsk region killed three people and wounded three. Fighting in the Zaporizhzhia region injured one resident in Orikhiv, while shelling in southern Kherson damaged homes and a kindergarten, the government said. 
The skirmishes occurred as Russian President Vladimir Putin hosted North Korean leader Kim Jong Un during a summit that the U.S. has warned could lead to a deal to supply arms to Moscow's depleted troops in Ukraine. Kim offered his full support for Russia's "just" fight and said the two reached an agreement to deepen their "strategic and tactical cooperation and solidarity in the struggle to defend sovereign rights and security." 
The Crimean Peninsula, which Russia annexed from Ukraine in 2014 in an act that most of the world considered illegal, has been a frequent target since Putin ordered a full-scale invasion of Ukraine more than 18 months ago. 
Last month, Ukrainian President Volodymyr Zelenskyy vowed to do all he could to bring back Crimea and has urged international allies to support the effort. 
On Monday, Ukraine claimed it had recaptured strategic gas and oil drilling platforms in the Black Sea that Russia seized in 2015. Russia had used the platforms for electronic warfare equipment and to launch helicopters, and Ukraine said getting control of them would help it regain Crimea. 
Wednesday's attack on the Sevastopol Shipyard appeared to be one of the biggest in recent weeks. Russia's Defense Ministry said Ukraine launched 10 cruise missiles at the shipyard and three sea drones at Russian ships in the Black Sea. 
The shipyard is of strategic importance to Russia because vessels in its Black Sea fleet are repaired there. 
Seven missiles were shot down, and all the sea drones were destroyed, the Russian military said, but some of the missiles damaged two ships that were being repaired at the shipyard. 
Mikhail Razvozhayev, the Moscow-appointed governor of Sevastopol, said on Telegram that the resulting fire injured 24 people. He posted a photo showing the shipyard in flames with smoke billowing over it. 
A senior Ukrainian official posted a picture of the burning port on social media and described the strike as a "professional and meaningful statement" in its efforts to keep a crucial shipping corridor open to deliver grain to Asia and Africa. 
Putin recently said he wouldn't renew a landmark deal allowing Ukraine to export grain safely through the Black Sea until the West meets Moscow's demands on its own agricultural exports. 
"The demilitarization of the Russian Black Sea fleet is a real long-term guarantee of security for regional trade routes and the 'grain corridor,'" said Mykhailo Podolyak, an adviser to Zelenskyy. "This is the only correct response to Russia's attempts to turn hunger into a weapon and the only way to ensure uninterrupted grain supplies to the countries of the east and Africa." 
Ukraine's RBC-Ukraine news outlet reported, citing unnamed sources in Ukrainian military intelligence, that an amphibious landing ship and a submarine were damaged in the attack. Some Russian messaging app channels made the same claim. 
The Russian Defense Ministry said the Russian warships damaged at the Sevastopol shipyard would be fully repaired and return to naval service. 
In other developments, Romania said it is investigating what appear to be fragments of a drone similar to those used by Russia, near its border with Ukraine on the Danube River. It's the third time over the past week that the NATO member has found suspected drone remains amid recent attacks by Russian forces on Ukraine's ports across the river from Romania. 
The discoveries have rattled residents nearby, but NATO Deputy-General Secretary Mircea Geoana said there's no chance the nation will be drawn into the war. 
___ 
-DASHA LITVINOVA and ILLIA NOVIKOV, Associated Press 
Litvinova and Yuras Karmanau contributed from Tallinn, Estonia. Stephen McGrath in Sighisoara, Romania, and Brian Melley in London contributed. 
Take your Radio, Podcasts and Music with you