Right-wing mobs hunt foreigners in Germany
Author

Section

Publish Date

Wednesday, 29 August 2018, 10:41a.m.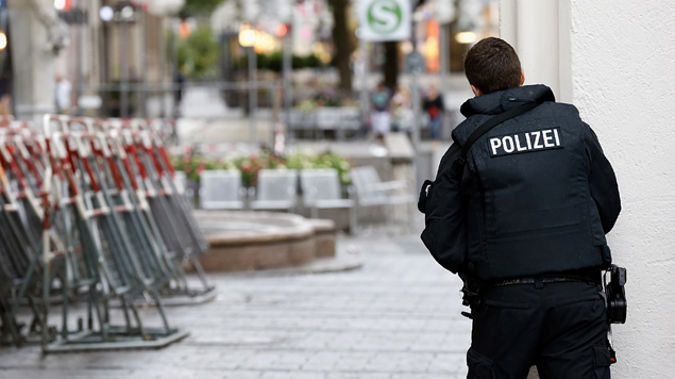 Under socialist control, the eastern German city of Chemnitz used to carry the name "Karl Marx City," in tribute to the communist icon.
Over the past two days, however, the city of 240,000 has been in the news because of riots led by xenophobic groups that subscribe to a very different ideology.
The violence, which brought condemnation from Chancellor Angela Merkel, erupted after a 35-year-old man was fatally stabbed in Chemnitz on Monday during what officials called a "dispute between several people of different nationalities". One Syrian and an Iraqi national were detained.
Amid protests over the death, right-wing mobs hunted and attacked foreigners, injuring several people. At least six others were injured yesterday after far-right groups, neo-Nazis and left-wing protesters clashed in the same city, using fireworks and glass bottles as weapons.
Authorities said today that they were investigating 10 protesters accused of giving the banned "Hitler salute."
The violence came weeks ahead of regional elections in the neighbouring federal state of Bavaria, where the conservative Christian Social Union (CSU) has faced accusations of playing into the hands of far-right populists by fuelling tensions between refugees and German nationals.
One of the CSU's most prominent politicians - Interior Minister Horst Seehofer - has so far refused to comment on the attacks, despite widespread denunciation of the violence from across the political spectrum.
In the federal state of Saxony - where Chemnitz is located - the far-right Alternative for Germany (AfD) party ranks second in the polls, with Merkel's governing Christian Conservative Union (CDU) only five percentage points ahead.
Whereas Merkel's initially welcoming stance toward refugees did not significantly hurt the CDU's ratings in many western German federal states with higher migrant populations, Saxony's far-right has been more successful in capitalising on immigration fears.
Researchers believe that the strong performance of right-wing populists in the state is linked to xenophobic violence, even though the AfD's leadership has distanced itself from the weekend incidents.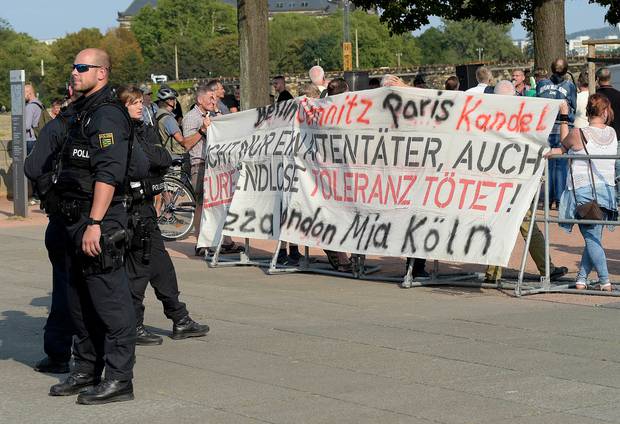 Saxony has been among the German states with the most violent attacks on refugees and other foreigners for years, with almost 100 incidents last year, according to state security services.
The AfD again stood accused of helping to incite the violence yesterday after one of its lawmakers tweeted that "people will go on the streets and protect themselves," if authorities fail to do so.
As local officials struggled to explain why authorities had failed to prevent the violence for the second day in a row, the German Government issued a sharp condemnation from Berlin.
Protesters flashing Nazi salutes and shouting "Foreigners out" clashed Monday night with counterdemonstrators chanting "Refugees welcome," in a second night of violence in the east German city of Chemnitz https://t.co/MPltAWlKVF

— The New York Times (@nytimes) August 28, 2018
"There's no place in our country under the rule for such riotous assemblies, the hunting down of people who appear to be from different backgrounds or the attempt to spread hate in the streets," said Steffen Seibert, Merkel's spokesman.
Saxony's conservative First Minister, Michael Kretschmer, defended regional authorities but also decried the far-right, calling its "political exploitation" of the 35-year old's killing "disgusting."
Foreign Minister Heiko Maas linked the incidents in eastern Germany with the Rev Martin Luther King's "I Have a Dream" speech exactly 55 years ago. "As long as radicals stage hunts, we have a long way to go to make the dream of equal rights come true," said Maas, a member of the Social Democratic Party.
VIDEO: Xenophobia rears its head in eastern Germany with far-right protests in the city of #Chemnitz degenerating into attacks against foreign-looking people after Sunday's fatal stabbing of a German man, allegedly by a Syrian and an Iraqi pic.twitter.com/ToMkN00mG1

— AFP news agency (@AFP) August 28, 2018