Raging fire guts Liverpool car park
Author

Publish Date

Tue, 2 Jan 2018, 6:44AM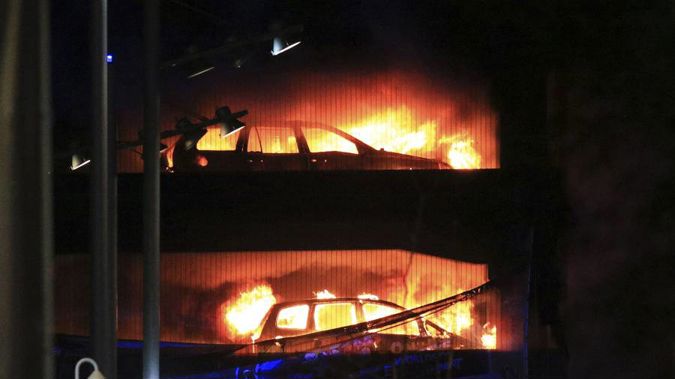 Raging fire guts Liverpool car park
Author

Publish Date

Tue, 2 Jan 2018, 6:44AM
The charred concrete bones of a Liverpool carpark are filled with the blackened remains of over 1000 vehicles, after one went up in flames.
A witness said the fire started in an old Land Rover before rapidly spreading, burning every vehicle inside the multi-storey carpark next to the Echo Arena.
Fire in Liverpool 😢 stay safe #EchoArena #Liverpool pic.twitter.com/yhLaI0cXcO

— Hannah Roose (@hannahroose) December 31, 2017
Sky News' Gerard Tubb said there are reportedly around 1400 vehicles in the 16-hundred capacity carpark - which was filled by people attending the International Horse Show nearby.
"This is a concrete building, quite clearly we don't know whether it had sprinklers or not. But apparently, every single car that was in that carpark has been destroyed."
Tubb said people were in some instances literally running for their lives - but no one was injured.
"The Fire and Rescue Service say all they had to do was rescue two dogs. By the time they got there, animals who were in livestock trailers nearby had been taken to safety."
The International Horse Show has been cancelled, and hundreds of people are now stranded in Liverpool.
Not looking good now @EchoArena car park @LivEchonews #fire #liverpool pic.twitter.com/dsF1MHfTqX

— Olly harrison (@agricontract) December 31, 2017