Protest marches across the world call for immediate halt to Israeli bombing of Gaza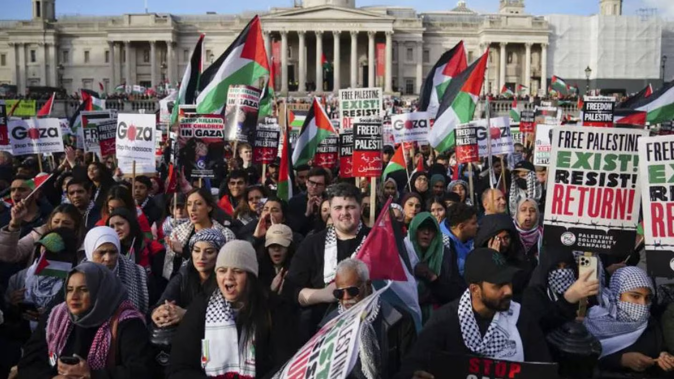 Protest marches across the world call for immediate halt to Israeli bombing of Gaza
From Washington to Milan to Paris, tens of thousands of pro-Palestinian demonstrators marched on Saturday, calling for a halt to Israel's bombardment of Gaza.
The marches reflected growing disquiet about the mounting civilian casualty toll and suffering from the Israel-Hamas war. Protesters, particularly in countries with large Muslim populations, including the US, UK and France, expressed disillusionment with their governments for supporting Israel while its bombardments of hospitals and residential areas in the Gaza strip intensify.
The Palestinian death toll in the Israel-Hamas war has reached 9448, according to the Hamas-run health ministry in Gaza. In Israel, more than 1400 people have been killed, most of them in the October 7 Hamas attack that started the war.
In the US, thousands converged on the nation's capital to protest the Biden administration's support of Israel and its continued military campaign in Gaza. "Palestine will be free," demonstrators donning black-and-white keffiyehs chanted as an enormous Palestinian flag was unfurled by a crowd that filled Pennsylvania Avenue — the street leading up to the White House.
Levelling direct criticism at US President Joe Biden, Renad Dayem of Cleveland said she made the trip with her family so her children would know "the Palestinian people are resilient — and we want a leader who won't be a puppet to the Israeli government".
Dozens of small white body bags with the names of children killed by Israeli missiles lined the street, and demonstrators held signs calling for an immediate ceasefire.
Protesters held signs and banners with messages such as "Biden betrays us" and "In November we remember," highlighting how the issue could be a factor in Biden's re-election bid.
Jinane Ennasri, a 27-year-old New York resident, said the Biden administration's support of Israel despite thousands of Palestinian deaths has made her rethink voting in the 2024 presidential election, where Biden will likely face GOP front-runner Donald Trump. "We thought he would represent us, but he doesn't," she said, "and our generation is not afraid to put elected officials in their place."

People gather to take part in a pro-Palestinian rally in Berlin, Germany. Photo / AP
Ennasri, like many demonstrators, said they would likely sit out the 2024 election.
Biden was in Rehoboth Beach, Delaware for the weekend and didn't comment on the protests. In a brief exchange with reporters as he left St. Edmond Roman Catholic Church on Saturday, he suggested some forward movement in US efforts to persuade Israel to agree to a humanitarian pause, answering "yes" when asked if there was progress.
Steve Strauss, a 73-year-old Baltimore resident, said he is one of many Jewish people protesting Israel's treatment of Palestinians. "They are trying to kill as many Palestinians as they can get away with," Strauss said. "I am here to stand up and be a voice for the people who are oppressed."
In Paris, several thousand protesters called for an immediate ceasefire in Gaza, and some shouted, "Israel, assassin!"
Banners on a sound-system truck at the Paris march through rain-dampened streets read: "Stop the massacre in Gaza." Demonstrators, many carrying Palestinian flags, chanted, "Palestine will live, Palestine will win."
Demonstrators also took aim at French President Emmanuel Macron, chanting "Macron, accomplice."
Paris' police chief authorised the march from Republique to Nation, two large plazas in eastern Paris, but vowed that any behaviour deemed anti-Semitic or sympathetic to terrorism would not be tolerated.
Multiple countries in Europe have reported increasing anti-Semitic attacks and incidents since October 7.
In an attack on Saturday, an assailant knocked on the door of a Jewish woman in the French city of Lyon and, when she opened, said "hello" before stabbing her twice in the stomach, according to the woman's lawyer, Stephane Drai, who spoke to broadcaster BFM. He said police also found a swastika on the woman's door. The woman was being treated in a hospital and her life was not in danger, the lawyer said.
At the London rally, the Metropolitan Police said its officers made 11 arrests, including one on a terrorism charge for displaying a placard that could incite hatred. The police force had forewarned it would also monitor social media and use facial recognition to spot criminal behaviour.
Protesters place white sacks representing the bodies of people killed in Gaza during a pro-Palestinian demonstration at Freedom Plaza in Washington. Photo / AP
On Friday, two women who attended a pro-Palestinian march three weeks ago were charged under the UK's Terrorism Act for displaying images on their clothing of paragliders. In its October 7 surprise attack on Israel, Hamas employed paragliders to get some fighters across the border between Gaza and southern Israel. Prosecutors said the images aroused suspicion they were supporters of Hamas, which UK authorities regard as a terrorist group.
In Berlin, around 1000 police officers were deployed to ensure order after previous pro-Palestinian protests turned violent. German news agency dpa reported about 6000 protesters marched through the centre of the German capital. Police banned any kind of public or written statements that are anti-Semitic, anti-Israeli or glorify violence or terror. Several thousand protesters also marched through the West German city of Dusseldorf.
In Romania's capital, hundreds gathered in central Bucharest, many waving Palestinian flags and chanting, "Save the children from Gaza."
At a rally involving several thousand people in Italian Deputy Prime Minister Matteo Salvini spoke out against anti-Semitism, calling it "a cancer, a virulent plague, something disgusting".
Protesters march during a demonstration to support the Palestinian people in Gaza. Photo / AP
In another part of Milan, a pro-Palestinian rally drew about 4000 people, and there was also a march by several thousand in Rome. Yara Abushab, a 22-year-old medical student from Gaza University who has been in Italy since October 1, was among the participants, and described October 7 as a watershed for her.
"They bombed my university, my hospital. I lost a lot of loved ones, and right now, the last time I heard something from my family was a week ago," she said. "The situation is indescribable."
Take your Radio, Podcasts and Music with you