Princess Diana's diamonds used for Markle's ring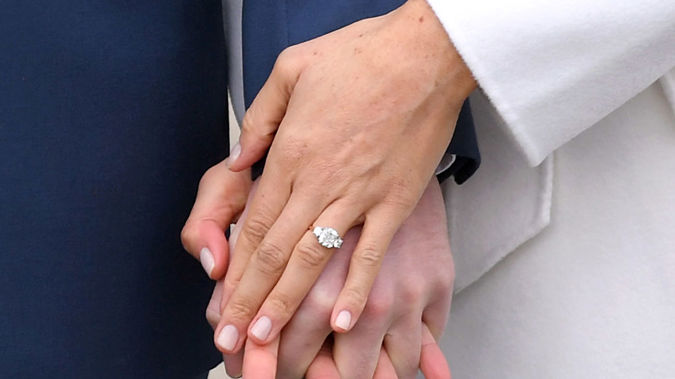 Prince Harry designed Meghan Markle's engagement ring himself, using diamonds that had belonged to his mother Diana, Princess of Wales.
The two outside stones came from the late princess's personal collection and are a poignant tribute to Diana on the 20th anniversary of her death.
At the centre of the ring is a large diamond from Botswana, a country that holds special significance for Harry who has visited many times since he was a child.
It is also a place where the couple have spent time together over the past year and a half, Kensington Palace said.
READ MORE: Markle like no other princess
A beaming Markle showed off the sparkling jewels at an open-air photocall in the palace's Sunken Garden.
The band is made of gold and the ring was made by Cleave and Company, court jewellers and medallists to the Queen.
READ MORE: 'A cosy night in' - How Harry proposed to Meghan
Harry is not the only royal to design his bride-to-be's engagement ring using jewels that belonged to his mother.
The Duke of Edinburgh designed an engagement ring for the Queen, then Princess Elizabeth, in 1947.
The Duke had the ring made by the jewellers Philip Antrobus using diamonds from a tiara belonging to his mother, Princess Alice of Greece.
READ MORE: Royal Family thrilled with engagement
When Prince William proposed to Kate Middleton, now the Duchess of Cambridge, he gave her Diana's famous sapphire and diamond engagement ring.
He hid the priceless heirloom in a rucksack so he could pop the question on holiday in Kenya.
Diamond expert Vashi Dominguez described the ring as "beautiful" and a "handwritten love note" to Markle.
The jeweller said the central stone was magnificent and the design was a personal take on a classic setting.