Police recover 42 weapons belonging to Vegas shooter
Author

Section

Publish Date

Tuesday, 3 October 2017, 2:56PM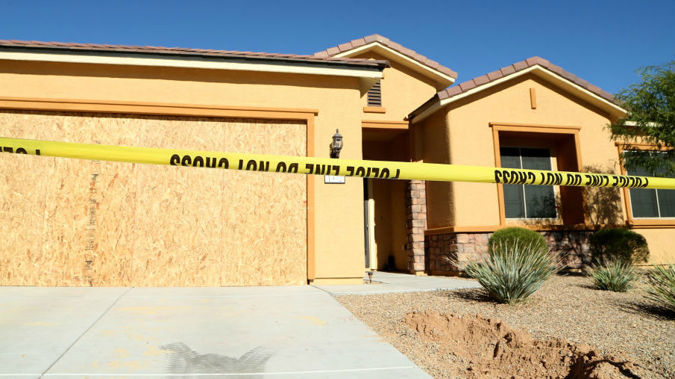 Police say they recovered 42 weapons belonging to Stephen Paddock, including 23 from the hotel room and 19 at his Mesquite home.
The Las Vegas gunman is thought to have ferried multiple suitcases into his hotel room before the massacre took place.
Some were automatic weapons or semi-automatic rifles modified into machine guns.
A Nevada sheriff said he wishes someone had noticed Paddock's behaviour before he shot at crowds from the 32nd floor of the Mandalay Bay Hotel.
Sheriff Joseph Lombardo says they're investigating how Mr Paddock got hold of so many weapons.
"We are aware of one gun dealer that has come forward to say he has sold weapons to the suspect but we are aware of some other individuals who are in those transactions."
Hundreds of people remain in hospital following the shootings and the death toll is expected to rise in the coming days.
Clark County chief Greg Cassell says the injuries range from minor to extremely serious.
"There's a wide range of injuries, from gun shots to shrapnel wounds to trample injuries to people injured jumping fences trying to egress and getting hurt one way or another."
A motive for the attack still hasn't been established, but Clark County coroner John Fudenberg says an investigation is underway into the causes of the shooting.
US authorities still want to question Paddock's girlfriend but say she had no connection with the attack.
Australian woman Marilou Danley is thought have been living with the 64-year-old.
Ms Danley is thought to be in clear because she was out of the country when the shooting took place but Sheriff Lombardo says they still want to talk to her.
​
Meanwhile, Eric Paddock described his brother as peaceful, saying he moved back to Nevada because gambling is legal there and he hated central Florida's humidity.
He told CBS News, Paddock was "not an avid gun guy at all" with "no religious affiliation, no political affiliation" or history of mental illness.
"We have no idea how this happened," Eric Paddock, who lives in Florida added to the Las Vegas Review-Journal.
"It's like an asteroid just fell on top of our family."
The 55-year-old said his brother had made a fortune as a property developer.
"He was a wealthy guy and he liked to play video poker and he liked to go on cruises," he told reporters from his doorstep on Monday.
"He's never drawn his gun. It makes no sense."
The brothers were last in touch in early September, exchanging text messages after Hurricane Irma slammed into Florida, where their mother lives.
Their father was Patrick Benjamin Paddock, a bank robber who was on the FBI's most-wanted list in the 1960s and essentially unknown to his sons.
The shooter himself had no criminal record, Las Vegas police said.
In recent weeks, Paddock made gambling transactions worth tens of thousands of dollars, although it was unclear whether they were wins or losses, NBC News reported.
Public records point to an itinerant existence for Paddock across the American west and southeast.
Paddock had a hunting licence in Texas, where he lived for a while.
He had a pilot's licence and at least one single-engine aircraft registered in his name.
In early 2015, he bought a two-storey home in a development for retirees in Mesquite.
"It's a nice, clean home and nothing out of the ordinary," a Mesquite police spokesman said.
The FBI said Paddock had no connection with international militant groups.