Obama sees TPP as counter to China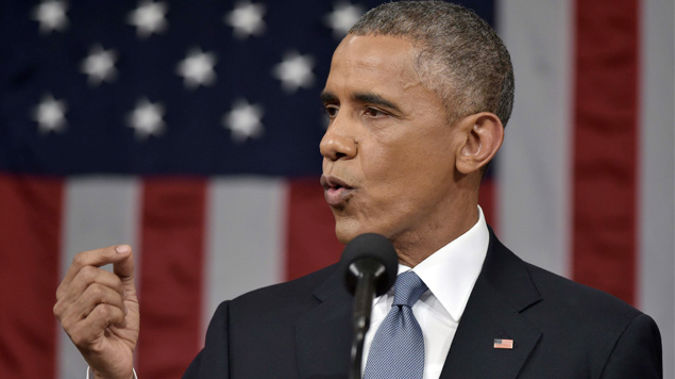 Obama sees TPP as counter to China
The long-awaited text of a landmark US-backed Pacific trade deal has been released, revealing the details of a pact aimed at freeing up commerce in 40 per cent of the world's economy but criticised for its opacity.
If ratified, the Trans-Pacific Partnership will be a legacy-defining achievement for US President Barack Obama and his administration's pivot to Asia, aimed at countering China's rising economic and political influence.
Details of the TPP have been kept under wraps during the more than five years of negotiations, angering those concerned over its broad implications.
The agreement would set common standards on issues ranging from workers' rights to intellectual property protection in 12 Pacific nations including Australia and New Zealand.
"The TPP means that America will write the rules of the road in the 21st century," Obama said in post online on Thursday. "If we don't pass this agreement - if America doesn't write those rules - then countries like China will."
China has responded with its own proposed 16-nation free-trade area, including India, that would be the world's biggest such bloc, encompassing 3.4 billion people.
The White House is likely to formally notify US lawmakers on Thursday that the president intends to sign the deal, a senior Obama administration official said.
That would start the 90-day clock before his signature triggers the next step in a process of seeking final congressional approval.
The earliest the TPP could come before Congress is March, just as the US presidential primary season is heating up, creating the risk that the deal becomes a campaign issue.
The TPP is opposed by labour unions and many of Obama's fellow Democrats who are worried about the impact on jobs, including presidential candidate Hillary Clinton, who backed the developing trade pact when she was secretary of state during Obama's first term.
Some pro-trade Republican lawmakers are also wary of the deal, heralding a tough fight to get the deal through Congress. Republican White House contender Donald Trump has labelled it a "disaster."
House of Representatives Speaker Paul Ryan, a Republican, said he was reserving judgment for now, and the US Chamber of Commerce, whose support will be key for passage through Congress, said it looked forward to examining the details.
US Trade Representative Michael Froman warned that trying to reopen the complex deal could unravel the whole package.