New Zealander describes earthquake horror
Author

Publish Date

Sat, 11 Aug 2018, 8:22AM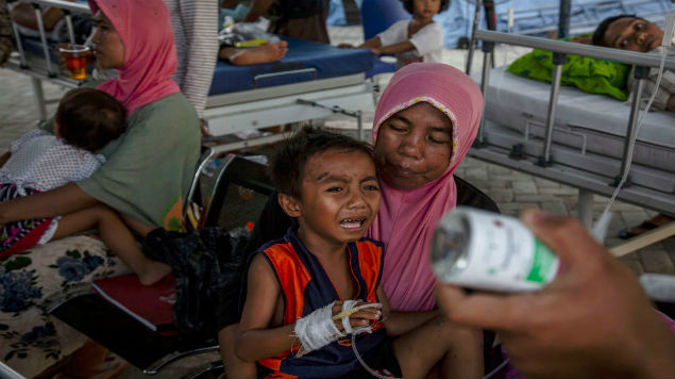 New Zealander describes earthquake horror
Author

Publish Date

Sat, 11 Aug 2018, 8:22AM
Families are huddled under broken trees for shelter, crumbled buildings are covering the roads and children in severe pain are waiting days without any medical aid.
A New Zealand Red Cross worker spoke to the Herald about some of the horrors she had been witnessing in the aftermath of the brutal Lombok earthquakes.
Rosemarie North, from Manurewa, talked about a boy she visited in a remote village Dangiang, north of Lombok yesterday.
"The village had been struck badly by Sunday's earthquake. I discovered a boy who had a building collapse on him.
"He had been buried and his family thought he was dead. When they found him he was unresponsive and his mother performed CPR and after three sets he made a stir.
"It was a while before he opened his eyes and even longer before he started talking but he was back."
North said after that the family made their way to the middle of a hay field paddock and spent a very restless and cold night out there waiting out the after shocks.
It wasn't until the Red Cross team on Thursday that the boy was able to receive medical treatment. This was the case for many who were unable to get anywhere due to the roads been covered in rubble.
The 400 Indonesian Red Cross staff and volunteers have been bringing emergency relief items, such as tarpaulins and sleeping mats, building a model shelter out of bamboo and rallying the community into a communal clean up effort.
The earthquakes had destroyed all 1240 houses and all other buildings in this village.
New Zealand has set up an emergency Appeal to make it easier to donate to help people in Lombok.