New administration continues tenuous relationship with truth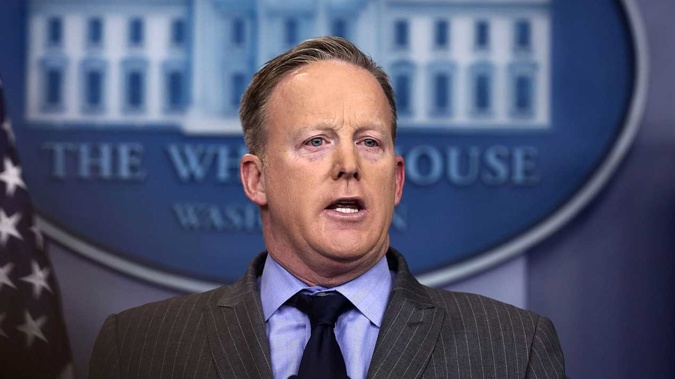 New administration continues tenuous relationship with truth
President Donald Trump's press secretary Sean Spicer has slammed the media for trying to "lessen the enthusiasm" of Trump's inauguration through reporting on crowd size and a bust of Martin Luther King Jr. in the Oval Office.

In a combative tone, Spicer insisted that Trump's swearing in was "the largest audience to witness an inauguration, period, both in person and around the world." But photos clearly show that the crowds did not stretch all the way to the Washington Monument, a contrast to Barack Obama's 2009 swearing in, when an estimated 1.8 million people attended. Ratings also were lower for Trump's swearing in than they were in 2009.

Trump's team scheduled the press statement late on Saturday afternoon, after news networks spent much of the day covering the Women's March on Washington and in other cities around the world. Organisers reported that the turnout was much larger than expected.

Spicer challenged press accounts that compared the size of the crowd on the National Mall for Trump's inaugural to the numbers who showed up for Barack Obama's swearing-in in 2009.
Spicer claimed some of the media was engaged in "deliberately false reporting."

Trump himself claimed that the crowds stretched to the Washington Monument, complaining in a speech at the CIA on Saturday that the media was showing photos of empty spaces on the mall and that "it looked like a million, a million and a half people."

He said that he has a "running war with the media."

Spicer contended that security officials were more aggressive in their use of metal detectors, keeping more spectators from witnessing the ceremony.

There is no official estimate of crowd size from the National Park Service, which has jurisdiction over the National Mall. Some media outlets reported on an unofficial estimate that put the size at 250,000, and a number of media outlets reported that the size of the crowd for Saturday's Women's March on Washington at 500,000.

Spicer said that in fact "no one had numbers" of crowd size, but he suggested that should be taken into account when reporting on the Women's March. Spicer claimed that "we are going to hold the press accountable as well."

His first official briefing is scheduled for Monday.