MPs overwhelmingly reject Theresa May's Brexit deal
Author

Section

Publish Date

Wednesday, 16 January 2019, 8:42AM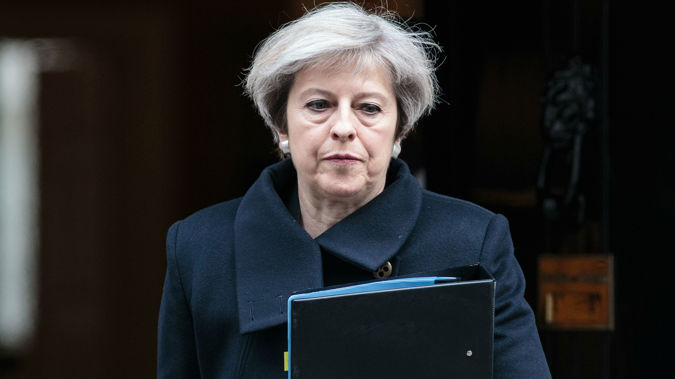 Theresa May's Brexit deal was dramatically crushed by MPs as she suffered the biggest Commons defeat in history.
The PM's grip on power was left hanging by a thread after Tory rebels joined forces with Labour to trounce the plan by 432 votes to 202 this morning (NZ time).
The majority of 230 was by far the biggest in history, higher than the 166 defeat for the Labour majority government in 1924.
May said the government will "listen" and said she would fight a no-confidence tomorrow - effectively daring Jeremy Corbyn to call one. He immediately accepted, saying the government had reached the "end of the line".
But she jibed that while it was "clear" the House did not support her deal, there was no clarity about what MPs did back.
The devastating result, which threatens to plunge the Brexit process into chaos, came despite the PM making a final plea for critics to think again, insisting her deal was the only realistic option on the table.
After hours of desperate arm-twisting, May told the House the referendum result had been "clear and decisive".
She said the vote was the "most important" MPs would cast in their careers, and every member would have to "justify and live with" their actions.
"Parliament gave the people a choice... tonight we will determine whether we move forward with a Withdrawal Agreement that honours the vote," she said.
May said a referendum would divide the country further, and an election would only mean two more months of delay.
But Tories - including the chair of the powerful 1922 committee - still trooped through the No division lobbies with Opposition MPs.
Earlier, Former UKIP leader Nigel Farage said there was "no way" May's Brexit deal would be supported.
Speaking on Mike Hosking Breakfast this morning, Farage said all signs indicated a resounding rejection.
"There is no way this deal is going to get voted for. It's going to get a good solid trouncing, a thumping, possibly a very, very large number."
However, he said the vote needed to happen.
"Today is a day we should be celebrating, we should be hanging out the flags and having parties because here is a piece of legislation, that should be getting us out of the European Union on acceptable terms, and I'm afraid what the Prime Minister has done is saught this path of being half in and half out."
Farage said the deal highlights a "total failure in leadership" from Theresa May.
"It is going against everything she told the public at every stage. She talked about taking back control of our money, our laws and our borders and in reality, she is giving away a minimum of 39 billion Stirling for a series of promises that perhaps in the future we might have a fresh trade deal with the European Union."
He said she was "blackmailing" the public to vote for the deal.
"Literally, it's my way or the highway, do what I've done otherwise there could be no Brexit, that's impressing no one."
"There is a risk...that if this deal gets blocked we could end up with paralysis in the House of Commons,...and there is a risk of a second referendum but my view on it is that this deal is so awful, it doesn't get this what we voted for, that even if that is the risk...I think it's a risk worth taking."