Missing Argentine submarine: Hopes crew are alive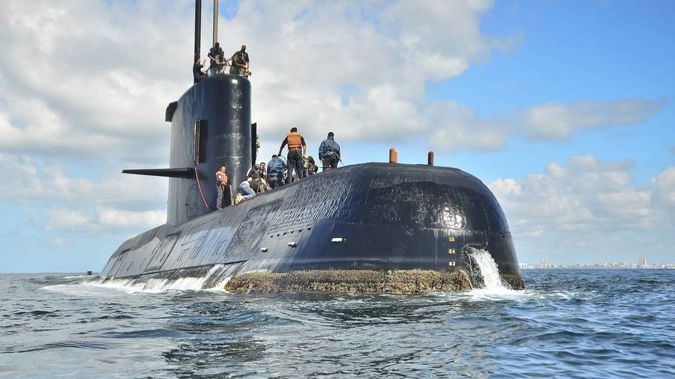 Hopes that 44 crew members of a missing Argentine navy submarine may be alive rose when the defence ministry said the vessel likely tried to communicate via satellite.
Whipping winds and more than seven metre waves in the South Atlantic have been hindering the international search for the submarine which has been missing since Wednesday.
The ministry said seven failed "satellite calls" that it believes came from the ARA San Juan submarine were detected on Saturday, in a likely sign the crew was trying to re-establish contact.
The signals, in the late morning and early afternoon, lasted between four and 36 seconds, the ministry said. Argentina is working on tracing the location with an unnamed US company specialised in satellite communications, the ministry said.
It was not immediately clear what type of calls the vessel may have tried to make but submarines that are stricken underwater can float a location beacon known as an EPIRB to the surface that can then emit emergency signals via satellite.
The last confirmed location of the German-built ARA San Juan was 432km off Argentina's southern Atlantic coast early on Wednesday.
The US Navy said it was deploying a deep-sea rescue mission to Argentina from California to support the effort, with a remotely operated vehicle and two vessels capable of rescuing people from bottomed submarines set to arrive in coming days.
The dramatic search has captivated the nation of 44 million people and in the resort and fishing city of Mar del Plata, where the submarine had been destined to arrive before vanishing, a Catholic Mass was held to pray for the crew.
"We're hopeful this will end soon to remain only as a bad memory," Maria Morales, the mother of crew member Luis Esteban Garcia told journalists.
Messages of support have poured in from around the world. Pope Francis, an Argentine, was praying "fervently" for the crew to return home soon, his office said.
The Argentine navy said an electrical outage on the diesel-electric-propelled vessel might have downed its communications. Protocol calls for submarines to surface if communication is lost.