Michael Flynn admits lying to FBI, says Trump team knew of Russia talks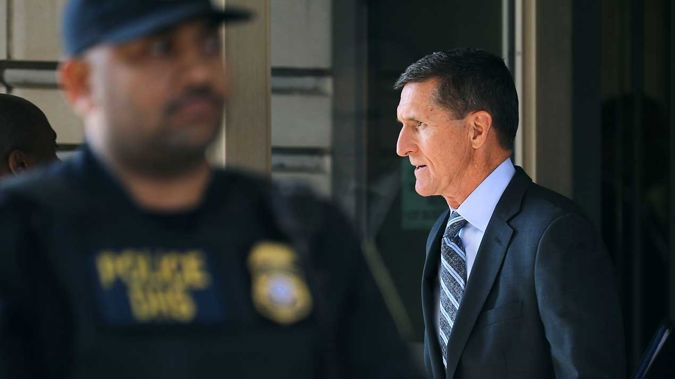 Michael Flynn, the retired general who campaigned at Donald Trump's side and then served as his first national security adviser, has pleaded guilty to lying to the FBI about reaching out to the Russians on Trump's behalf and says members of the president's inner circle were intimately involved with - and at times directing - his contacts.

Court papers didn't name the senior officials, but The Associated Press has confirmed they were Trump's son-in-law and senior White House adviser Jared Kushner and former Deputy National Security Adviser KT McFarland, who is now up for an ambassadorship.

Flynn's plea on Friday could be a crucial development in the wide-ranging criminal investigation into possible coordination between the Trump campaign and Russia to influence the 2016 US presidential election in Trump's favour because Flynn will now have to cooperate with federal investigators.

Flynn's guilty plea makes him the first official of the Trump White House to admit guilt so far in Robert Mueller's criminal investigation.

The developments don't resolve the big question of possible Trump-Russia coordination in the campaign, but they do show that Flynn lied to the FBI about multiple conversations last December with the Russian ambassador to the US. Court papers make clear that senior Trump transition officials - including Kushner and McFarland - were fully aware of Flynn's outreach to Russian officials in the weeks before the inauguration.

McFarland's involvement was confirmed by two former transition officials who spoke on condition of anonymity. One of these officials confirmed Kushner's involvement.

That revelation moves the Russia investigation, which has overshadowed Trump's year, deeper into the White House and raises questions about the accuracy of repeated assertions by the administration that Flynn had misled Vice President Mike Pence and other officials about the content of his calls with the ambassador, Sergey Kislyak.

Kushner, Trump's son-in-law, led a transition team effort to defeat a United Nations vote referenced in the court papers, according to former US officials and foreign diplomats.

Though prosecutors also had investigated Flynn's lobbying of the Turkish government, his guilty plea to just one felony count, which attracts between zero to six months in prison, suggests prosecutors see him as valuable and are granting leniency for cooperation.

White House lawyer Ty Cobb distanced the plea from Trump himself, saying: "Nothing about the guilty plea or the charge implicates anyone other than Mr Flynn."
Flynn, the longtime soldier, stood quietly during his plea hearing except to answer brief questions from the judge. He accepted responsibility for his actions in a written statement, though he said he had also been subjected to false accusations.

"My guilty plea and agreement to cooperate with the Special Counsel's Office reflect a decision I made in the best interests of my family and of our country," he said.