'Terrifying' hurricane tears into Kiwi lawyer's high-rise hotel: 'The windows just smashed in on me'
Author

Publish Date

Tue, 31 Oct 2023, 3:05PM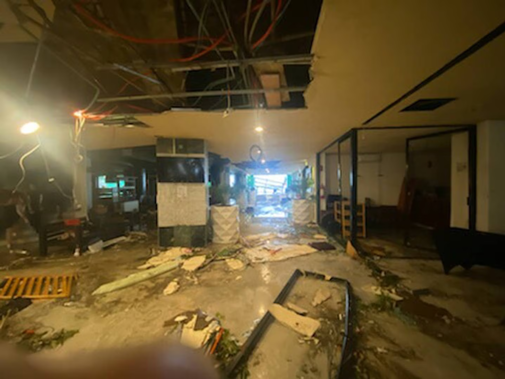 'Terrifying' hurricane tears into Kiwi lawyer's high-rise hotel: 'The windows just smashed in on me'
Author

Publish Date

Tue, 31 Oct 2023, 3:05PM
As the windows shattered in lawyer Don Kennedy's seventh-floor hotel room in Mexico, he couldn't help but wonder if he would survive the night.
Hurricane Otis tore through the coastal resort city of Acapulco last Tuesday night (local time), destroying hotels and homes.
The number of dead and missing people is continuing to rise, with Mexican officials putting the figure at almost 100.
Kennedy, from Havelock North, arrived at Acapulco Copacabana Hotel just hours before the Category 5 hurricane reached the coast, bringing with it 265km/h winds.
"When I got there, it was wet, but there was no wind and no indication of [a hurricane].
"The taxi driver said, 'There might be a storm later on', but that was about it."
A relieved Don Kennedy after arriving in Mexico City, having survived the hurricane.
Kennedy said people were swimming in the hotel pool at 10pm and the weather was calm.
"An hour later the wind got up, and I looked at my phone and suddenly saw the storm they were predicting had gone up to hurricane-intensity size.
"What happened in the next hour was absolutely terrifying."
He could hear "stuff shattering everywhere" as howling winds and rain gathered in intensity.
He pushed a table against the windows of his room to stop them breaking.
"That didn't work, and they just smashed in on me.
Kennedy's hotel room, which was badly damaged in the hurricane. Photo / Don Kennedy
"I was on the seventh floor, and the water just started pouring in."
He raced into the bathroom - with his camera gear and suitcase - to seek shelter as water pooled on the floor.
"[I sat on a] shelf with my feet on the toilet for two hours in the dark.
"I just had to listen to the terrifying noise and hope that the building was not going to collapse," he said.
"It was the most terrifying experience I have ever been through."
The high winds eventually subsided around 2am and, exhausted, he fell asleep on his bed in the pitch black.
Damage to a supermarket in Acapulco which was looted after the hurricane. Photo / Don Kennedy
The following morning, he went downstairs and was met by shattered glass everywhere, a "smashed" reception area, and power lines down outside.
Kennedy, 71, said the injury toll at his hotel did not appear to be bad.
"[The hotel] put on some food and water for lunch, and then that was it, there was nothing else after that ... people just started going out and looting."
He said looting turned ugly fast, with people taking not only food and water from nearby stores, but televisions and grog.
"In the end, because I had no water, I went into the shop and grabbed some water and a packet of crisps.
"I would have paid anything for that. I was so desperate that in the end, I had to join what everyone else was doing.
"As a lawyer, I'm not proud of it, I can assure you."
Damage inside Kennedy's hotel post-hurricane. Photo / Don Kennedy
With seemingly no humanitarian aid on its way, and no power, water, food, or working toilets, Kennedy decided he had to find a way to get to the airport, about 20 kilometres away.
He set off on the Thursday morning, after managing to get a message to his family, and remarkably hitched two rides to the airport amid what felt like a warzone.
No planes were coming or going from the airport, but after a long wait in the crowded airport, a humanitarian group provided buses to get people to Mexico City, a ride of roughly 10 hours. He arrived in Mexico City on the Friday morning.
"It was a huge relief. But I felt sorry for all those who weren't able to get out that were back there [in Acapulco] - all the families."
People taking water from stores in Acapulco. Photo / Don Kennedy
Kennedy photographs and covers Formula 1 events as a part-time job, including for Driven magazine, and was in Mexico for the latest race.
He still managed to cover the Mexico City Grand Prix over the weekend. He flew to Los Angeles on Tuesday and will return home to Hawke's Bay this coming weekend.
Kennedy was in Hawke's Bay during Cyclone Gabrielle in February, and said in comparison, the wind gusts were "10 times worse than that".
Gary Hamilton-Irvine is a Hawke's Bay-based reporter who covers a range of news topics including business, councils, breaking news and cyclone recovery. He formerly worked at News Corp Australia.
Take your Radio, Podcasts and Music with you