Angela Merkel to meet officials after Munich attack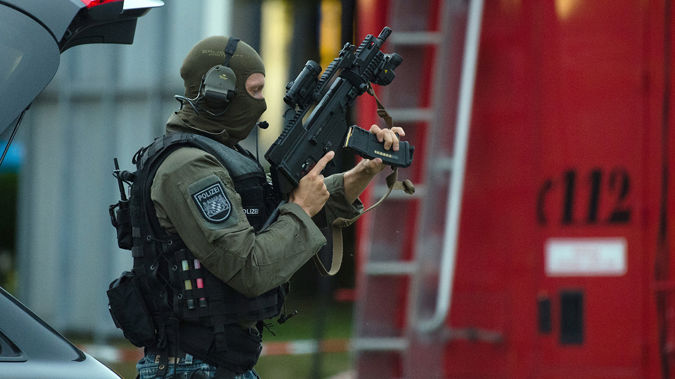 UPDATED 4.53PM: German Chancellor Angela Merkel is due to meet intelligence officials to review an incident in Munich in which a man went on a shooting rampage at a shopping centre, killing nine people and injuring many more. 
The gunman has been confirmed as an 18-year-old German-Iranian man.
The teenager, who has not been named, is thought to have lived in the city for more than two years before opening fire on shoppers at the Olympia shopping centre, about five kilometres northwest of the city centre.
Police say any motive behind the attack remains totally unclear, although thousands on social media claim the police are being politically correct and the motive is another extremist attack on Europe.
Police believe the suspect had acted alone before killing himself and say early reports that there were up to three gunmen have now been discounted.
Munich's police chief has said it was too early to label the attack an act of terrorism; and they had no indication of Islamic extremism.

The shooter was not previously known to police.
The shooter's body was found about a kilometre away from the shopping centre. He had died from a self-inflicted wound, police said earlier.
A red rucksack found near the body was being examined for explosives, police said.
The shooting prompted a series of evacuations of public places, suspension of public transportation and a widespread state of panic across the southern German city.
Andrae said it had not been determined whether the suspected gunman had a German identity card and the investigation was still under way.
There has been no immediate claim of responsibility but supporters of Islamic State celebrated the rampage on social media.
Friday's attack took place a week after a 17-year-old asylum-seeker wounded passengers on a German train in an axe rampage, before being shot by Bavarian police.
German Justice Minister Heiko Maas told Bild newspaper's Friday edition before the mall attack that there was "no reason to panic but it's clear that Germany remains a possible target".
The incidents in Germany follow an attack in Nice, France, on Bastille Day in which a Tunisian drove a truck into crowds, killing 84.
Islamic State also claimed responsibility for that attack.
Friday is also the five-year anniversary of the massacre by Anders Behring Breivik in Norway. Breivik is a hero for far-right extremists in Europe and America.
The Munich assault was also reminiscent of Islamist militant attacks in a shopping mall in Nairobi, Kenya, in September 2013 and on a hotel in Mumbai, India, in November 2008.