Manchester attack: Photo of suicide bomber released
Manchester attack: Photo of suicide bomber released
UPDATED 12.02PM Britain has increased its security threat level to "critical" from "severe" following a suicide attack in Manchester that killed 22 people, including children, Prime Minister Theresa May said.
May also said members of the armed forces would boost security at key sites and military personnel might be deployed at public events such as concerts and sports events.
The independent body which sets the threat level had recommended it be raised after a man named by police as Salman Abedi set off an improvised bomb on Monday night as crowds streamed out of a concert.
"It is now concluded on the basis of today's investigations that the threat level should be increased for the time being from severe to critical," she said in a televised statement on Tuesday following a meeting of the government's crisis response committee.
"This means that their assessment is not only that an attack remains highly likely but that a further attack may be imminent."
British police have identified the suicide bomber, and said they were trying to establish whether he had acted alone or with help from others.
LISTEN: Manchester attacker couldn't have acted alone - counter terrorism expert
MORE: Unlikely Manchester suicide bomber built bomb by himself
The suspected attacker was named as Salman Abedi, aged 22. Two US officials who have been in contact with British authorities said he was believed to have travelled to Manchester from London by train.
"Our priority, along with the police counter-terrorism network and our security partners, is to continue to establish whether he was acting alone or working as part of a wider network," Manchester Police Chief Constable Ian Hopkins said.
Police raided houses in the northern English city and arrested a 23-year-old man after Monday evening's attack, the deadliest in Britain for 12 years.
Me and a friend trying to exit Manchester Arena while the staff were telling everyone to keep calm and not run #scary #arianagrande pic.twitter.com/r9GFZpOe4D

— alex (@butterywig101) May 22, 2017
Theresa May called it an act of "sickening cowardice" targeting "defenceless children and young people".
Islamic State claimed responsibility for what it called a revenge attack against "Crusaders", but there appeared to be contradictions in its account of the operation.
"All acts of terrorism are cowardly," May said in a statement outside her Downing Street office after a meeting with British security and intelligence chiefs.
"But this attack stands out for its appalling sickening cowardice, deliberately targeting innocent, defenceless children and young people who should have been enjoying one of the most memorable nights of their lives."
MORE: Targeting children 'one of the worst trends of terrorism'
She said security services were working to see if a wider group was involved in the attack, which fell less than three weeks before a national election. The election campaign has been suspended for now as a mark of respect.
May spoke to US President Donald Trump, French President Emmanuel Macron and several other foreign leaders on Tuesday about the attack, her spokesman said. She also visited the police headquarters and a children's hospital in Manchester.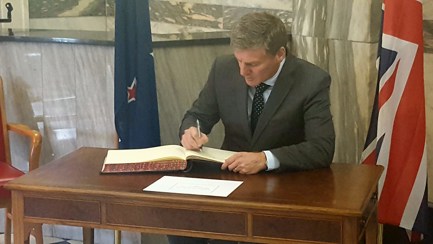 Prime minister Bill English signing the condolence book at New Zealand Parliament for the Manchester attack (Photo / Felix Marwick).
Desperate parents and friends posted heart-wrenching messages and pictures on social media in the search for their loved ones who had been at the concert by Ariana Grande, a US singer who has a large number of young and teenage fans.
"Please...please retweet. Looking for my daughter and her friend," Michael MacIntyre wrote on Twitter, alongside an image of his daughter Laura and her friend Eilidh.
SEE ALSO: Parents still desperately trying to find children after suicide bombing
Police raided a property in the Manchester district of Fallowfield where they carried out a controlled explosion. Witnesses in another area, Whalley Range, said armed police had surrounded a newly built apartment block on a usually quiet tree-lined street.
Panicking at Victoria Station after @ArianaGrande concert. Hope everyone is all safe and well. pic.twitter.com/6Q5WNXFkFO

— Zach Bruce (@Zach_bruce) May 22, 2017
Monday's attack was the deadliest in Britain since four British Muslims killed 52 people in suicide bombings on London's transport system in 2005.
Witnesses related the horror of the Manchester blast, which unleashed a stampede just as the concert ended at Europe's largest indoor arena, full to its capacity of 21,000.
"We ran and people were screaming around us and pushing on the stairs to go outside and people were falling down, girls were crying, and we saw these women being treated by paramedics having open wounds on their legs ... it was just chaos," said Sebastian Diaz, 19. "It was literally just a minute after it ended, the lights came on and the bomb went off."
Queen Elizabeth held a minute's silence at a garden party at Buckingham Palace in London.
READ: Sense of unity at Manchester attack vigil
The White House said Trump had agreed with May during their telephone conversation that the attack was "particularly wanton and depraved".
Singer Grande, 23, said on Twitter: "broken. from the bottom of my heart, i am so so sorry. i don't have words."