Late Waitangi celebration for Shearer in South Sudan
Author

Publish Date

Fri, 9 Feb 2018, 6:10AM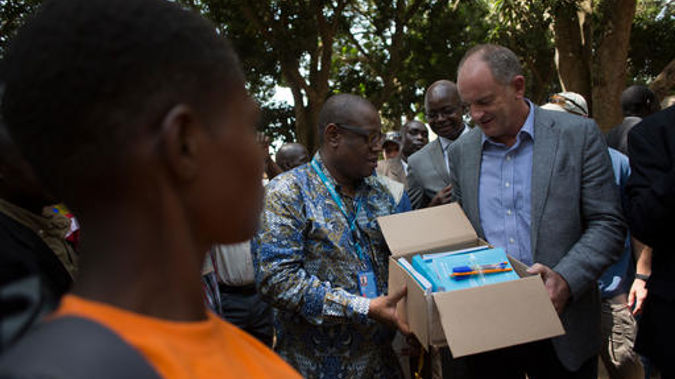 Late Waitangi celebration for Shearer in South Sudan
Author

Publish Date

Fri, 9 Feb 2018, 6:10AM
A taste of home for New Zealanders working in war-torn South Sudan, who will be celebrating a late Waitangi Day.
Former Labour Party leader David Shearer is in charge of a United Nations Peacekeeping Mission in the African country.
Shearer says his team, which includes a cohort of New Zealanders, were engaged in peace talks in neighbouring Ethiopia on the sixth of February, which means they are playing catch up.
"We weren't able to celebrate Waitangi Day on Tuesday, so we're doing it around at my place around a barbie," he said.
"It's nice to have a few colleagues around, and they are doing a great job as well."
David Shearer has recently recommitted to his job leading peacekeepers in war-torn South Sudan, for another twelve months, after starting in January 2017.
He's recently been instrumental in an effort to free more than 300 child soldiers from the conflict.
The children were officially disarmed and provided with civilian clothes, medical screenings and food aid.
Eighty-seven of the children released are girls.
Mr Shearer said they will have endured suffering, including sexual abuse, and it's vital they receive support to rejoin their communities and that they are welcomed home without any sense of stigma.
Shearer said every day is a struggle, but he had few hesitations in signing on for another twelve months in the role.
"Yesterday, seeing the release of 300 young kids who have been fighters and now have a chance to live a normal life, it really does make you feel like your doing something that's worthwhile."
He said the challenge now is to ensure the children who have been freed can be reunited with their families and assimilated back into society.
"We can't be everywhere as a peacekeeping force, but we're trying very hard to make sure this practice stops, and that kids have their right to have a childhood and grow up in a peaceful way."
About 19,000 children are still caught up in the fighting in South Sudan.