Labor wins historic landslide in Western Australia elections
Author

Publish Date

Sun, 14 Mar 2021, 1:08PM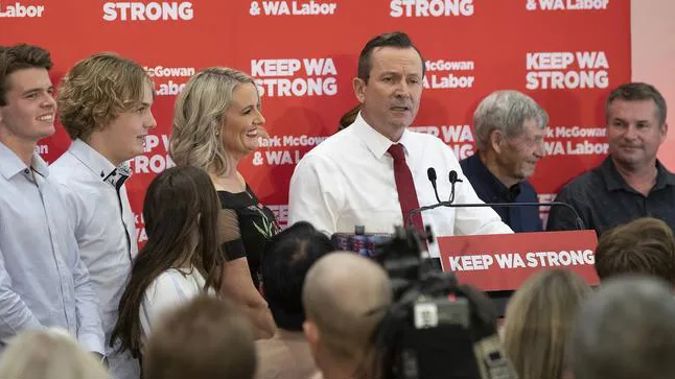 Labor wins historic landslide in Western Australia elections
Author

Publish Date

Sun, 14 Mar 2021, 1:08PM
Labor has emphatically won the West Australian election in a second successive historic win, evicting the Liberals from many of its traditionally held blue-ribbon seats with staggering swings across the metropolitan area.
Political guru Antony Green made the call just 43 minutes after polling booths closed with only one per cent of votes counted, describing wildly popular Premier Mark McGowan's primary vote surge as "quite remarkable".
It confirmed widespread expectations of another massive Labor win following an epic 2017 landslide victory, which gave the party the biggest lower house majority it had ever had in WA.
"We can safely say the McGowan government has been returned to office," Mr Green said.
"I mean, this is just history-making stuff … a second landslide to Labor."
It also didn't take long to emerge that newly minted Liberal leader Zak Kirkup had lost his seat of Dawesville, which he won in 2017 with a margin of only 0.8 per cent.
"We're here first and foremost to represent our seat and he's lost that," retiring Liberal MP and former party leader Mike Nahan told the ABC election night panel with his trademark honesty.
"He could not resist the tsunami."
Mr Kirkup shocked everyone by conceding weeks ago that the Liberals would be defeated and recently said losing his seat would spell the end of his political career after just one term, which he confirmed in his concession speech.
Mr McGowan drove himself and his family to the Labor event in his electorate of Rockingham, a working class area in Perth's south, with some joking on social media that the Premier had more people in his car than the Liberals had left in parliament.
Upon arrival, he was greeted with a rock star reception from the party faithful as AC/DC's Thunderstruck was cranked up.
Surrounded by his three children, wife Sarah, and parents Mary and Dennis — who recently drove from NSW to Perth in their caravan — he thanked the many voters who backed Labor for the first time, saying it was "a humbling experience".
"To have the support and faith of so many West Australians in one of the most important state elections is a great honour," he said.
"Can I thank those people who voted Labor for the first time in their lives across Western Australia.
"Can I also acknowledge West Australians who didn't vote for us.
"I promise to work for everyone across Western Australia over these coming four years."
Mr McGowan also acknowledged Mr Kirkup in his speech.
"Opposition Leader is a very, very difficult and sometimes thankless job I know well," the Premier said.
"Can I thank you for your contribution to the state and to the parliament of Western Australia.
"Can I also acknowledge all those people who lost their seats today.
"I know it is a very, very difficult, hard and gut-wrenching experience.
"We may be political opponents but our democracy should always be based on decency, civility, respect for one another and acknowledging each other."
MAKING HISTORY FOR ALL THE WRONG REASONS
Mr Kirkup is the first conservative leader to lose their seat in WA since 1933 when then state Premier Sir James Mitchell was deposed.
In his concession speech, the 34-year-old Mr Kirkup confirmed his political career was over and said it was "always going to be a very tough election" but the result was devastating.
"This is a historic election and one like no other," he told the crowd.
"I think it's important to recognise the people of Western Australia have had their say.
"And that we must respect their decision. They had a choice and in this instance they have overwhelmingly chosen to elect the McGowan Labor government for a second term in office.
"We lose incredibly good local members of parliament and it means that we lose very good candidates who could have been part of the Liberal Party.
"It is a loss that will be difficult to bear."
Zak Kirkup says his political career is over. Picture: Matt Jelonek/Getty ImagesSource:Getty Images
He said the party was "at a crossroads" and needed to do all it could to rebuild itself over the next four years, when, with so few MPs, holding Labor to account would be "difficult but not impossible".
Mr Kirkup said he took full responsibility for the wipe-out, despite only being the leader since November.
He held back tears while offering thanks to state director Sam Calabrese.
Police Minister Michelle Roberts said Mr Kirkup "giving up" was not a smart decision.
"Everyone said 'If they don't believe in themselves how can you believe in them?' I got a bit of that feedback at pre-poll, I got it again today," she said.
Ms Roberts decreed Labor's spanking victory "an incredible result for Mark McGowan".
"He can take a lot of the credit for it, absolutely," she said.
"I think it's a choice people have made between an experienced responsible government and a very inexperienced Opposition Leader and team opposite us.
"I think this contrast was pretty stark, and whilst those of us in politics see that, the community clearly have seen it as well."
LIBERAL SEAT LOSSES 'A DISASTER'
Dr Nahan agreed Mr McGowan had "done a remarkable job … he works hard".
"He is a team player, which is absolutely essential.
"He has a pretty good team behind him.
"This is a remarkable victory.
"Yes, he's been extremely lucky, right? But you make your luck. And so I'll just say to my colleagues, learn from him."
Dr Nahan said it was "a disaster" for the Liberals.
"This is just a shocking outcome.
"It could be that a party that has no seats in the metropolitan area is the opposition."
At 7.48pm, Mr Green said it was too early to confirm whether the Liberals would wind up with fewer seats than the Nationals, losing its opposition status.
POLLS HAD TIPPED A BLOODBATH FOR THE LIBERALS
Polls had pointed to a dire result for the Liberals, the worst tipping its lower house seats could be smashed from 13 to just two, which seems to be eventuating.
On Saturday morning when he cast his vote, Mr Kirkup replied "probably not" when asked if this one was ever winnable for the Liberals.
LAST MOMENTS ON THE CAMPAIGN TRAIL:
Mr McGowan went to a primary school in the seat of Hillarys - which had been held by Liberal Peter Katsambanis with a margin of just 0.4 per cent - accompanied by his parents.
The Premier helped out frying democracy sausages.
Mr Kirkup did too and was all class, righting a Labor sign that had blown over in the wind.
Mr McGowan told reporters it was "one of the most important elections, if not the most important election, in living memory".
"It's very important that Western Australia stays the course and sticks with the team that has kept our state safe and strong over the last four years," he said.
"We've obviously been through a very traumatic last year."
While Mr McGowan had argued it was too risky to change teams during the health crisis, the Liberals tried to save the furniture, saying Labor sought "total control", which would be bad for democracy so his party needed to provide "checks and balances".
SOCIAL MEDIA HIT
Meanwhile, a TikTok video of Mr McGowan losing it giggling went viral as people cast their votes.
In the clip, he stands next to the owner of the Spud Shed chain, Tony Galati, who is known for his trademark bushy eyebrows and bricklayer-style attire, referring to him as a "well-known fashion icon".
Also in the shot is Labor's candidate for Scarborough, Stuart Aubrey, who appears to have unseated one of only three Liberal women in the lower house, former party leader Liza Harvey.
Dr Nahan has thrown Ms Harvey under the bus, blaming her largely for the election defeat by saying the borders should be reopened when the pandemic was in full swing.
"It's fair to say it's a mash made in heaven," Mr McGowan says in the video before laughing, saying "please don't use that".
It's reminiscent of the giggling fit he had last year after a reporter asked about a man who was fined for stopping to eat a kebab while out for a run during lockdown.
HUGE EARLY VOTING TURNOUT
People were encouraged to vote early in a bid to reduce polling booth queues and maintain social distancing on election day, with more early voting centres opened than usual.
The WA Electoral Commission reported on Friday that more than 755,000 votes had already been cast - including Mr McGowan and his wife - from an electoral roll of more than 1.7m.
text by Rebecca Le May and Angie Raphael, NCA NewsWire