Kiwi woman killed by jet plane takeoff on Caribbean island
Author

Publish Date

Thu, 13 Jul 2017, 5:09PM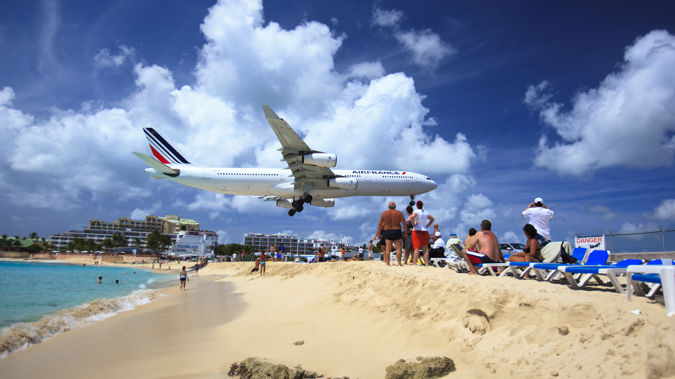 Kiwi woman killed by jet plane takeoff on Caribbean island
Author

Publish Date

Thu, 13 Jul 2017, 5:09PM
A New Zealand woman has been tossed to her death by the jet blast from a plane at a Caribbean beach.
The 57-year-old tourist was knocked over in Sint Maarten and seriously injured, dying a short time later.
Several people were apparently holding on to the airport fence by the Princess Juliana International Airport.
The warnings to tourists outside the airport. Photo / Getty Images


The director of tourism for the island of St Maarten, Rolando Brison, told the Herald he had spoken to the family of the woman.
"Yes, the family did confirm that [she was a New Zealander] to me," he said. "And we're so sad to hear that."
Brison passed on his condolences to the family for their loss when he met with them shortly after the accident occured.
"I met with the family of the deceased this evening and while they recognised that what they did was wrong, through the clearly visible danger signs, they regret that risk they took turned out in the worst possible way.
"At this time I only wish to express my deepest sympathy to the family and loved ones while we continue to investigate what transpired just hours ago."
He did not want to comment further on the details of the incident, but said he would be reviewing security tapes tomorrow to establish just what happened.
He confirmed the woman had been standing near a fence, adjacent to the airport, when the accident happened.
He was unable to say who the woman had been travelling with, but said there were "three grieving at the hospital".
"I didn't want to ask them too many questions at this time, just wanted them to know we are here for them."
A spokeswoman for the Ministry of Foreign Affairs confirmed they were following up "reports that a New Zealand citizen has passed away in Sint Maarten".
The area is a well-known tourist attraction, as approaching aircrafts fly low over the nearby beach before coming down on the runway.
The woman was with her family and was holding on to a fence at the end of the runway when a Boeing 737 departed for Trinidad.
The jet's blast blew her and others backwards, causing her to fall and hit her head on concrete pavement.
There are signs at the airport warning of the dangers of standing too close to the fence.
A police report said the incident happened at about 6pm on Wednesday, local time at Beacon Hill Road on Maho Beach.
Paramedics reportedly rushed to her aid but she died shortly after.
In 2012 a young woman was serious injured as she was thrown against a concrete Jersey barrier by the blast of an arriving JetBlue airplane. Video of the incident was posted on YouTube in 2012.