Biden confirms Trump left 'very generous' letter for him
Author

Publish Date

Thu, 21 Jan 2021, 11:42AM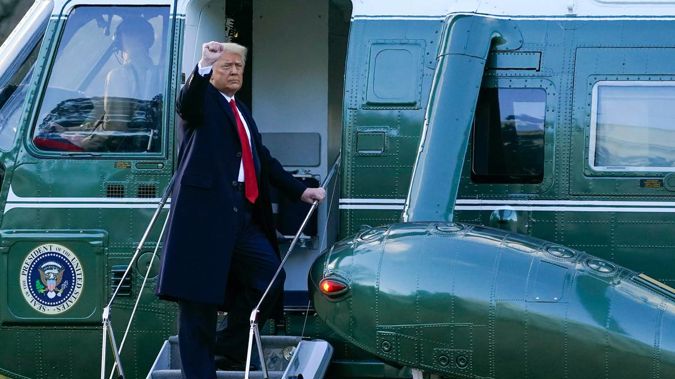 Biden confirms Trump left 'very generous' letter for him
Author

Publish Date

Thu, 21 Jan 2021, 11:42AM
New President Joe Biden has confirmed Donald Trump left a "very generous" letter for him to open when he arrived at the White House.
While Trump broke with tradition and refused to attend today's inauguration ceremony, he did honour the practice of the departing President leaving a note for his successor.
Biden said his predecessor left a "very generous letter" for him - but that he would not reveal the details until speaking with Trump. Melania Trump also left a "short note of welcome" for Jill Biden.
Biden: "The president wrote a very generous letter," referring to the note Trump left him.pic.twitter.com/q6a2u4VkpF

— The Recount (@therecount) January 20, 2021
Trump had earlier told supporters that "we will be back in some form" after he departed the White House for the final time as president. He addressed the crowd on Wednesday morning (US time) just hours ahead of the inauguration of President-elect Biden.
Earlier, Trump made his comments at Joint Base Andrews as he was about to fly to Mar-a-Lago in Florida.
Trump landed on Air Force One in Florida with about one hour left in his term.
As Trump walked to the podium in Joint Base Andrews, he was greeted by a 21-gun salute with ceremonial artillery.
In his remarks, he touted his administration's accomplishments.
"We left it all on the field," Trump said of his time as president.
"What we've done has been amazing by any standard," he said.
Trump mentioned the Space Force, tax cuts, judicial appointments, stock market record highs and more. First Lady Melania Trump also made brief remarks.
Trump also wished the incoming Biden administration well in his remarks.
"I wish the new administration great luck and great success," Trump said.
"I think they'll have great success."
But he also warned that the Biden administration may roll back some of his policies.
"You're gonna see incredible numbers start coming in if everything is left alone, Trump said.
"Be careful."
"I hope they don't raise your taxes, but if they do I told you so," Trump said.
Potentially foreshadowing more involvement in politics to come, Trump said "we will be back in some form."
There's been speculation that Trump could run for president in 2024, or that he may start his own political party.
The outgoing president also lamented the coronavirus pandemic, saying that "The first thing we have to do is pay our respects and our love to the incredible people and families who suffered so gravely from the China virus. It was a horrible thing that was put into the world."
Trump added: "We put it in a position like it's never been before despite the worst plague to hit since, I guess you'd say 1917, over a hundred years ago."
Trump thanked Vice President Pence, Congress and his family, saying, "people have no idea how hard this family works." He also praised the American people.
"I just want to say you are amazing people. This is a great, great country. It is my greatest honour and privilege to have been your president," Trump said. "I will always fight for you."
Trump also made brief comments to reporters as he left the White House one final time on his way to Joint Base Andrews. He said that being president was the "honour of a lifetime" and "we love the American people."