Jihadists open fire on anti-Muslim event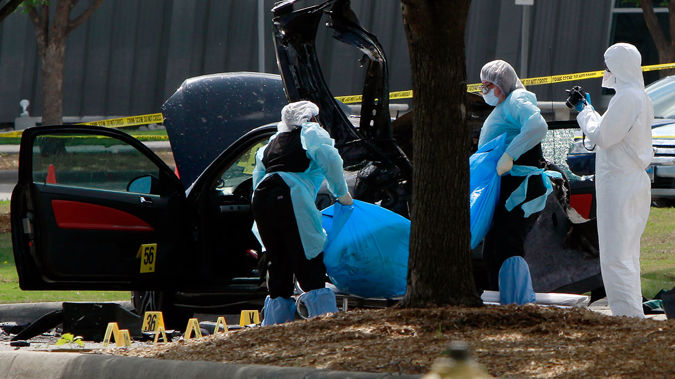 A Texas traffic policeman has shot dead two suspected Islamist gunmen with his pistol after they opened fire with assault rifles and tried to storm an event staged by an anti-Muslim group, police say.
There was no confirmed claim of responsibility for Sunday's failed assault, but an FBI official told US media that one of the attackers had been previously investigated as an alleged would-be jihadist militant.
ABC news, citing an FBI official, said Monday that agents had raided an apartment in Phoenix, Arizona thought to belong to Elton Simpson, allegedly one of the slain gunmen.
Court documents seen by AFP show Simpson was sentenced to three years probation in 2011 for lying to federal agents investigating him on suspicion of planning to travel to Somalia to fight with jihadists.
The White House said President Barack Obama had been briefed on the investigation, which Texas police said was ongoing.
"There is no form of expression that justifies an act of violence," White House spokesman Josh Earnest said.
Commentators were quick to draw parallels to a January shooting at the French satirical weekly Charlie Hebdo in Paris that killed 12 people and wounded 11 more.
The American Freedom Defense Initiative, a group listed by civil rights watchdog the Southern Poverty Law Center as an anti-Muslim hate group, had organised the event in Garland, a suburb of Dallas.
At the event, attended by Dutch far-right politician Geert Wilders and AFDI co-founder Pamela Geller, supporters held an exhibition of entries to a competition to draw cartoon caricatures of the Prophet Mohammed.
Many Muslims find drawings of the prophet to be disrespectful or outright blasphemous, and such cartoons have been cited by Islamists as motivation in several previous attacks.
Police said two men, wearing body armour and toting assault rifles, drove up to the conference, jumped out and opened fire on an unarmed security guard.
Garland police spokesman Joe Harn told reporters the guard was shot in the ankle and that a traffic police officer in the vicinity responded, taking down the two better-armed assailants.