'It has to stop': Biden slams 'extremist' Israeli settlers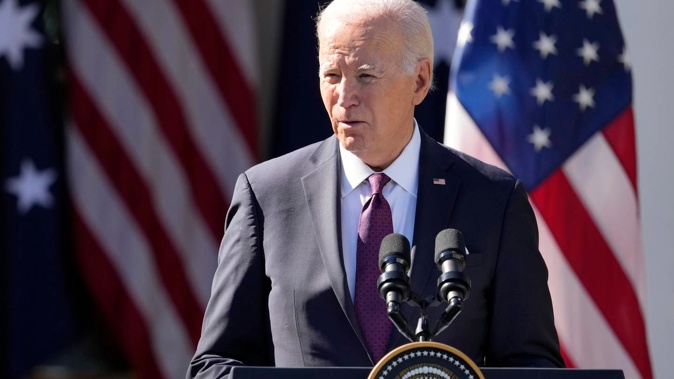 'It has to stop': Biden slams 'extremist' Israeli settlers
US President Joe Biden has spoken out against retaliatory attacks by Israeli settlers against Palestinians in the West Bank in the aftermath of the October 7 Hamas attacks on Israel. He also said he was redoubling his commitment to working on a two-state solution to end the decades-long Israel-Palestinian conflict. 
Biden said the attacks by "extremist settlers" amounted to "pouring gasoline" on the already burning fires in the Middle East since the Hamas attack. 
"It has to stop. They have to be held accountable. It has to stop now," Biden said at the start of a news conference with Australian Prime Minister Anthony Albanese, who was being honoured with a state visit to Washington. 
Settler violence against Palestinians has intensified since the Hamas attack, and Palestinians have been killed by settlers, according to Palestinian authorities. Rights groups say settlers have torched cars and attacked several small Bedouin communities, forcing them to evacuate to other areas. 
The West Bank Protection Consortium, a coalition of nongovernmental organisations and donor countries, including the European Union, says hundreds of Palestinians have been forcibly displaced in the West Bank due to settler violence since October 7. That's in addition to over 1100 displaced since 2022. 
Mourners take the last look at the body of Ibrahim Awad, killed during clashes with Israeli settlers near his home village of Dura al-Qara'. Photo / AP 
Deadly violence has been surging in the West Bank as the Israeli military pursues Palestinian militants in the aftermath of the Hamas attack from Gaza. 
The violence threatens to open another front in the 2-week-old war, and puts pressure on the internationally recognised Palestinian Authority, which administers parts of the West Bank and is deeply unpopular among Palestinians, in large part because it cooperates with Israel on security matters. 
Biden again condemned the brutality of the Hamas attack that killed 1400 Israelis and said that he was convinced that Hamas was driven in part by a desire undo U.S.-led efforts to normalise Israeli relations with some of its Arab neighbours, including Saudi Arabia. 
The president also said that after the Israel-Hamas conflict comes to an end, Israelis, Palestinians and their partners must work toward a two-state solution. 
"Israelis and Palestinians equally deserve to live side by side in safety, dignity and peace," Biden said, adding, "When this crisis is over, there has to be a vision of what comes next. And in our view, it has to be a two-state solution." 
The Hamas-run Health Ministry says more than 6500 Palestinians in Gaza have been killed in retaliatory strikes. Biden said he had doubts about the accuracy of the Hamas death count, but stressed that it was critical for Israel to move carefully in its response to minimise civilian deaths. 
Wounded Palestinians arrive at the al-Shifa hospital, on a truck, following Israeli airstrikes Oct. 19. Photo / AP 
"I'm sure innocents have been killed, and it's the price of waging a war," Biden said. "Israel should be incredibly careful to be sure that they're focusing on going after the folks that are propagating this war." 
Biden also that he has not directly sought assurances from Israeli Prime Minister Benjamin Netanyahu that Israel will hold off on an expected ground invasion into Gaza before hostages can be released. 
"What I have indicated to him is that if that's possible, to get these folks out safely, that's what he should do. It's their decision," Biden said at news conference at the White House. "But I did not demand it. I pointed out to him, if it's real, it should be done." About 10 Americans remain unaccounted for amid the Israel-Hamas war, according to the White House. 
Fuel running low for Gaza relief efforts
The UN warned on Wednesday that it is on the verge of running out of fuel in the Gaza Strip, forcing it to sharply curtail relief efforts in the blockaded territory. 
The warning came as hospitals in Gaza struggled to treat masses of wounded with dwindling resources. The UN's top official faced backlash from Israel after saying the Hamas massacre of Israelis on October 7 that sparked the fighting did not "take place in a vacuum". 
Health officials said the death toll was soaring as Israeli jets continued to pound Gaza. 
The territory's Health Ministry, which is controlled by Hamas, said more than 750 people were killed over the past 24 hours. The Associated Press could not independently verify the death toll, and it was unknown if the count included any militants. 
Palestinians evacuate two wounded boys out of the destruction following Israeli airstrikes on Gaza City, Wednesday, Oct. 25, 2023. Photo / AP 
The Israeli military said its strikes killed militants and destroyed tunnels, command centres, weapons storehouses and other military targets. It accuses Hamas of magnifying the suffering of Gazan civilians by hiding its fighters among them. 
Hamas and other militants have launched unrelenting rocket barrages into Israel since the conflict started. 
The rising death toll in Gaza — following a reported 704 killed the day before — was unprecedented in the decades-long Israeli-Palestinian conflict. Even greater loss of life could come if Israel launches an expected ground offensive aimed at crushing Hamas. 
The warning by the UN agency for Palestinian refugees, UNRWA, over depleting fuel supplies raised alarm that the humanitarian crisis could quickly worsen. 
Gaza's population has been running out of food, water and medicine, too, under Israel's seal. About 1.4 million of Gaza's 2.3 million residents have fled their homes, with nearly half of them crowded into UN shelters. 
In recent days, Israel let a small number of trucks with aid enter from Egypt but barred deliveries of fuel – needed to power generators -- saying it believes Hamas will take it. 
UNRWA has been sharing its own fuel supplies so that trucks can distribute aid, bakeries can feed people in shelters, water can be desalinated, and hospitals can keep incubators, life support machines and other vital equipment working. 
If it continues doing all of that, fuel will run out by Thursday, so it is deciding how to ration it, UNRWA spokeswoman Tamara Alrifai told The Associated Press. 
"Do we give for the incubators or the bakeries? Do we bump clean water, or do we send trucks to the borders?" she said. "It is an excruciating decision." 
More than half of Gaza's primary healthcare facilities and roughly a third of its hospitals have stopped functioning, the World Health Organisation said. 
At Gaza City's al-Shifa Hospital, the lack of medicine and clean water have led to "alarming" infection rates, the group Doctors Without Borders said. Amputations are often required to prevent infection from spreading in the wounded, it said. 
One surgeon with the group described amputating half the foot of a 9-year-old boy with "slight sedation" on a hallway floor as his mother and sister watched. 
A strike Wednesday in the Nusseirat refugee camp killed the wife, son and young daughter of one of Al-Jazeera TV's chief correspondents, Wael Dahdouh. Footage aired on the Qatari based network showed the veteran journalist weeping over his son's body on a hospital floor. 
"They take vengeance on us through our children?" he sobbed. 
The conflict threatened to spread across the region. The Israeli military said it struck military sites in Syria in response to rocket launches from the country. Syrian state media said eight soldiers were killed and seven wounded. 
Strikes also hit the airports of the Syrian city of Aleppo and Damascus, in an apparent attempt to prevent arms shipments from Iran to militant groups, including Lebanon's Hezbollah. Israel has been exchanging near daily fire with Iranian-backed Hezbollah across the Lebanese border. 
Hezbollah leader Hassan Nasrallah met with top Hamas and Palestinian Islamic Jihad officials in their first reported meeting since the war started. Such a meeting could signal coordination between the groups, as Hezbollah officials warned Israel against launching a ground offensive in Gaza.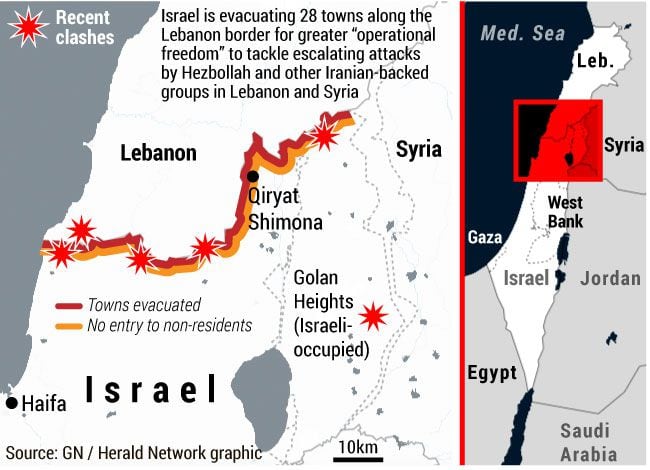 Israeli military spokesman Rear Adm. Daniel Hagari said Iran was helping Hamas with intelligence and "whipping up incitement against Israel across the world". He said Iranian proxies were also operating against Israel from Iraq, Yemen and Lebanon. 
Hamas' surprise rampage in southern Israel stunned the country with its brutality, its unprecedented toll and the failure of intelligence agencies to know it was coming. Prime Minister Benjamin Netanyahu said in a speech Wednesday night that he will be held accountable, but only after Hamas was defeated. 
"We will get to the bottom of what happened," he said. "This debacle will be investigated. Everyone will have to give answers, including me." 
Israel's UN ambassador, Gilad Erdan, said his country will stop issuing visas to UN personnel after UN Secretary-General Antonio Guterres said that Hamas' attack "did not happen in a vacuum". It was unclear what the action, if implemented, would mean for UN aid personnel working in Gaza and the West Bank. 
"It's time to teach them a lesson," Erdan told Army Radio, accusing the UN chief of justifying a slaughter. 
The UN chief told the Security Council on Tuesday that "the Palestinian people have been subjected to 56 years of suffocating occupation". Guterres said "the grievances of the Palestinian people cannot justify the appalling attacks by Hamas. And those appalling attacks cannot justify the collective punishment of the Palestinian people". 
Guterres said on Wednesday he is "shocked" at the misinterpretation of his statement "as if I was justifying acts of terror by Hamas". 
"This is false. It was the opposite," he told reporters. 
-AP
Take your Radio, Podcasts and Music with you