'No water, no food': Kiwi's bid to help children trapped near Gaza hospital
Author

Publish Date

Thu, 16 Nov 2023, 4:27PM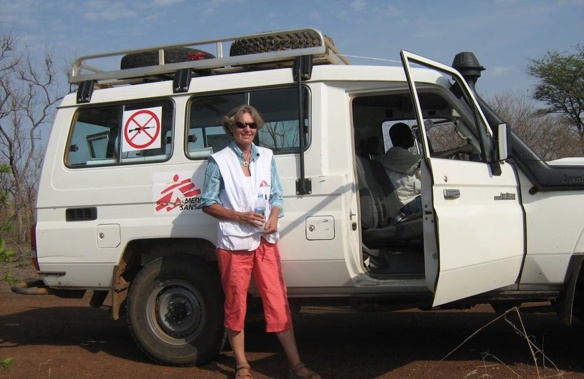 'No water, no food': Kiwi's bid to help children trapped near Gaza hospital
Author

Publish Date

Thu, 16 Nov 2023, 4:27PM
A Wellingtonian who is head of mission for Doctors Without Borders in Palestine has told the Herald of her attempts to help the charity's staff and their young families, who are trapped near the epicentre of fighting in Gaza and have run out of food and water.
Anne Taylor, 74, is working out of Jerusalem. One focus has been a group of more than 100 people - 65 of whom are children, including babies - trapped for days in a building used by Doctors Without Borders (Medecins Sans Frontieres, or MSF) near the Al-Shifa hospital.
Bullets have hit the building and the situation is so desperate those trapped are now drinking a supply of salt water.
MSF is asking the Israeli army and Hamas for a safe passage out of the area, and Taylor is in communication with the Israel Defence Forces (IDF).
"The tanks have rolled in. A lot of soldiers have come in. There's fierce fighting between the two belligerents and we've got staff blocked in our offices, our guest house…
"That's something that we're managing on an hourly basis, or trying to, but the contact is very poor. There's no water, there's no food, they've got babies there that are getting diarrhoea.
"It rained the other day, they collected some water, [now] they're trying to drink some salt water … the children are getting sick. Once I've completed this conversation with you, that's what I'll be continuing to do - try to work with the authorities of the military to be able to create a safe safe exit and convoy."
Taylor worked in the construction industry prior to joining MSF and has since completed 21 overseas assignments, including in Nigeria, Nepal and the Philippines.
She has acted as head of mission in Palestine a number of times, most recently in 2019.

Anne Taylor photographed on one of her prior MSF assignments. Photo / MSF
On October 7, Hamas terrorists left the Gaza Strip and launched a brutal and unprecedented assault on Israel, killing about 1200 people, mostly civilians, and taking more than 235 hostages.
Israel responded with airstrikes on Gaza and has sent in troops. More than 11,000 people have been killed, according to counts by health officials in Hamas-ruled Gaza.
MSF asked Taylor to return as head of mission because of that ongoing emergency. The organisation has about 300 staff in Gaza, the majority of whom are Palestinians. Fifteen international staff have recently made it into southern Gaza and are helping operate on civilians with terrible injuries and burns, Taylor said.
Hospitals in the north have been overwhelmed or aren't functioning, she said. Doctors, nurses and workers were being told to evacuate, but some patients - including those in ICU and babies in incubators - couldn't be moved.
"What's happening is really, really, really extreme … the staff are under pressure to leave, and it's not safe when they do leave, and they're put in an extraordinarily difficult situation. They are very, very dedicated people.
"We've had staff die and we've had families die, and we've had families buried under rubble … electricity is cut off. There's no fuel and everything is going to grind to a halt.
"It's playing out in full view of the world, which I find extraordinary - that it can be accepted … 70 per cent of the population are women and kids."
MSF personnel treat a patient with a facial injury at Al-Shifa hospital. Photo / MSF
On Wednesday, the IDF launched an operation inside the Al-Shifa hospital, which is the largest in Gaza. It says it has found "an operational command centre, weapons, and technological assets" belonging to Hamas, which controls Gaza.
Before the operation, the United States said its intelligence showed Hamas used hospitals in Gaza, including Al-Shifa, "to conceal and to support their military operations and to hold hostages".
Hamas has denied operating from the hospital, where thousands of civilians have sought shelter in buildings and the surrounding compound.
Israel said it has provided evacuation routes for civilians, warned militants to stop operating in the hospital, and has delivered humanitarian aid and equipment.
However, Jennifer Tierney, MSF Australia's executive director, said colleagues in Al-Shifa hospital had reported being unable to evacuate or move patients.
"Patients are immobile, wounded, unable to walk, and unable to leave - neonates in incubators, critically injured patients in ICU, people who have just had surgery. We do not have assurances of safety and we do not have ambulances to evacuate them."
MSF was founded in 1971 by doctors and journalists in response to the war and famine in Biafra, Nigeria. It delivers emergency medicine aid internationally, including in war zones, using local and international medics and staff.
The charity has called for "an urgent and unconditional ceasefire from all warring parties", in order for humanitarian aid to be supplied to the entirety of the Gaza Strip.
Taylor echoed that call and was critical of the international response.
"World leaders to watch on, and don't do anything about stopping this…no one can say they don't know what's going on."
Israeli Prime Minister Benjamin Netanyahu says Israel's goal is the destruction of Hamas's "military and governing capabilities", and the freeing of the hostages. He has rejected calls for a ceasefire until that is achieved.
Nicholas Jones is an investigative reporter at the New Zealand Herald. He won the best individual investigation and best social issues reporter categories at the 2023 Voyager Media Awards.
Take your Radio, Podcasts and Music with you