Communications blackout has Palestinians panicking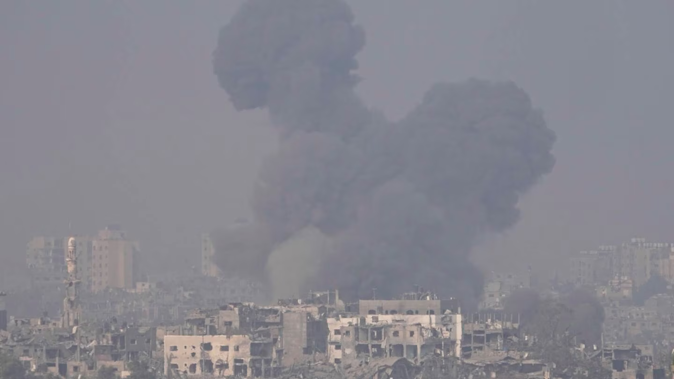 Communications blackout has Palestinians panicking
Now that Israeli bombs have cut off cellular and internet service for most of the 2.3 million people in the Gaza Strip, it has fallen to a rare few Palestinians with international SIM cards or powered-up satellite phones to get the news out.
They described scenes of panic and confusion as Israel's military attacks from the air, land and sea in the most intense bombing yet in the three week war. Without social media to share their plight with the world, many seem consumed with fear and hopelessness.
Reached by WhatsApp, freelance photojournalist Ashraf Abu Amra in northern Gaza said the international community must intervene to save the people of Gaza from immediate death. Palestinian journalist Hind al-Khoudary reported that some 50,000 people have converged on Gaza's largest hospital, where doctors are exhausted from operating on patient after patient using dwindling fuel and medical supplies.
Various explosions seen over Gaza skyline from southern Israel. Photo / AP
GOP candidates offer unbridled support for Israel
Republican presidential candidates are professing unbridled support for Israel in speeches to an influential GOP Jewish group in Las Vegas. The campaign stop came as Israel entered a new phase of its war on Hamas in the Gaza Strip.
Former Vice President Mike Pence suspended his campaign and used his last speech as a candidate to called on Democratic President Joe Biden to unconditionally support Israel's response to a Hamas attack that killed more than 1,000 Israelis.
Candidates Tim Scott and Vivek Ramaswamy also said Israel's right to defend itself is unequivocal. Nikki Haley noted that former President Donald Trump had lashed out at Israeli Prime Minister Benjamin Netanyahu after the Hamas attack and referred to the militant group Hezbollah as "very smart." Trump, the frontrunner, called himself "the best friend Israel ever had."
Israel calls Hamas prisoner swap offer 'psychological terror'
Hamas's top leader in Gaza Yehiyeh Sinwar said the Palestinian militant groups are ready to release Israeli hostages in return for Palestinian prisoners in Israel's jails.
"We are ready immediately to have an exchange deal that includes releasing all prisoners in the prisons of the Zionist occupation enemy in return for the release of all prisoners held by the resistance," he said in a comment posted Saturday evening on Hamas media groups.
The Israeli military spokesman, Daniel Hagari, dismissed the offer as "psychological terror" and said Israel is working on multiple channels to free the hostages.
Netanyahu says Gaza war existential, 'never again is now'
Israeli Prime Minister Benjamin Netanyahu, Defense Minister Yoav Gallant and Cabinet Minister Benny Gantz speak during a news conference in the Kirya military base in Tel Aviv. Photo / AP
Israeli Prime Minister Benjamin Netanyahu says the war against Hamas will be "long and difficult," calling it a battle of good versus evil and a struggle for Israel's existence.
Netanyahu told the nation in a televised news conference Saturday night that Israel has opened a "new phase" in the war – by sending ground forces into Gaza and expanding attacks from the ground, air and sea. He said these activities would only increase as Israel prepares for a broad ground invasion.
The goal, he said, is the complete destruction of Hamas.
"We always said, 'Never again,'" he said. "Never again is now."
A wounded Palestinian child is carried into the Nasser Medical Complex, following Israeli airstrikes on the town of Khan Younis, southern Gaza Strip. Photo / AP
Rockets, air strikes and another hospital hit
A Palestinian militant group in Gaza said it fired barrage of rockets on Tel Aviv and on Ashkelon and Ashdod in southern Israel. The rockets by Al-Quds Brigades, the military arm of the Palestinian Islamic Jihad, was the latest in a serious of rocket attacks on Israel as Israeli forces continued its relentless aid and land bombardment.
One of the Israeli airstrikes across northern Gaza caused damage to the Indonesian hospital in Beit Lahia, according to freelance journalist Anas al-Sharif, one of the few journalists in Gaza who remain connected to the outside world. He shared images of the hospital's damaged roof.
Damage to buildings caused by the ongoing Israeli airstrikes on Gaza City. Photo / AP
The Israeli strikes caused a blackout that cut off telecommunications and internet access for Gaza's 2.3 million people, disrupting ambulances and aid groups in the besieged strip and enabling the Israeli military to control the narrative in the new stage of fighting.
Israel says its warplanes hit 150 underground targets
One of the biggest threats to both Israeli troops and the 2.3 million Palestinians trapped in the Gaza Strip is buried deep underground.
Israel's military said Saturday that its warplanes struck 150 underground Hamas targets in northern Gaza, including tunnels, combat spaces and other infrastructure. But the extensive labyrinth of tunnels built by Hamas is believed to stretch for hundreds of miles (kilometres), hiding fighters, an arsenal of rockets and now more than 200 Israeli hostages.
Clearing and collapsing those tunnels is crucial to dismantling Hamas. But Israeli's military could be at a serious disadvantage underground. Urban warfare experts say there's millions of hidden locations the militants can be waiting in, enabling them to determine when and where to ambush their enemies.
Former Israeli soldier Ariel Bernstein described urban combat in northern Gaza as a mix of ambushes, traps, hideouts and snipers in tunnels so disorienting that it was like he was fighting ghosts.
Destroyed buildings caused by the ongoing Israeli airstrikes on Gaza City. Photo / AP
Earlier: Israeli Defense Minister says the Gaza war has entered a new stage with an expanded ground operation
Israel expanded its ground operation in Gaza, sending in tanks and infantry backed by massive strikes from the air and sea. Israel's defence minister said that "the ground shook in Gaza" and that the war against the territory's Hamas rulers had entered a new stage.
The bombardment, described by Gaza residents as the most intense of the war, also knocked out most communications in Gaza. This largely cut off the besieged enclave's 2.3 million people from the world, while enabling the Israeli military to control the narrative in the new stage of fighting.
The military released grainy images on Saturday showing tank columns moving slowly in open areas of Gaza, many apparently near the border and said warplanes bombed dozens of Hamas tunnels and underground bunkers. The underground sites are a key target in Israel's campaign to crush the territory's ruling group after its bloody incursion into Israel three weeks ago.
People demonstrate in a show of solidarity with Palestinian people in Paris. Photo / AP
With hostages seized in the October 7 Hamas attack being held underground, the escalation brought even more pressure on Israel's government to bring about their release. Desperate family members met again with Israeli Prime Minister Benjamin Netanyahu on Saturday and expressed support for an exchange for Palestinian prisoners.
"We moved to the next stage in the war," Defense Minister Yoav Gallant said in remarks broadcast Saturday. "Last evening, the ground shook in Gaza. We attacked above ground and underground. ... The instructions to the forces are clear. The campaign will continue until further notice."
His comments signalled a gradual ramping up toward what is expected to evolve into an all-out ground offensive in northern Gaza.
Early in the war, Israel massed hundreds of thousands of troops along the border. Until now, troops had conducted brief nightly ground incursions before returning to Israel.
The Palestinian death toll in Gaza on Saturday rose to just over 7700 people in the three weeks since the war began, with 377 deaths reported since late Friday, according to the Gaza Health Ministry. A majority of those killed have been women and minors, the ministry said.
A Palestinian wounded in the Israeli bombardment of the Gaza Strip waits for treatment in a hospital in Rafah. Photo / AP
Ministry spokesman Ashraf al-Qidra told reporters that the disruption of communications has "totally paralysed" the health network. Residents had no way of calling ambulances, and emergency teams were chasing the sounds of artillery barrages and airstrikes to search for people in need.
An estimated 1700 people remain trapped beneath the rubble, according to the health ministry, which has said it bases its estimates on distress calls it received.
Some civilians were using their bare hands to pull injured people from the rubble and loading them into personal cars or donkey carts to rush them to the hospital. In a video posted by local news media, Palestinians were sprinting down a ravaged street with a wounded man covered in the dust of a building's collapse while he winced, eyes shut, on a stretcher. "Ambulance! Ambulance!" the men shouted as they shoved the stretcher into the back of a pickup truck and shouted at the driver, "Go! Go!"
Some Gaza residents travelled by foot or car to check on relatives and friends. "The bombs were everywhere, the building was shaking," said Hind al-Khudary, a journalist in central Gaza and one of a few people with cellphone service. "We can't reach anyone or contact anyone. I do not know where my family is."
Israel says its strikes target Hamas fighters and infrastructure and that the militants operate from among civilians, putting them in danger.
The World Health Organisation appealed to "the humanity in all those who have the power to do so to end the fighting now" in Gaza. "There are more wounded every hour. But ambulances cannot reach them in the communications blackout. Morgues are full. More than half of the dead are women and children," it said in a statement, and it expressed "grave concerns" about reported bombardment near hospitals in the northern half of Gaza.
Palestinians say this war is robbing them not only of their loved ones but also of the funeral rites that long have offered mourners some dignity and closure amid unbearable grief. Overcrowded cemeteries have compelled families to dig up long-buried bodies and deepen the holes.
Palestinians arrive to collect drinking water during the ongoing Israeli bombardment of the Gaza Strip in Rafah. Photo / AP
Across Gaza, terrified civilians were huddling in homes and shelters with food and water supplies running out. Electricity was knocked out by Israel in the early stages of the war.
More than 1.4 million people have fled their homes, nearly half crowding into UN schools and shelters, following repeated warnings by the Israeli military that they would be in grave danger if they remained in northern Gaza.
The military renewed such warnings Saturday, in leaflets dropped over Gaza. A large number of residents have not evacuated to the south, in part because Israel has also bombarded targets in so-called safe zones where conditions are increasingly dire.
Humanitarian workers say the trickle of aid Israel has allowed to enter from Egypt in the past week is a tiny fraction of what is needed. Gaza hospitals have been scrounging for fuel to run emergency generators that power incubators and other life-saving equipment.
The UN agency for Palestinian refugees, which runs an extensive network of shelters and schools for nearly half the displaced Gaza residents, has lost contact with most of its staff, spokeswoman Juliette Touma said Saturday. She said that coordinating aid efforts was now "extremely challenging."
The intensified air and ground campaign raised new concerns about dozens of hostages dragged into Gaza on October 7. On Saturday, hundreds of relatives of hostages gathered in a square in downtown Tel Aviv and demanded that the government put the return of their loved ones ahead of Israel's military objectives.
In comments likely to inflame these tensions, the spokesman of the Hamas military wing on Saturday offered a comprehensive swap of hostages for the thousands of Palestinian prisoners held by Israel.
The spokesman, using the nom de guerre Abu Obeida, said in a televised speech that the price for freeing the hostages, said by Israel to number 229, is "emptying the Zionist prisons of all detainees."
Netanyahu met for the second time with relatives of the hostages on Saturday, telling them that "we will exercise and exhaust every possibility to bring them home," his office said in a statement. He did not specify a military or diplomatic plan.
Military officials have said they are trying to both topple Hamas and bring back the hostages but have not explained how they could obtain both objectives at the same time.
The Israeli army spokesman, Rear Adm. Daniel Hagari, said four hostages were released in recent days through mediation by Qatar and Egypt. Hagari dismissed news reports about a possible cease-fire deal in exchange for the release of hostages, saying Hamas was engaged in a "cynical exploitation" of relatives' anxieties.
In Cairo, Egyptian President Abdel Fattah el-Sissi said his government was working to de-escalate the conflict through its talks with the warring parties to release prisoners and hostages. On Saturday, he spoke with UN Secretary-General Antonio Guterres about those efforts, his office said.
Guterres reiterated his appeal for an immediate humanitarian cease-fire in Gaza, along with the unconditional release of hostages and "necessary massive scale-up" of humanitarian aid to the strip's 2.3 million people.
Guterres said he was "surprised by an unprecedented escalation of the bombardments and their devastating impacts" and "the situation must be reversed."
Among many, impatience was growing. Turkish President Recep Tayyip Erdogan told hundreds of thousands of people at a pro-Palestinian rally in Istanbul on Saturday that his country was making preparations to proclaim Israel a "war criminal" for its actions in Gaza. He did not elaborate and his office said it could not comment on the statement.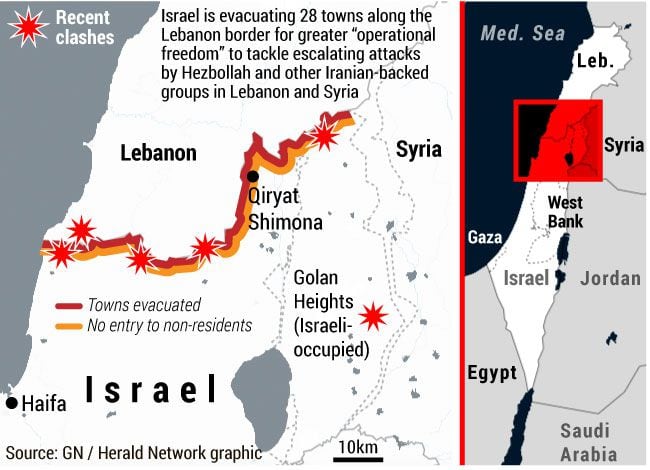 Erdogan's government recently restored full diplomatic ties with Israel, whose foreign minister on Saturday said he had ordered the return of Israel's diplomatic mission from Turkey to reassess ties.
Elsewhere, tens of thousands of pro-Palestinian protesters turned out in London for a second straight weekend to demand a cease-fire in Gaza.
More than 1,400 people were slain in Israel during Hamas' October 7 attack, according to the Israeli government. Among those killed were at least 311 soldiers, according to the military.
Palestinian militants have fired thousands of rockets into Israel over the past three weeks.
The overall number of deaths in Gaza and Israel far exceeds the combined toll of all four previous Israel-Hamas wars, estimated at around 4000.
Israel has said it aims to crush Hamas' rule in Gaza and its ability to threaten Israel. But how Hamas' defeat will be measured and an invasion's endgame remains unclear. Israel says it does not intend to rule the tiny territory but has not said who it expects will — even as Gallant suggested a long-term insurgency could ensue.
The conflict has threatened to ignite a wider war across the region. Arab nations — including US allies and ones that have reached peace deals or normalised ties with Israel — have raised increasing alarm over a potential ground invasion.
Take your Radio, Podcasts and Music with you