Israel agrees to four-hour daily pauses in Gaza fighting to allow civilians to flee - US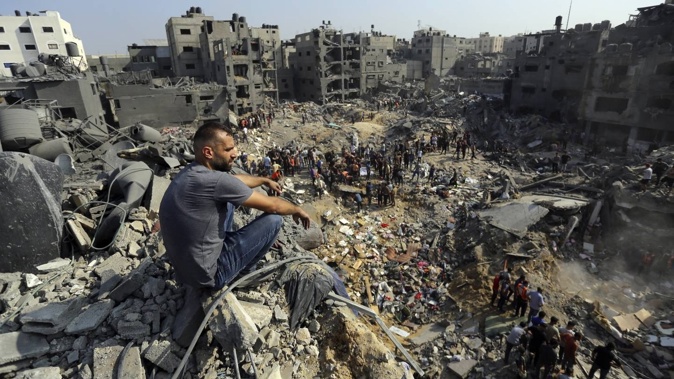 Israel agrees to four-hour daily pauses in Gaza fighting to allow civilians to flee - US
Israel has agreed to put in place four-hour daily humanitarian pauses in its assault on Hamas in northern Gaza, the White House said, as President Joe Biden pressed Israelis for a multi-day stoppage in the fighting in a bid to release hostages held by the militant group. 
Biden said early today that there was "no possibility" of a formal cease-fire at the moment, but he also expressed frustration that it had taken so long for Israel to agree to the humanitarian pauses. Biden had asked Israeli Prime Minister Benjamin Netanyahu to institute the daily pauses during a call and said he had also asked the Israelis for a "pause longer than three days" to allow for negotiations over the release of some hostages held by Hamas. 
"Yes," Biden said, when asked whether he had asked Israel for a three-day pause. "I've asked for even a longer pause for some of them." 
Joe Biden said he had asked the Israelis for a 'pause longer than three days'. Photo / AP 
National Security Council spokesman John Kirby said that the first daily humanitarian pause would be announced today and that the Israelis had committed to announcing each four-hour window at least three hours in advance. Israel, he said, also was opening a second corridor for civilians to flee the areas that are the current focus of its military campaign against Hamas, with a coastal road joining the territory's main north-south highway.  
Similar short-term pauses have occurred over the last several days as tens of thousands of civilians have fled southward, but today's announcement appeared to be an effort to formalise and expand the process, as the US has pressed Israelis to take greater steps to protect civilians in Gaza.  
Biden's push for an even longer pause comes as part of a renewed diplomatic push to free hostages taken by Hamas and other militant groups to the Gaza Strip during their October 7 surprise attack on Israel. 
A man sits on the rubble overlooking the debris of buildings that were targeted by Israeli airstrikes in the Jabaliya refugee camp, northern Gaza Strip, earlier this month. Photo / AP 
Israeli officials estimate that militants took 239 hostages, including children and the elderly, during the attack in which 1400 Israelis were killed. US officials say it believes fewer than 10 Americans are among those held captive. 
Kirby has told reporters that pauses could be useful to "getting all 239 hostages back with their families to include the less than 10 Americans that we know are being held. So if we can get all the hostages out, that's a nice finite goal". 
"Humanitarian pauses can be useful in the transfer process." 
Indirect talks were taking place in Qatar — which also played a role in the freeing of four hostages by Hamas last month — about a larger release of hostages. CIA Director William Burns visited Doha to discuss efforts to win the release of hostages in Gaza with the Qatari prime minister and the head of Israel's Mossad intelligence agency, according to a US official. 
Since the start of the war, Israel has limited the amount of food and water allowed to enter the territory, causing widespread hunger across the Gaza strip. Photo / AP 
Burns met with Mossad chief David Barnea and Prime Minister Sheikh Mohammed bin Abdulrahman Al Thani, said the official, who talked to the Associated Press on the condition of anonymity to discuss sensitive matters. 
Qatar is a frequent go-between in international dealings with Hamas, and some top Hamas political leaders make their home in the Gulf country. The US official stressed Burns was not playing a lead role in the negotiations. 
Secretary of State Antony Blinken had warned Israel last week that it risked destroying an eventual possibility for peace unless it acted swiftly to improve humanitarian conditions in Gaza for Palestinian civilians as it intensifies its war against Hamas. 
Palestinians were seen fleeing to the southern Gaza Strip on Salah al-Din Street in Bureij, Gaza Strip, earlier this week. Photo / AP 
In a blunt call for Israel to pause military operations in the territory to allow for the immediate and increased delivery of assistance, Blinken said the situation would drive Palestinians toward further radicalism and effectively end prospects for any eventual resumption of peace talks to end the conflict. 
French President Emmanuel Macron opened a Gaza aid conference this week with an appeal for Israel to protect civilians, saying that "all lives have equal worth" and that fighting terrorism "can never be carried out without rules". 
Kirby said Uzra Zeya, the State Department's undersecretary for civilian security, democracy and human rights; special envoy David Satterfield; and Sarah Charles, who leads the USAID's bureau for humanitarian assistance, were representing the US at the Paris conference. Israel has not been invited by France to the conference. Kirby demurred when asked about the decision to leave Israel out of the international talks. 
"We're focused on trying to have the most constructive conversation there that we can," Kirby said.
-Aamer Madhani, Zeke Miller, and Josh Boak, Associated Press 
Take your Radio, Podcasts and Music with you