'All found alive': Miracle rescue for missing surfers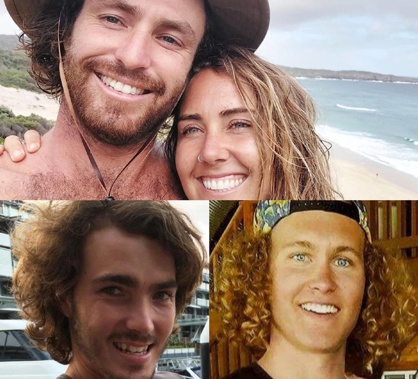 'All found alive': Miracle rescue for missing surfers
Four young Australian surfers have been found alive after a desperate search in the seas off Indonesia.
The Aussies were among seven people missing on a longboat that was travelling north from Nias Island to Aceh's Banyak Islands on Sunday.
The Daily Telegraph reported that the four were found shortly after 1pm NZ time today, citing a Google document the four families and their friends had updated.
"All four Australians found alive," the document reportedly read.
Elliot Foote, Steph Weisse, Will Teagle and Jordan Short were part of a larger group on their way to the exclusive Pinang Island.
Foote's father Peter Foote told the Sydney Morning Herald Weisse, Short and Teagle were found floating in the water on surfboards.
"They've found three of them ... all bobbing around, but my son got on a surfboard and paddled to an island for help," Peter Foote told Sydney Morning Herald.
Another boat carrying the others arrived late on Sunday night and a search for the missing craft began.
A spokesman from the Australian Department of Foreign Affairs and Trade said earlier they were working with Indonesia to find them.
"A search and rescue operation is under way following reports of a missing vessel off the west coast of Indonesia," the spokesman said.
"The Department of Foreign Affairs and Trade is providing consular assistance to the families of four Australians on-board and is working closely with Indonesian authorities to support search and rescue efforts.
Elliot Foote, Steph Weisse, Will Teagle and Jordan Short were missing off Indonesia. Photo / Instagram
"Our thoughts are with the family and friends of those missing during this distressing time."
The families of the missing tourists said their "hearts are aching at the thought that Elliot, Steph, Will and Jordan are missing at sea".
"We continue to pray and hold out hope they will be found," the families said.
"We'd like to thank the Indonesian authorities and the Australian government for their ongoing assistance while search and rescue efforts continue."
Indonesian National Search and Rescue agency Nias Island chief Octavianto told media that three ships had been deployed in the search, which was being hampered by poor weather.
"The issue is that the [missing vessel] is a basic wooden boat without any tracking devices or the like," he said.
It is understood the other boat sought shelter from the weather on Sarang Alu, while the missing boat pressed on into the storm.
Peter Foote earlier told the Sydney Morning Herald lack of visibility, not waves, was the problem with the weather.
"They have life jackets on board, they had food and water and there is shelter on the boat. It has a roof," he said.
"We're all hoping they've either run out of fuel or they got lost and missed the island or, more likely, there may be an engine failure on the boat, which unfortunately doesn't have any GPS."
Trip was a birthday gift
Peter Foote also revealed that the trip was a 30th birthday present to his son, who took 11 of his friends along including his girlfriend Weisse.
They were headed for Pinang Island, which bills itself as a "unique Indonesian retreat with delectable local cuisine and secluded beaches".
"Elliot is turning 30 in September and for his 30th birthday I sent him and his mates there on surfing trip," Peter Foote told the Sydney Morning Herald.
Elliot Foote shared a photo of himself surfing just before the group went missing, praising Indonesia and celebrating spending time with Weisse, who he dubbed "the queen".
"Soho gulah Sorake … so good being back in Indo after so many years. Sharing waves with mates and the queen," he wrote. "Starting the trip off with hiking in the North Sumatran jungle and seeing orangutans was an amazing experience and something that I look forward to doing again for a longer time and going deeper. Bukit Lawang is a beautiful spot with such kind people."
Take your Radio, Podcasts and Music with you