Hurricane Otis now a catastrophic Category 5 storm off Mexico's coast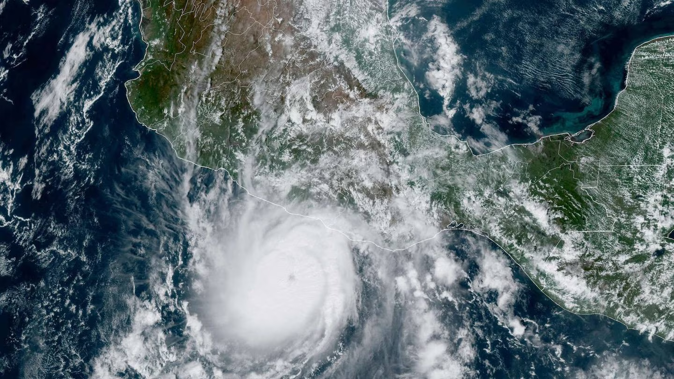 Hurricane Otis now a catastrophic Category 5 storm off Mexico's coast
Residents of Mexico's once glamorous port of Acapulco and surrounding coastal towns braced for the arrival of the "potentially catastrophic" Hurricane Otis, a rapidly intensifying Category 5 hurricane that stirred memories of a 1997 storm that killed dozens of people.
"A nightmare scenario is unfolding for southern Mexico this evening with rapidly intensifying Otis approaching the coastline," a National Hurricane Center forecaster said today (late Tuesday local time).
Hurricane Otis strengthened from a tropical storm to a dangerous Category 5 hurricane in 12 hours on Tuesday as it approached Mexico's southern Pacific coast.
The US National Hurricane Centre said Otis had maximum sustained winds of 260km/h late Tuesday evening and was expected to make landfall on early Wednesday near Acapulco. It was centred about 90km south-southeast of Acapulco and moving north-northwest at 15km/h.
Acapulco is a city of more than 1 million people at the foot of steep mountains. Luxury homes and slums alike cover the city's hillsides with views of the glistening Pacific.
While it drew Hollywood stars in its heyday for its nightlife, sport fishing and cliff diving shows, Acapulco has in more recent years fallen victim to competing organised crime groups that sank the city into violence, driving many international tourists to the Caribbean waters of Cancun and the Riviera Maya or hippie beaches farther down the Pacific coast in Oaxaca.
A hurricane warning was in effect from Punta Maldonado to Zihuatanejo. A hurricane watch is in effect from Lagunas de Chacahua to Punta Maldonado.
Tourists swim in Acapulco, Mexico. Hurricane Otis has strengthened from tropical storm to a major hurricane in a matter of hours. Photo / AP
Otis was forecast to remain a Category 5 hurricane through landfall but rapid weakening is then forecast due to the higher terrain of Mexico. Otis will likely dissipate over southern Mexico on Wednesday night.
"This is an extremely serious situation for the Acapulco metropolitan area with the core of the destructive hurricane likely to come near or over that large city early on Wednesday," the weather service said. "There are no hurricanes on record even close to this intensity for this part of Mexico."
In Acapulco, people hurried home as rain began to pelt the resort and winds picked up, driving tourists from the beach.
The Guerrero state government said it was preparing 396 shelters in anticipation of families being driven from their homes by wind damage or surging waters.
"We're on maximum alert," Acapulco Mayor Abelina López said as she urged residents to hunker down at home or move to the city's shelters. She said Otis could be more devastating than Hurricane Pauline which hit Acapulco in 1997, destroying swaths of the city and killing more than 200 people. Hundreds of others were injured in flooding and mudslides.
President Andrés Manuel López Obrador told people via the platform X, formally known as Twitter, "to go to shelters, stay in safe places away from rivers, streams, ravines and be alert, without being overconfident."
At the Las Brisas hotel, further inland from Acapulco's beach, Jesús Pantaleón said guests from oceanfront hotels began arriving late Tuesday. "People from various hotels along the ocean drive are arriving because they felt that being higher up, they are safer," he said.
A tourist rides a horse at a beach in Acapulco, Mexico. Photo / AP
Authorities circulated through low-lying parts of the city warning over megaphones that people should move, said Roberto Arroyo, Guerrero state's civil defence secretary.
Mexico's army and navy deployed more than 8,000 troops to the area with specialised equipment to aid in rescues. Authorities closed Acapulco's port, home to some 300 fishing boats.
Otis was expected to dump 13 to 25cm of rain on Guerrero, with as much as 38cm possible in some areas. That raised the possibility of mudslides and flash floods in Guerrero's steep mountainous terrain.
The National Hurricane Centre considers a storm to rapidly intensify if it increases wind speed by 46km/h in 24 hours. With warmer oceans serving as fuel, Atlantic hurricanes are now more than twice as likely as before to rapidly intensify from wimpy minor hurricanes to powerful and catastrophic, a study by study Andra Garner, a climate scientist at Rowan University in New Jersey, said on Thursday.
In 2020, a record year for hurricanes and the last year of Garner's study, six storms rapidly intensified that much - Hannah, Laura, Sally, Teddy, Gamma and Delta. Since then, there have been several rapidly intensifying and deadly storms, including 2021′s Ida, 2022′s Ian and 2023′s Idalia.
Colorado State University hurricane researcher Phil Klotzbach said via X that Otis had intensified on Tuesday by 128km/h in the past 12 hours from 105km/h to 233km/hh. "That's the fastest 12-hr intensification rate in the eastern North Pacific" since 1966.
In the Atlantic, Hurricane Tammy continued moving northeastward over open water with winds of 140km/h after sweeping through the Lesser Antilles over the weekend. Tammy was located about 915km south-southeast of Bermuda. The storm was expected to become a powerful extratropical cyclone by Thursday, according to the US National Hurricane Centre.
Take your Radio, Podcasts and Music with you