Gunman 'firing from balcony' detained
Author

Section

Publish Date

Wednesday, 29 November 2017, 5:46PM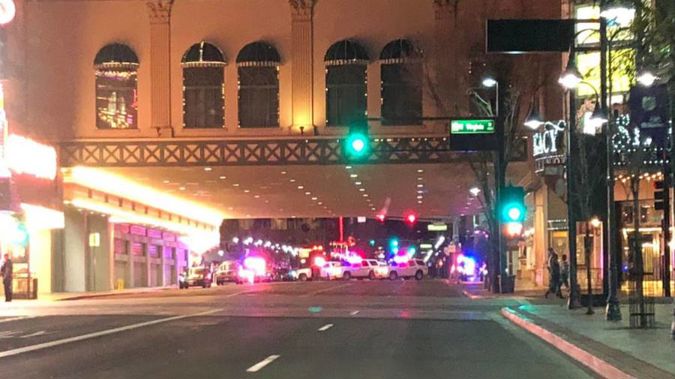 A gunman who opened fire from a balcony in Reno, Nevada, has been detained by police according to reports.
Emergency services rushed to the scene and large parts of the downtown area were shut down following reports of an active shooter.
There are unconfirmed reports of at least six shots fired from an elevated position in the Montage apartments.
Suspect in the shooting in downtown is detained. Thankfully no reports of injuries to citizens or officers or deputies.

— Reno Police (@RenoPolice) November 29, 2017
Police shut down 2nd Avenue, 4th Avenue, Commercial Street, and Virginia Street.  The Montage Reno is a luxury high-rise residential building in Reno, Nevada.
News 4-Fox 11's Ben Margiott reported hearing six shots fired since he arrived on scene.
He said he reported heard four shots in quick succession followed by three individual shots at longer intervals.
#BREAKING: Here is a video from the Montage in Downtown Reno, Nevada. (Video: @thomasjriddle) pic.twitter.com/qjDXqIwMX9

— BreakingNNow (@BreakingNNow) November 29, 2017
According to the Reno Gazette Journal, dozens of police cars, ambulances and SWAT vehicles have surrounded the Montage Reno complex.
The first reports of the shooting were made around 7.30pm local time (2.30pm AEDT).  There were no immediate reports of injuries.
 One witness told the Reno Gazette he was reminded of October's mass shooting in Las Vegs when he heard the gunshots.
"When you heard it's coming from above it reminds you of the guy shooting from Mandalay Bay ... it's scary you know? This is the same kind of town," Mike Pavicich said.
PLEASE avoid the #downtownreno area until further notice. Police are on scene and will advise when it is safe.

— Reno Police (@RenoPolice) November 29, 2017
 On October 3, 64-year-old Nevada resident Stephen Paddock fired bullets down on the Route 91 Harvest Festival from his room on the 32nd floor of the Mandalay Bay resort and casino in Las Vegas.
Paddock killed 57 people and injured 546 others, making it the worst mass shooting in American history.
More to come.