First space tourist: 'It was the greatest moment of my life'
Author

Publish Date

Sat, 1 May 2021, 3:50pm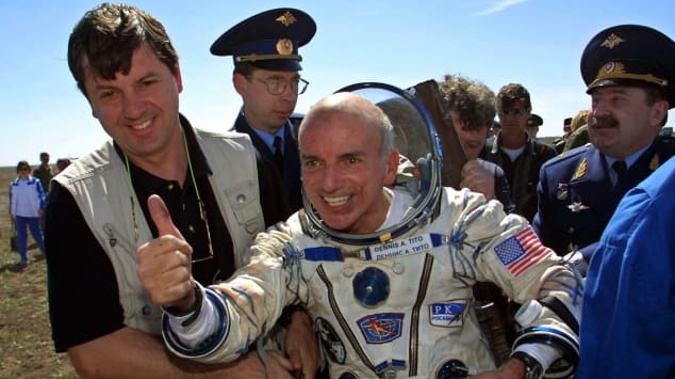 First space tourist: 'It was the greatest moment of my life'
Author

Publish Date

Sat, 1 May 2021, 3:50pm
On April 30, 2001, US millionaire Dennis Tito arrived at the International Space Station (ISS) via a Russian Soyuz rocket, becoming the world's first space tourist.
For Tito, then 60, it was the culmination of a dream he'd held since he was a young man, one he'd shelled out a cool $20 million for to make a reality.
Reflecting on the journey two decades on, Tito is gleeful when describing the moment the rocket first went into orbit.
"The pencils started floating in the air, and I could see the blackness of space and the curvature of the earth," he tells CNN Travel.
"I was euphoric. I mean, it was the greatest moment of my life, to achieve a life objective, and I knew then that nothing could ever beat this."
In the 20 years since Tito vacationed in space, only a handful of other -- uber wealthy -- tourists have followed in his footsteps, but companies such as SpaceX, Blue Origin and Virgin Galactic are banking on the next big vacation destination being out of this world, and working to make that a reality in the not-so-distant future.
Tito has been keenly keeping an eye on updates in the space tourism field -- he says he hopes many others will one day be able to experience the thrill of a trip to space.
"I just wish them the best," he says. "I am hopeful they will have the wonderful experience that I had."
When Tito embarked on his history-making trip in 2001, he was working in finance, but he'd started his career in aeronautics and astronautics.
Tito had been fascinated by space ever since he was a kid, and reckons he was paving the way for a space sojourn even then.
"When I flew in 2001, it wasn't just someone [saying], 'Oh I want to go become famous and fly in space.' This was a goal I set in 1961," he says.
That was the year that Soviet cosmonaut Yuri Gagarin became the first human to travel to space.
"I was fascinated by it as a young person," says Tito.
Later, when he changed careers and no longer worked in the aeronautics arena, Tito continued to dream of his own space flight.
NASA had long opposed the idea of sending civilians to space, but in 1991, shortly before the collapse of the USSR, Tito started talking to the Soviet Union about joining a space mission as a ticket-paying citizen.
He recommenced these conversations later that decade.
"In the late '90s, the Russians were really hurting for funding of this space program and the bottom line was, I figured out, 'Huh, maybe I could get involved with the Russians.'"
Fast-forward to April 28, 2001, and a Russian Soyuz spaceship lifted off from the Baikonur Cosmodrome in Kazakhstan with Tito on board, alongside two Russian cosmonauts. Tito spent the next week on board the ISS.
"It was eight days of euphoria," he says.
"I just enjoyed looking at the window, videoing the earth, the portholes, the station. It was just wonderful," Tito recalls.
"It just was -- whatever I had expected, the best I had expected times 10. It was the best experience of my whole life, those eight days."
The current state of play
Since Tito's historic flight, seven other private citizens have traveled to space, also coughing up millions to do so.
Each of these trips was organized via space tourism agency Space Adventures, with travelers transported on Russian Soyuz spacecraft to the ISS.
There haven't been any space tourists since 2009, which Space Adventures' representative Stacey Tearne puts down to the fact the US Space Shuttle program was retired, leaving Russian Soyuz craft as the only option for getting to and from the ISS.
Tearne tells CNN Travel that Space Adventures is confident the landscape will change again.
"In the future, we anticipate multiple providers and vehicles," she says. "Once there is competition in the marketplace, there will be competitive pricing."
Space Adventures remains in partnership with the Russian space agency -- in fact, they're currently working on a 2023 Soyuz mission to the ISS which includes the opportunity for a space tourist to conduct a spacewalk.