Island nations send special envoys to engage Indonesia on West Papua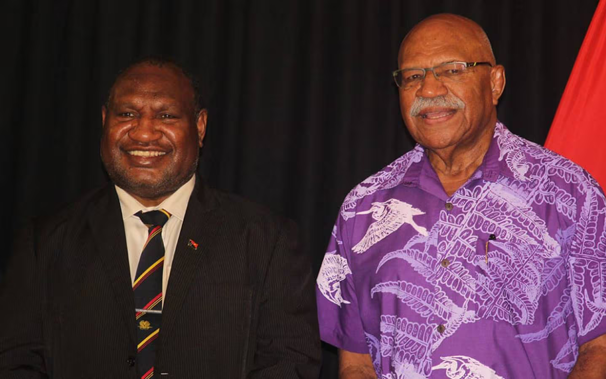 Island nations send special envoys to engage Indonesia on West Papua
By RNZ
The Melanesian Spearhead Group has appointed Fiji and Papua New Guinea prime ministers Sitiveni Rabuka and James Marape as special envoys to Indonesia to "address the West Papua issue", a move that has been welcomed by the Pacific Conference of Churches.
The sub-regional group met for its caucus meeting on Monday (Cook Islands time) ahead of the official opening of the 52nd Pacific Islands Forum Leaders Meeting in Rarotonga, during which Rabuka proposed sending a representative to Indonesia to facilitate dialogue on the West Papua situation.
Rabuka and Marape's mandate will be to meet with Indonesian President Joko Widodo to discuss the pressing issue of West Papua.
The MSG caucus reached a consensus that sending a ministerial envoy, as opposed to a bureaucratic-level envoy, would be the most effective approach to addressing the West Papua issue.
PNG PM James Marape, left, and Fiji PM Sitiveni Rabuka. Photo Twitter/@slrabuka
"Earlier today, the Melanesian Spearhead Group Caucus appointed me as a Special Envoy to address the West Papua issue," Rabuka posted on the social media platform X (formerly Twitter).
"Alongside Prime Minister James Marape of Papua New Guinea (PNG), we've been tasked with meeting the President of Indonesia to discuss this pressing matter."
In August, the MSG leaders failed to reach a consensus in Port Vila to accept the United Liberation Movement for West Papua's (ULMWP) bid to become a full member of the sub-regional grouping, deferring the issue to the Forum Leaders Meeting.
Vanuatu Climate Change Minister Ralph Regenvanu said Rabuka and Marapae's appointment was "an additional measure" on the West Papua issue.
"This is an additional measure agreed to by the MSG which supplements the existing decisions of PIF and MSG for an independent assessment by the UN Human Rights Commissioner and an MSG Leaders visit to West Papua," Regenvanu posted on X.
Churches welcomes move
The Pacific Conference of Churches (PCC) has said it "welcomes [the] Melanesian Spearhead Group move to engage further with Indonesia on the situation in West Papua and calls for an inclusive process of engagement that doesn't leave West Papuans out of the talanoa."
General Secretary Padre James Bhagwan said the PCC "the engagement of ULMWP as MSG Observers will need to be secured by PMs for this process to have legitimacy."
However, the PCC is also calling for an imminent persons group, including civil society to accompany the process, for transparency.
"The situation in West Papua will also be on the Agenda of the 12th [PCC] General Assembly, which begins in just over a week in Kanaky-New Caledonia," Padre Bhagwan said on X.
The PCC General Assembly is expected to gather almost 200 delegates from 35 churches and 12 national councils of churches and regional faith organisations from over 18 Pacific Island countries and territories, making it the largest constituent assembly in the region, he added.
Take your Radio, Podcasts and Music with you